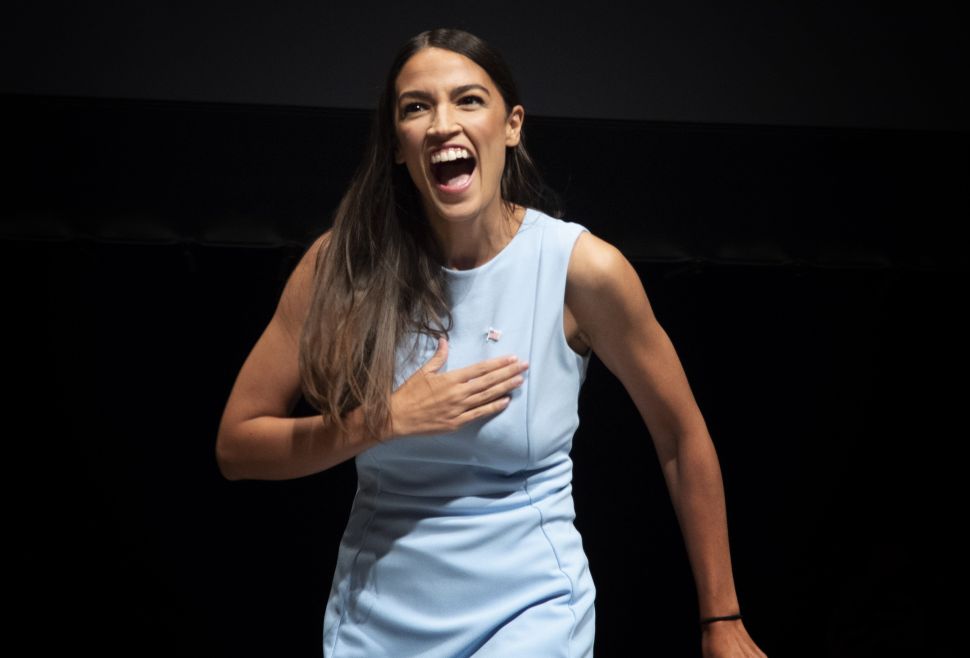 Alexandria Ocasio-Cortez is everywhere. The Bronx-born Democratic socialist, who defeated 10-term incumbent Joe Crowley in last month's congressional primary election and who will almost certainly clinch the general election in November given that New York's 14th district largely skews blue, is currently as ubiquitous in the news as exhaustive analysis of the latest presidential gaffe.
Capitalizing on her momentum, Ocasio-Cortez has adapted to the demands of mercenary self-promotion like only the most brilliant politicians can, and on Monday night, she brought her signature gravitas to Carroll Gardens in Brooklyn, New York. There, she was the guest of honor at a house party/meet-and-greet thrown by Audrey Gelman, CEO and co-founder of the women-only coworking club The Wing.
If Ocasio-Cortez's intent in attending was to increase her visibility among like-minded peers, ingratiating herself with Gelman is a fascinating choice. It's difficult to quantify the extent of Gelman's hybrid influence, though many have tried. A former deputy communications director for comptroller Scott Stringer who occasionally made guest appearances on her friend Lena Dunham's HBO show Girls, Gelman has political cred and the canny sure-footedness of a celebrity.
"I think there are so many women who were vocal Hillary Clinton supporters who were literally signing up to volunteer and knock on doors for Alexandria's campaign," Gelman said over the phone when asked by Observer about the event. "[Ocasio-Cortez] says things that are straightforward and common sense. She uses constructive moral terms, and she doesn't talk about Trump that much. That really appeals to me."
In a way, synergy between Gelman and Ocasio-Cortez totally checks out: Gelman's startup is marketed as an environment where women can relax and be productive on their own terms, and Ocasio-Cortez embodies limitless feminine potential.
Photos of the party on Gelman's Instagram feed even show the two women smiling together, dressed similarly in button-down shirts and wire-framed glasses. Undeniably, though, there's an element of weirdness to the seeming ease with which Ocasio-Cortez, an avowed progressive socialist, tacitly endorses a business that's available primarily to the metropolitan middle class by collaborating with Gelman.
In other words, in the midst of unbelievable hype, it's strange to see her acting like a politician.
The ideological quagmire that's given rise to "21st century female empowerment" can obscure obvious truths in this way: without knowing why, we find ourselves expecting moral spotlessness from female politicians and profit-driven entrepreneurs, feeling stung when we're disappointed and then embarrassed for feeling stung. Our lofty expectations can probably be attributed to internalized sexist underestimation; it's somehow still difficult to internalize that (Some) Women Are Bad. When Elizabeth Holmes, blonde and stoic in her black turtlenecks, was exposed as a blood tech huckster, the depth of her deceptions came as a surprise to everyone who bought her clear-eyed claims of medical innovation. This confounding moral soup is manifested perfectly by the contradictory elements which comprise The Wing.
Gelman's startup has accrued more than $40 million in venture capital and inspires passionate loyalty among its members, but primarily, the space has come to function as a bizarre and perhaps unprecedented rhetorical battleground where intersecting arguments about class exclusivity, feminism, accessibility and capitalism rebound off one another ad nauseum.
Since The Wing's flagship space opened its doors in the Flatiron District of New York (new branches are springing up everywhere from San Francisco to London), the startup has been lambasted for its high prices (membership fees range from $2,350 to $2,700 per year, although later this year the company will launch a "scholarship program" which grants memberships to low-income women who otherwise couldn't afford dues). It has also been investigated by the New York Human Rights Commission for supposed violation of human rights law (no men allowed) and criticized for its policies regarding non-binary people, among many other dustups of vacillating seriousness.
Given the controversy surrounding The Wing, the paradoxically serene interior design which characterizes each location can come as somewhat of a shock to the uninitiated: cozy pink chairs, marble tables and vases stuffed with healthy flowers pair soothingly with blonde wood floors. I've been to the Flatiron location, when Gelman offered free admission for the day to anyone who wanted to hang out and commiserate after the 2016 election. It's nice! Great coffee.
There's a reason why The Wing is thriving and expanding even amidst persistent backlash: the startup's brand, which seamlessly marries enviable aesthetics with aspirational wokeness, is formidable. Similarly, Ocasio-Cortez has been launched fully formed onto the national stage like Athena emerging from the head of Zeus on the strength of her own irresistible public brand. Political spectators, overwhelmed with cautious optimism and thrilled by her victory, have cast her as "the future of the Democratic party"—a red lipstick-wearing millennial ex-bartender passionately advocating for the abolition of ICE and access to Medicare for all who refuses to accept corporate campaign donations.
At this stage of digital omnipresence, it's myopic to argue that someone's public-facing identity is just a projection, a show. Consider instead the implications of believing in your fine-tuned messaging so completely that you'd live and die by it, and you're one step closer to processing the state of things as they are. That's why Gelman's Ocasio-Cortez event scans as so sociologically layered and distinctively 2018: it feels more like a high-caliber brand collaboration than a standard political endorsement.