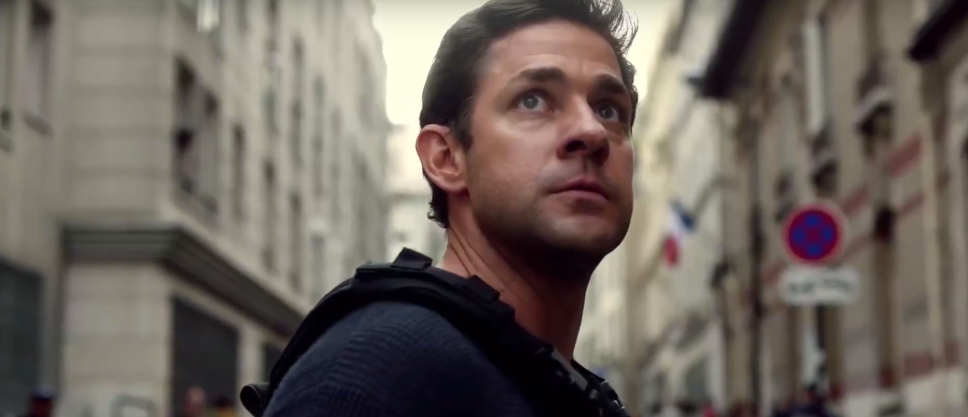 Even though Netflix's recent quarterly numbers came in under expectations, the streamer remains the market-leader and one of the most dominant entertainment companies on the planet.
In early May, Hulu announced that it had surpassed 20 million subscribers overall (the service is only available in the U.S. and Japan), a shocking three million spike from what they reported in January. Thanks to the breakout success of The Handmaid's Tale, Hulu became the fastest growing streaming platform in the U.S.
Even HBO is gearing up to do battle with the gladiators and expand its sphere of influence, not to mention the threatening competition pending from Disney and Apple.
Where does this ongoing arms race leave Amazon Prime Video?
The streamer has upwards of nine ambitious big budget genre series in development that its hoping can be the next Game of Thrones, though most of them remain a ways away and it's unknown how many will actually make it to the screen. In the immediate future, Amazon is hoping that it's expensive Jack Ryan TV adaptation, starring John Krasinski, can emerge as the first broad appeal hit that the platform so desperately needs. While Amazon may have more subscribers worldwide, there's no doubt that it's fallen behind Hulu, which debuted its splashy Stephen King universe series Castle Rock today, in the streaming wars.
Can Jack Ryan, based on author Tom Clancy's most famous character, get the platform back in the fight?
While Jack Ryan has starred in nine novels and sold hundreds of millions of books, becoming a beloved page-turning character in the process, mainstream audiences haven't always embraced him in live-action form. Four actors have portrayed the super spy on the big screen to varying results: Alec Baldwin (The Hunt For Red October), Harrison Ford (Patriot Games, Clear and Present Danger), Ben Affleck (The Sum of All Fears) and Chris Pine (Jack Ryan: Shadow Recruit).
Baldwin kicked off the character's big screen existence in 1990, with his sole entry in the series scoring $200.5 million against a $30 million budget and earning an 86 percent on Rotten Tomatoes. Ford is arguably the most successful Ryan though, with his two films earning mostly positive reviews and scoring well at the box office. Affleck's The Sum of All Fears mostly flopped financially and the overwhelmingly negative reception effectively killed the franchise for 12 years. Pine's 2014 reboot (remember when that was a thing?) didn't help matters much with an anemic $135 million and a lowly 56 percent Rotten Tomatoes score, once again putting the series on the backburner.
But the franchise-starved Paramount Pictures isn't one to let a potentially valuable piece of property lie dormant for long.
Given the character's successful episodic adventures, the powers that be began to believe that Ryan may be best suited for the ever-growing small screen domain rather than his own blockbuster franchise. With James Bond, Jason Bourne and Ethan Hunt still roaming around, there just didn't seem to be enough room for another super spy at the multiplex.
Amazon won the subsequent bidding war and plopped down $64 million for the first season, arriving August 31, and recently ordered a second season, which can be seen as a strong vote of confidence.
Jack Ryan can become Amazon's version of 24, a mashup of procedural and serialized storytelling revolving around a likeable and relatable badass main character who just so happens to be played by Krasinski, one of sitcom's most likeable and relatable products this century. But unlike 24, Jack Ryan won't be beholden to the stifling regulations of broadcast television as Amazon can provide far more creative freedom than any of the Big Four networks. That doesn't necessarily mean Jack Ryan will be saturated with violence and nudity, but it does allow for more mature storytelling—you know, the type of content that respected cable leaders like FX and HBO flaunt.
Providing further confidence in the show's viability was Amazon's decision to place it in the capable hands of showrunner Carlton Cuse and his partner Graham Roland. Initially, the pair spent the first month together adapting Clancy's 1989 novel Clear and Present Danger. But as we've seen, direct translations have been more miss than hit, and the duo quickly realized that they needed to tell their own story.
"One of Clancy's staples that he did so well was write geopolitical thrillers that were of the moment," Roland told Variety. "And we realized that we had to take the thing that people loved about the character and about the franchise but find our own geopolitical thriller that felt relevant today. So that's why we decided to craft our own stories."
That's encouraging to hear as the show's plot can now be better tailored to a contemporary setting and all of the issues that come with it. There's more room to change and adapt if the show is not strictly tied to the source material. People often complain that "the book was better" because screen adaptations rarely match what they remember from the page. This is a smart way to try and avoid that same pitfall while also clearing the decks for fresh ideas. Given the resources Amazon poured into this endeavor, those new ideas can take audiences anywhere.
"When I was doing Lost, that was the biggest, most complicated television production in the world at the time," Cuse, who served as co-showrunner with Damon Lindelof on the beloved ABC sci-fi drama, told the outlet. "I think that Jack Ryan is superseded by Game of Thrones and maybe Westworld. Not much else. It's really at the top of the pyramid in terms of what's being done in television."
Cuse has the uncanny ability to consistently produce competent series that tend to stick around.
Beyond Lost, he helped create CBS' Nash Bridges, which ran for a whopping 121 episodes. He put a modern spin on the old Psycho classic with Bates Motel, which ran for five mostly successful seasons, emerging as A&E's most popular series ever in the coveted 18-49 demographic. Cuse's FX vampire drama The Strain wrapped up its run after four seasons last year, and his USA Network sci-fi drama Colony garnered a small but passionate fanbase over its three seasons.
Cuse is a reliable veteran. He has a proven track record of producing solid shows that run for multiple seasons (an increasing challenge in today's Peak TV era) and garner decent viewership. If anyone can pull off a reintroduction of Jack Ryan, it's him (there's a reason ABC handed him a lucrative deal to "replace" Shonda Rhimes).
We won't know until we've seen the show whether or not it's any good. But given the popularity of Clancy's creation, the resources Amazon poured into the series and Cuse's history as a showrunner—not to mention Krasinski's rising profile—the streamer was right to bet on Jack Ryan. If all goes as planned, it will help kick-start a new era for Amazon spearheaded by mainstream commercial hits. That won't single-handedly catapult Amazon ahead of Netflix and Hulu, but it would be a nice start.