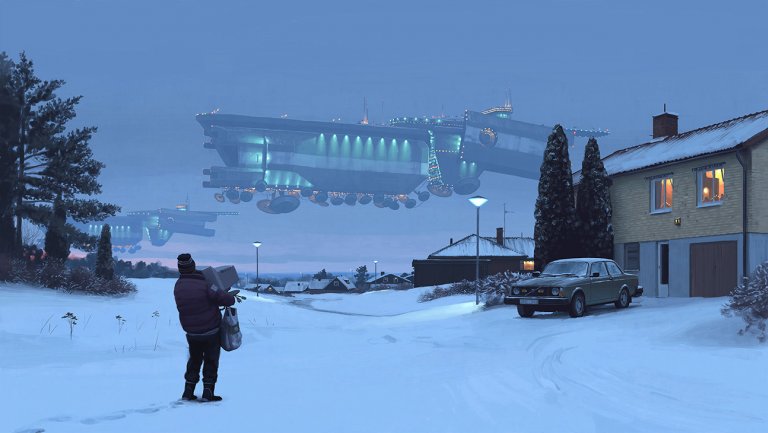 As television fans know by now, Amazon head honcho Jeff Bezos instructed his streaming service late last year to go out and find him the next blockbuster broad appeal hit in the same vein as HBO's Game of Thrones and Netflix's Stranger Things. Up until that point, Amazon Prime Video was known mostly for niche series such as Transparent that may be well respected in critical communities but weren't exactly drawing massive crowds.
Bezos wanted more.
So over the last several months, Amazon has begun beefing up its content budget (estimated to have hovered around $4.5 billion annually before) as it prepares to roll out an ambitious new lineup of BIG series. Here's a list of what's in store.
Lord of the Rings
By far, Amazon's biggest swing is a TV adaptation of Lord of the Rings. The streamer is prepared to make it the most expensive series of all time with a budget of $1 billion over five seasons and a potential spinoff. Money and resources don't necessarily translate to quality, but with that kind of support, fans will be expecting top notch quality.
"This is a unique opportunity to tell new stories in a magical world that is a global phenomenon," Amazon head of scripted series Sharon Tal Yguado told The Hollywood Reporter back in November. "As we build our diverse portfolio of programming, we are making some of our big bets on tentpole series."
While rumors concerning the plot of this ambitious and expensive LOTR series have cropped up here and there, Amazon has yet to make any official announcements. So in the absence of anything concrete, here are five Middle Earth stories the show could follow.
Lord of the Rings trilogy (and, unfortunately, The Hobbit) director Peter Jackson is reportedly in talks to play some sort of creative role in the show's development, though that remains uncertain for now. If all goes according to plan, studio head Jennifer Salke is aiming for a 2021 release date.
Tales From the Loop
In a continued effort to build out its genre roster, Amazon announced yesterday that it has given a straight-to-series order for Tales From the Loop, a sci-fi drama based on the art of Simon Stalenhag. Legion's Nathaniel Halpern has been named showrunner and executive producer, while Mark Romanek (Never Let Me Go) will direct the pilot and also executive produce. Matt Reeves (War for the Planet of the Apes) rounds out the exec producing roster.
"Simon Stalenhag's paintings are renowned for their vision of a not-too-distant, futuristic landscape. We are looking forward to bringing that to life and sharing it with our Prime Video audience," Albert Cheng, co-head of television at Amazon Studios, said.
According to TheWrap, Tales From the Loop "explores the town and people who live above 'The Loop,' a machine built to unlock and explore the mysteries of the universe—making things possible that were previously relegated only to science fiction. In this fantastical, mysterious town, poignant human tales are told that bare universal emotional experiences while drawing on the intrigue of genre storytelling."
Lazarus
Based on a comic book by Greg Rucka (Marvel's Jessica Jones), Lazarus is set in an alternative near future, where the world has been divided among 16 rival families, who run their territories in a feudal system. Each family has allies and enemies among the other families. To crush uprisings and fight wars, most families have a Lazarus: a one-person kill squad.
In an email to Amazon employees, per Variety, former studio head Roy Price—who left the company after sexual harassment accusations—said that he was feeling "bullish" about the next two years.
"The biggest takeaway is that once again, our overall content investment is increasing, which will allow us to continue to meet customer demand around the world for high quality and engaging programming," he wrote.
Snow Crash
Based on Neal Stephenson's cult novel, Snow Crash is a one-hour science fiction drama set in futuristic America. In reality, Hiro Protagonist (yes, that's really his name) delivers pizza for Uncle Enzo's CosoNostra Pizza Inc., but in the Metaverse, he's a warrior prince. Plunging headlong into the enigma of a new computer virus that's striking down hackers everywhere, he races along the neon-lit streets on a search-and-destroy mission for the shadowy virtual villain.
I've read the book and, honestly, I wasn't a fan. There are absolutely some intriguing concepts that feel like a far more mature version of Ready Player One, but there's also endless historical exposition that grinds the book's momentum to a halt. Hopefully, Amazon prioritizes the creative virtual reality elements and gritty real world building over the data dump of background info.
Ringworld
Ringworld is based on Larry Niven's sci-fi book series from the '70s (why no one has yet adapted Niven's Lucifer's Hammer is beyond me!). It follows Louis Gridley Wu, a bored man celebrating his 200th birthday in a technologically-advanced, future Earth society. Upon being offered one of the open positions on a voyage, Louis joins a young woman and two aliens to explore Ringworld, the remote artificial ring beyond "Known Space."
Ringworld won the Nebula Award in 1970, in addition to both the Hugo Award and Locus Award in 1971. There's a solid precedent in place here for something great.
Invincible
The Walking Dead comic creator Robert Kirkman jumped ship from AMC to Amazon and is now preparing to debut his first project, the hour-long animated Invincible based on Kirkman's comic of the same name. This is aimed squarely at adults as it follows Mark Grayson, the teenage son of the world's most powerful superhero. Upon his 17th birthday, Mark begins to develop special abilities of his own and learns the ways of superhero-ing under his father's watchful eye.
"Robert has an uncanny talent to predict the zeitgeist, and we are incredibly excited to see him break boundaries in an animated one-hour format," Yguado said in June. "In a world saturated with superhero fare, we trust Robert to subvert expectations while encapsulating a story filled with heart and adrenaline. We love his ambitious plan for the show and believe it will look like nothing else on television."
The Dark Tower
Per THR, Amazon is indeed developing a television adaptation of Stephen King's beloved book series The Dark Tower, though after the film version's flop last summer, it's unclear if the two live-action projects will be related. Adding fuel to the fire is io9's eagle eyes that caught since-deleted tweets from higher-ups involved seemingly confirming that The Dark Tower was coming to Amazon.
Sony was right to take a risk on the material, but the critical and commercial dud of a film may have damaged the brand in the short-term. It's doubtful that stars Idris Elba and Matthew McConaughey would be involved at this point, and despite the movie's weaknesses, they were a big selling point to fans.
Former Walking Dead showrunner Glen Mazzara is said to have been tapped to lead Amazon's small screen version.
The Hunt
Jordan Peele is developing a Nazi hunting series based on real-life events, and I am 100 percent here for it.
David Weil is attached to write and executive produce alongside Peele. The Hunt follows a diverse band of Nazi hunters in 1970s America as they set out on a quest for revenge and justice—tracking and killing hundreds of Nazis who, with the unconscionable help of the U.S. government, escaped justice and embedded themselves in American society.
Peele's production company Monkeypaw Productions reportedly began shopping the project shortly after the Charlottesville riots. Following the devastating success of Get Out, anything with Peele's name on it is considered a hot commodity right now.
Utopia
Utopia originally began as a David Fincher-led HBO adaptation of Dennis Kelly's British series of the same name. But after some development issues torpedoed the project, Amazon Studios swooped in with a nine-episode straight-to-series order with author Gillian Flynn (Sharp Objects, Gone Girl) serving as creator and showrunner.
Intriguing.
The show is centered on a group of young adults who meet online and are hunted by a mysterious government agency. After they come in to possession of a near-mythical cult underground graphic novel, they discover the conspiracy theories in the comic's pages may actually be real and are forced into the dangerous, unique and ironic position of saving the world.