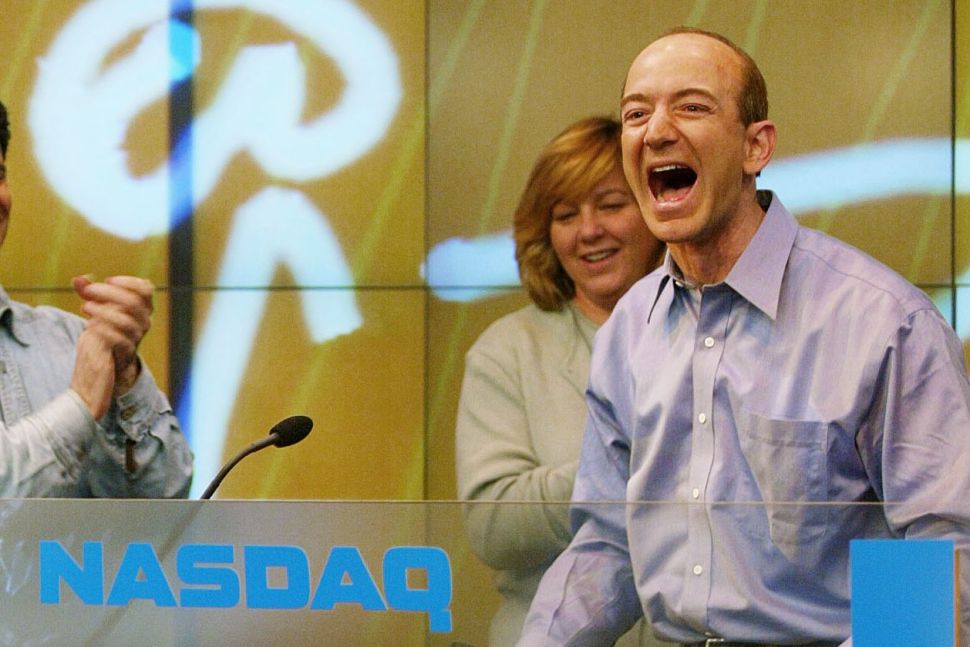 The past busy week of public company earnings releases didn't end pretty for tech giants. Facebook shares plunged 20 percent after missing its revenue forecast; Twitter shares dropped by 17 percent after reporting a user decline. Amazon, however, was the exception.
Amazon shares soared by four percent Thursday night to a record high after the e-commerce giant reported a surprising second-quarter profit of $2.5 billion, doubling Wall Street estimates.
The stock rally pushed Amazon's market value to just $70 million shy of $1 trillion, the highest value any public company has ever achieved.
"In a critical time, Amazon's stellar sales and burgeoning margin expansion helped decouple it from its FANG peers," Instinet, a New York-based equity trading company under Japan's Nomura Group, said in a note to investors.
Amazon's second-quarter revenue came out slightly below analysts' expectation, but profits blew away estimates largely thanks to its rocketing sales in the North America market and well controlled operating costs.
During an investor call on Thursday, Amazon CFO Brian Olsavsky attributed the record profits to an increase in online-ad sales, a high-margin business and "better-than-expected efficiencies in operations infrastructure costs," including a slowdown in external hiring during the first half of 2018.
That won't last very long, however, as Amazon looks to finalize its selection for its second headquarters, or "HQ2" by the end of this year, which will bring about 50,000 new hires and inevitably leave a mark in the cost column of future financial statements.
For the past two years, Amazon founder and CEO Jeff Bezos has frequently made news headlines for his net worth fluctuations. He has claimed the title of "the world's richest man" several times when Amazon stock soared. (Bezos owns 17 percent of Amazon.) And speculations of whether Amazon or Apple will become the first ever $1 trillion company have become a regular discussion on Wall Street.
A lot of that will still depend on Amazon's classic business of retail. Although the e-tail giant has been aggressively expanding on its smaller but more profitable cloud-computing business (Amazon Web Services), e-commerce still accounts for 60 percent of its total profit.