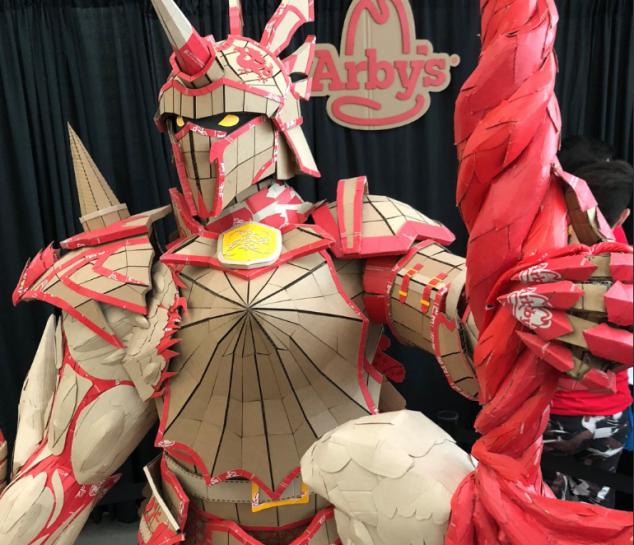 Who knew sandwich box sculptures were a thing? Anyone who follows Arby's Twitter or Instagram accounts. Luring in customers with original art is an odd tactic for fast food chains, but by all accounts, it's working.
The fast food restaurant recently unveiled a nearly eight-foot tall sculpture of the video game character "Nightmare" from the game SoulCalibur VI…made entirely from their food packaging.
https://twitter.com/Arbys/status/1018918190003388417?ref_src=twsrc%5Etfw
Arby's has become known for their creative box art over the past few years, and have constructed numerous cardboard sculptures for their Twitter and Instagram pages, mostly revolving around video game characters, anime and cartoons.
[protected-iframe id="4c43fd4445787779adffc2c3d928b2e1-35584880-109399282″ info="//www.instagram.com/embed.js" class="instagram-media"]
And fans of the genres have certainly taken notice, earning the sandwich purveyor something of a cult following in those realms.
Josh Martin, senior director of digital and social media for Arby's, described this approach to advertising as "being a 'fellow fan.'" The goal is to connect with niche subgroups and fandoms on a personal level.
"[The] majority of brands in social media are trying too hard to advertise and sell a product with their content. We're just having fun and want to connect with fans with content that ties to their interests and that they find interesting/engaging," said Martin.
Though Arby's focuses mainly on anime and video game subcultures, Martin noted they have previously explored other ideas, including sports, hunting, motorcyclists, weightlifting and woodworking in their cardboard creations.
In today's market of constantly revolving content and what seems to be endless ad after endless ad of someone shouting a catch-phrase while a different happy person bites into a sandwich, it's nice to see marketing content that feels somewhat DIY, tailored to an audience and totally fine with being a slow, painstaking process. (Though of course Arby's caters to the former pretty well with their booming narrator informing everyone within earshot, "WE HAVE THE MEATS!" Not sure if you've heard it before? Oh…you have.)
https://www.youtube.com/watch?v=WtxRLE5EsMQ
The Nightmare statue is a huge shift from traditional television advertising, and a completely different monster. It took eight people 14 days to make the statue, which was displayed at the 2018 Anime Expo in Los Angeles.
"There are plans for further builds with Arby's as well as continued plans for the Nightmare build," a representative for Volpin Props, the creative agency that works with Arby's, told Observer, though they can't currently reveal any details about future ambitious projects to top this beast. Guess you'll just have to petition their social feeds to see your favorite character brought to life.