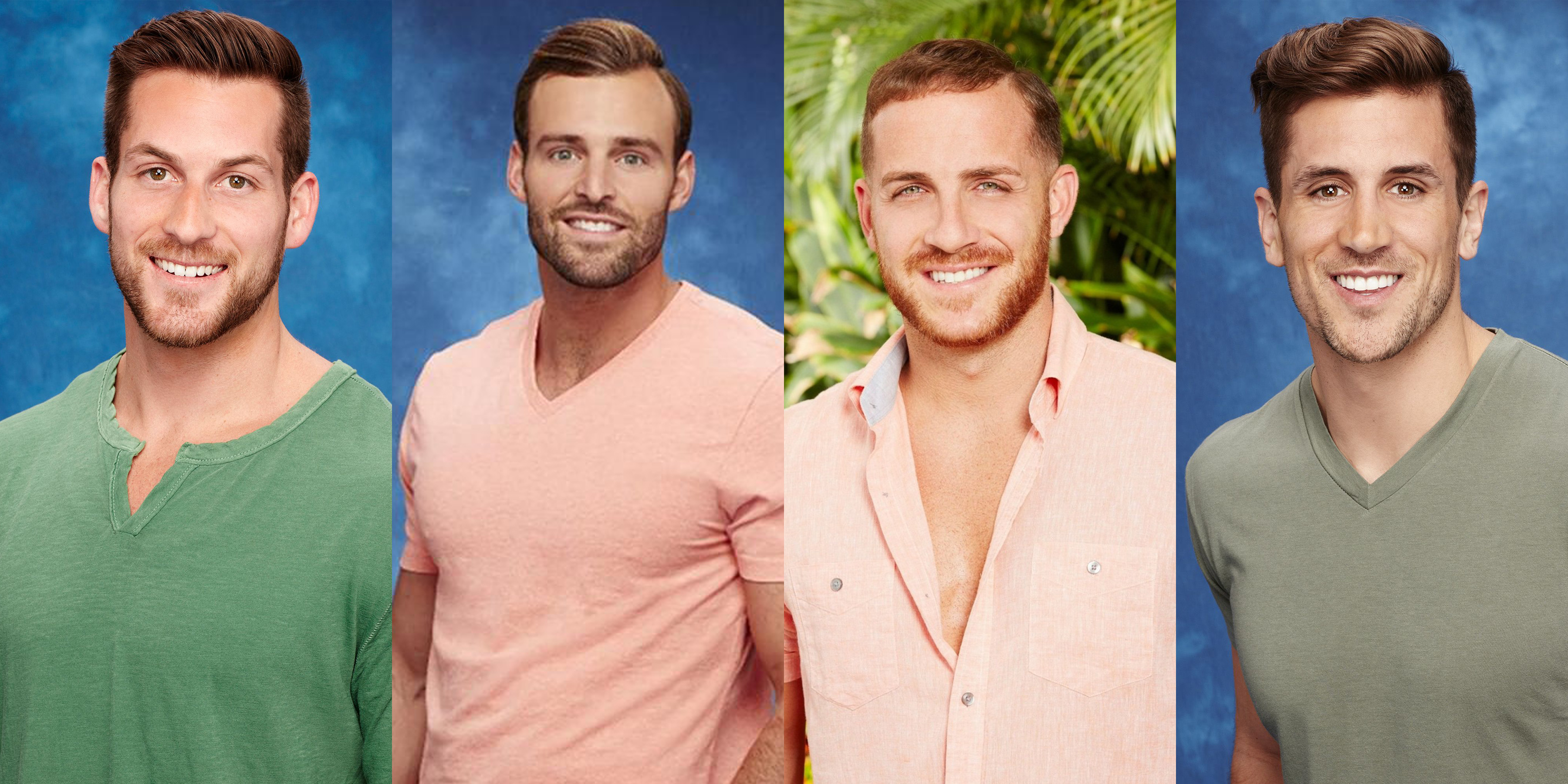 To compete on The Bachelorette, you need a jock's build, the ability to effectively talk about your feelings despite not having eaten food in eight weeks, and most importantly, hair at least a three to five inches above the national height average. Just see all of the top contenders in recent years for proof.
The high/high fade haircuts were most noticeable during JoJo Fletcher's season, spotted on Robby Hayes, Luke Pell, Chase McNary the ultimate winner, Jordan Rodgers. During Rachel Lindsay's season, the pomp pervaded, although it wasn't everywhere. Alex Bordyukov, Dean Unglert and the Tickle Monster all had variations on the theme, with racist Lee taking it to a new, Jimmy Neutron-worthy level.
The cut even made an appearance during the current season. Just look at the newly-announced Bachelor in Paradise cast member Connor Obrochta, the glasses-wearing, pompadour possessing contestant who was featured for at least .5 seconds before his early ending.
But why?? In an effort to figure out why all four of JoJo's four finalists had the exact same pompadour—and why the coiffure that's certainly out there in the real world, but is in no way as prevalent, is a go-to choice for contestants—I felt it prudent to take a deep dive into JoJo's season, where it all began.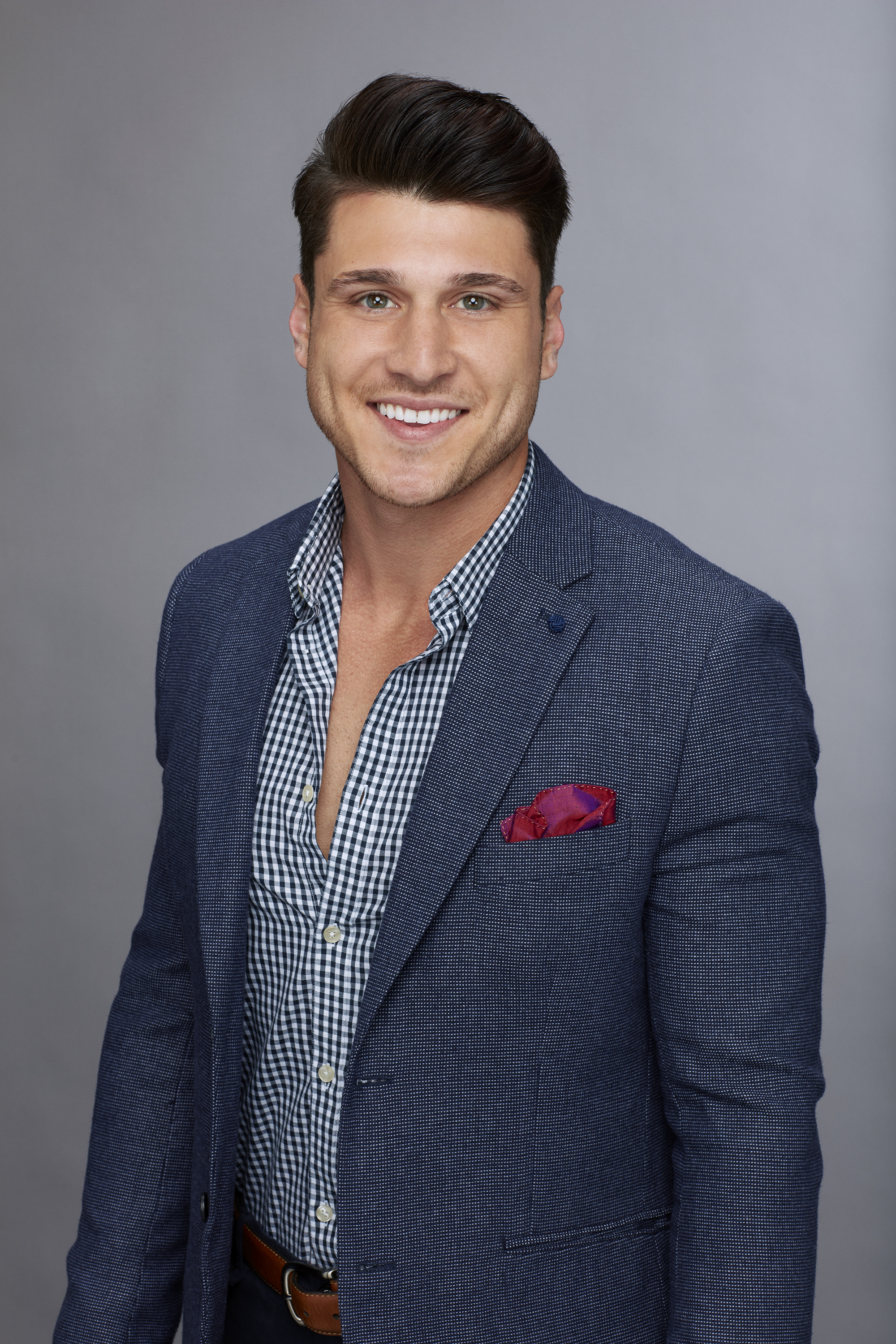 I had a few hypotheses. Perhaps those on later seasons were simply modeling their look on those of past contestants who were successful with said hair. After all, Aaron Rodgers' brother did win JoJo's heart with his pomp, which has only grown since their engagement.
Or maybe the men on the show became so bored while not going on dates 97% of their time that they spent hours in front of the mirror grooming. They could have discussed the products they used and helped gel each other, like middle school boys spraying Axe over a bay of lockers.
But to get to the bottom (or really, the top) of this hairy mystery, I brought in celebrity hair stylists, guybrow gurus and finally, the contestants themselves.
I asked experts why the men on this show have gigantic swoopy walls of billowing hair that remains perfectly done no matter what activity they partake in. It's not like every single man on the street is walking around with a similar style, so how do a few dozen dudes at the Bach mansion have the same 'do?
Celebrity grooming expert Ramy Gafni was the first to aid my quest. His theory was that big hair adds height to the shorter men on the show, especially when they're standing next to each other during elimination ceremonies.
"The bigger the hair, the closer the rose!" Ramy speculated. The guybrows expert has watched every season, and thinks the men are more focused on their looks now, leading to more polished appearances. "You have all these people aspiring to be reality stars. So everybody's working it a little more, getting facials and eyebrows done, spray tans, and the whole gamut."
He's noticed their appearances evolving since the first season. "I think they look a lot more—I'm going be kind and say metrosexual. But I'm waiting for a couple of them—they look like they're about to start making out with each other. They look pretty gay!" the openly gay Ramy said of the new looks.
Celebrity hairdresser Adel Chabbi, who has styled Courtney Love, Cynthia Nixon and Val Kilmer, was my next stop. "Women are attracted to big hair. However, personality and attraction matter most, so unless it matches the Bachelorettes, they won't have a chance even with the biggest hair in the world," Chabbi told us. He explained that the cut is easy since they can brush it wet and let it air dry without styling—he's had many men ask for a similar look at his uptown salon.
"It actually began last year when guys started shaving the sides and keep the hair on top very long. When the hair grew back, people noticed it looks great and that's how this trend started," he explained. He also agrees with Ramy about the height issue. "It definitely makes a guy look taller and gives overall more masculine complexions."
Of course, my arduous journey of finding out why every guy on The Bachelorette looks interchangeable led me to the contestants themselves.
My search led me to Bachelor bad girl Corinne Olympios, to see what she thought of the wackadoo 'do. She didn't mince words, telling me, "It's ridiculous. Put your fucking hair away. They just want to stand out and have no other way of standing out."
I then slid into Chase McNary's DMs for the real answers.They do not provide a hairdresser," Chase said. But most importantly, he revealed why they had the exact same haircut: because of a fellow contender.
"We lucked out on our season. Vinny was a barber and brought clippers. We had to sneak haircuts because they would get upset if we didn't have a consistent look," Chase told me. Chase said that after Vinny's craftsmanship, he never spent more than three minutes working on his hair.