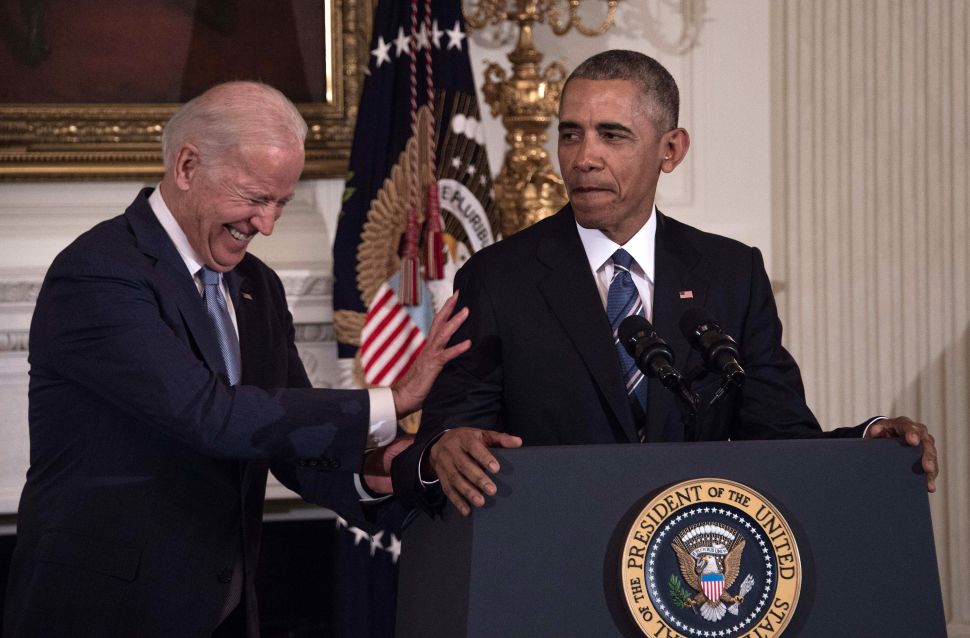 The bromance that launched a thousand memes is back—this time, in book form.
This week writer Andrew Shaffer released Hope Never Dies, a satirical murder mystery about President Barack Obama's and Vice President Joe Biden's post-White House escapades. It's already a top 10 bestseller on Amazon.
The 300-page work of political fanfiction features Obama and Biden as a modern day Holmes and Watson. When a conductor on Biden's beloved Acela express train dies in a mysterious accident, POTUS and his sidekick are thrust into Delaware's dark criminal underbelly.
Biden, who narrates the book, starts off as a bitter old man who jealously watches videos of Obama's lavish vacations in his basement. He even has a dartboard with a photo of Obama and Bradley Cooper at its center.
Shaffer got the idea for the book looking at those same vacation shots.
"A week out of office and Barack's on the vacation to end all vacations," he told Observer. "I wanted to pair him again with Biden, who looks like an action hero with the aviator shades but doesn't sound like an action hero."
So when 44 (who's now smoking again) appears on Biden's doorstep with the Amtrak story, the vice president puts aside his hard feelings to solve the mystery, which has stumped the FBI and Secret Service.
The book features numerous Easter eggs, including a dedication page that simply reads "Thanks, Obama." Biden also mocks Obama's "Hope and Change" slogan by saying, "Hope is just a four-letter word."
Many scenes strain credulity. For example, at one point Obama bursts into a motorcycle gang clubhouse with a sawed-off shotgun to rescue Biden from a bunch of angry bikers.
"What happens when Barack Obama cuts loose?" Shaffer said. "There's eight years of built-up tension, so this is a lot of wish fulfillment."
Shaffer is an old hand at satirizing well-known people and tropes, having written books like Fifty Shames of Earl Grey and The Day of the Donald: Trump Trumps America.
Fittingly, Hope Never Dies was published by Quirk Books, a purveyor of "awesome and geeky" stories like William Shakespeare's Star Wars, Pride and Prejudice and Zombies, and Sense and Sensibility and Sea Monsters.
Quirk is releasing the book during a peak season for political mysteries.
Last month The President Is Missing by Bill Clinton and James Patterson featured a commander-in-chief foiling a cyberterrorism plot. The book was an instant hit, selling 250,000 copies in its first week and shooting to the top of the bestseller list.
"We want to be reminded of what it was like under other presidents, and what the office of the president used to be like," Shaffer said.
He reportedly wants to continue the series, so maybe Obama will team up with his fictional counterpart at some point.