As you were busily scrolling through your phone the past few days, scouring the internet for news of church-going couple Justin Bieber and Hailey Baldwin's engagement, the royal family at Prince Louis' christening and Kendall Jenner making a semi-public appearance with her maybe-boyfriend Ben Simmons at Khloe Kardashian's July 4 party, you probably missed the true photo op that is former president Barack Obama in Spain.
Despite his love of much-deserved vacations, Obama's jaunt to Spain isn't purely leisure. He flew to Madrid to speak at the International Summit on Technological Innovation and Circular Economy last week, before going to Portugal to speak at a climate change conference—as you may have guessed, he has a different approach than the current administration, but we'll leave it at that.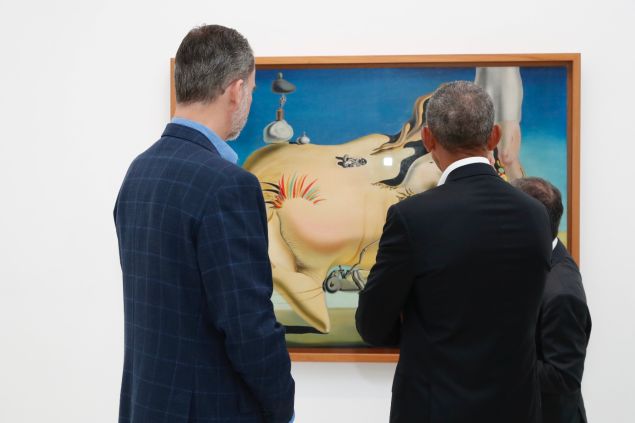 The next day, Obama was back in Madrid, casually hanging out with King Felipe VI of Spain. The two privately visited Queen Sofía National Art Centre Museum on Saturday, chatting as they strolled through and viewed paintings by Picasso and Dali, managing to outdo any summer weekend snap you took of a pool float, barbecue or sunset rosé.
The museum's director, Manuel Borja-Villel, gave the exclusive tour, and at the end King Felipe gifted Obama with a book relating to Picasso's El Guernica, according to international reports, and wrote, "To President Barack Obama, as a testimony of my friendship and affection and in remembrance of our shared visit to the Guernica painting, a timeless icon of the most universal art." Is this a bromance in the making? Has anyone alerted Joe Biden?
Obama also met with Spanish Prime Minister Pedro Sánchez; a government spokesperson said it was a "meeting between two people with closed agendas who nevertheless wanted to greet one another and talk for a few minutes. They were alone and Sánchez did not say what they had spoken about." Very mysterious.
Queen Letizia was absent from the outing, as was Michelle Obama, though the erstwhile first lady was reportedly in Spain earlier this summer—the Obamas were rumored to be guests at Elon Musk's brother's wedding in Girona in June.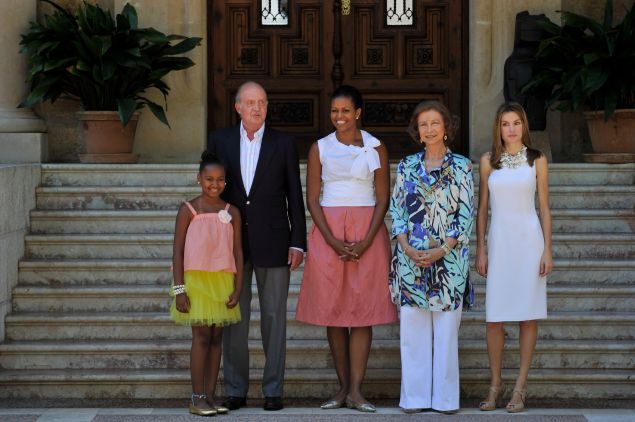 Per El Pais, the entire Obama family is actually still in Spain, and the rest of their time in the country will be all relaxation, as Malia and Sasha recently finished school for the year. The family may be jetting over to Mallorca to truly live their best vacation lives next; it's a place Michelle Obama is already quite familiar with. She spent time there last year, after dropping Malia off at college, sans her husband, for some solo time that involved a yacht we'd really like to be invited to next time. She also brought Sasha to Mallorca in 2010, where they hung out with Queen Letizia (back when she was still just a princess) and then-King Juan Carlos.
Anyway, it seems she's allowed her husband and daughters to attend this summer, so we're hoping for many a yacht photo in the near future—the golf-loving former president needs to make sure he hasn't lost his Instagram Husband touch, after all. We're not sure how long their European getaway will be, bit it's not like it's the family's last trip of the summer, as surely they'll be making their annual excursion to Martha's Vineyard later in the season—hopefully, they've found their new beach home already.