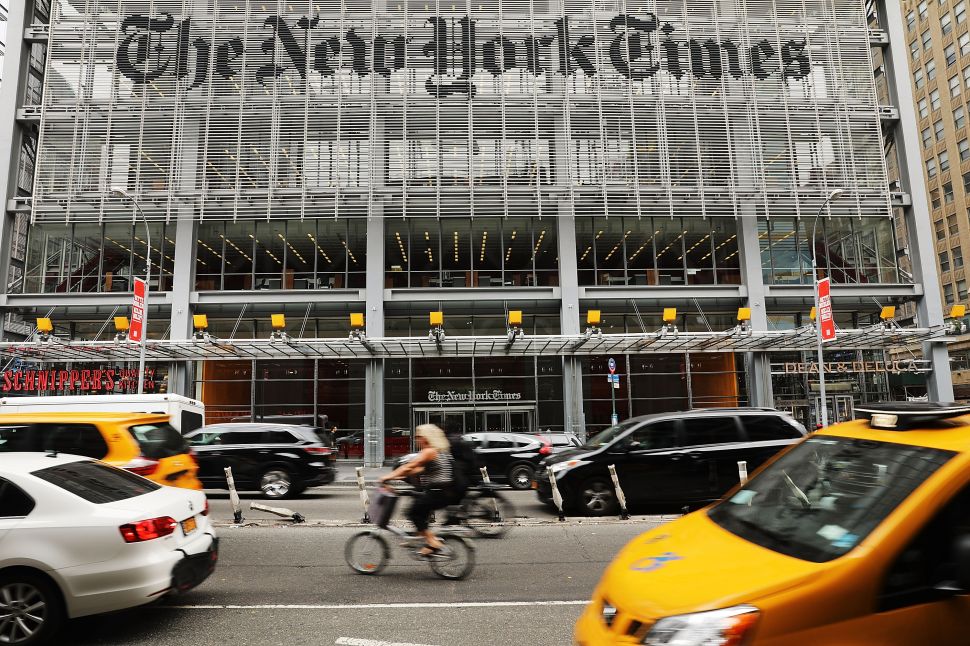 Looks like Ben Brantley needs to Go-Go away.
The chief theater critic of The New York Times is in hot water over his review of the new Broadway musical Head Over Heels, which features the music of the female rock group the Go-Gos.
Brantley wasn't a fan of the show. But it wasn't his critique of the production that rankled readers as much as his description of one character.
RuPaul's Drag Race contestant Peppermint made her Broadway debut in Head Over Heeels, becoming the first transgender woman to create a principal role on Broadway.
Peppermint uses feminine pronouns in her Playbill bio, but her character Pythio identifies as "non-binary plural." That was too much for Brantley.
In one section of the review, he described how a male character in the show "finds himself strangely drawn to her—I mean them." He also wrote that "gender binary" was an overused term.
Brantley's critiques have been catty for years, but many people thought his misgendering of a non-binary character showed discomfort with trans people in general.
Commenters on the Broadway World message board called Brantley's comment "off-putting," "petty" and a "microaggression."
"His comments show his age and irrelevance," one person wrote.
"It's downright offensive and hurtful," another chimed in. "I'm flabbergasted. My jaw hasn't come off the floor yet."
More criticism piled up on Twitter.
Brantley, who is openly gay, has reviewed for the Times since 1993. But no critic, no matter how established, is infallible. Many readers rightly pointed out that an editor should've corrected Brantley's language before publishing the review.
And this morning (admittedly after the damage was done) they finally did.
The review was updated to read "He finds himself strangely drawn to Pythio." Brantley's discomfort with the term "gender binary" was also deleted.
The critic said he was "deeply sorry" about the language he used.
"I feel horrible about having offended transgender and non-binary communities," Brantley said in a statement. "This unfortunately read as more flippant than I would ever have intended, especially with regard to a performance that marks a historical first."
Brantley may have seen the error of his ways. But that doesn't change the fact the Times theater section has been alarmingly sloppy of late.
On Sunday night Laura Collins-Hughes' review of the Smokey Joe's Cafe revival came under fire thanks to an unflattering comment about the weight of cast member Alysha Umphress.
"Ms. Umphress, by the way, is bigger than the other women onstage, and the costume designer, Alejo Vietti, doesn't seem to have known how to work with that, dressing her in an unnecessarily unflattering way," Collins-Hughes wrote (that line is still in the piece online).
Collins-Hughes isn't the first critic, or even female critic, to fat shame. British TV personality Katie Hopkins once accused Kelly Clarkson of "eating all her backup singers," and Observer's Rex Reed has described Melissa McCarthy as "tractor-sized," "obese" and "a hippo."
But thankfully not every reviewer is transphobic or a fat-shamer. Exhibit A is the Times' own Jesse Green, who shares chief theater critic duties with Brantley.
In his review this week of the Broadway play Straight White Men, Green defined the gender identities of the two non-binary characters with perfect clarity.
He discussed "Kate Bornstein, a gender theorist who defines herself as non-binary, and Ty Defoe, a two-spirit member of the Oneida and Ojibwe nations."
That puts everything out in the open—and the online version of the review includes links so readers know exactly what those terms mean.
So Green proved that being respectful and inclusive isn't difficult. Brantley and his problematic Times cohorts should take a lesson.