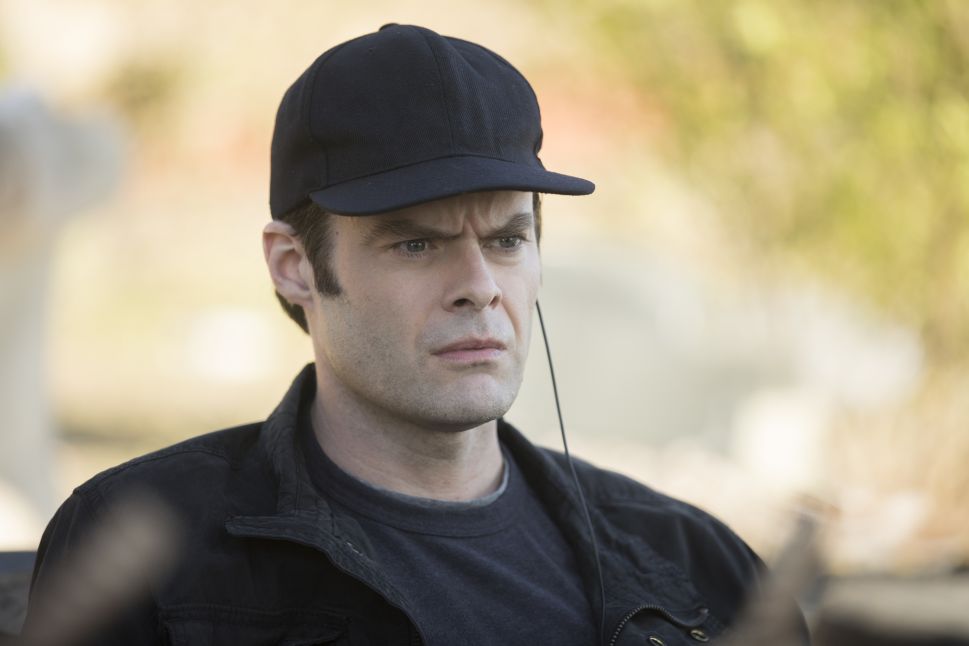 We've officially entered the summer doldrums of the television season where we find ourselves in the odd in-between weeks in which a handful of buzzy shows just ended and several enticing new series have yet to rev up. It's a very boring time to be a TV fan with very little going on. No wonder I've contemplated actually going to the gym recently. Whew, dodged a bullet there.
So while you're waiting for HBO's Sharp Objects or Hulu's Castle Rock to finally arrive, here are seven new series with just one season in the can that you can binge to help pass the time.
The Marvelous Mrs. Maisel (Amazon)
The Sales Pitch: Miriam "Midge" Maisel, a 1958 New York City woman, has gathered every facet of the American Dream—hot shot executive husband, two kids and a fancy Upper West Side apartment perfect for entertaining. But her idyllic life suddenly turns sideways, and Midge discovers a previously unknown talent—one that changes who she is. From there, she flees her privileged life as she storms the world of stand-up comedy… a path that will ultimately lead her to a spot on Johnny Carson's couch.
Binge-Worthiness: Upbeat, energetic and funny, The Marvelous Mrs. Maisel was one of the best television shows of 2017 hands down. As every single streaming platform doles out billions of dollars in its game of catch-up behind the market-leading Netflix, Maisel offers Amazon a serious awards contender and successor to Transparent as the platform's prestige darling. Star Rachel Brosnahan shoulders the load with a playful yet determined performance that continually pushes the series forward. Production is well underway on a second season, so now's the time to catch up.
The Terror (AMC)
The Sales Pitch: Inspired by a true story, The Terror follows the Royal Navy's terrifying voyage into uncharted territory as the crew attempts to unearth the Northwest Passage. Faced with hazardous conditions, limited resources, dwindling hope and fear of the unknown, the crew is confronted with certain death in the treacherous form of Mother Nature. Beaten, broken and separated from society, The Terror highlights all that can go wrong when a group of survivors battle not only the elements, but also the evil lurking inside their own hearts and a terror they can't understand.
Binge-Worthiness: Ridley Scott produces AMC's adaptation of Dan Simmons' famous historical novel, which has turned out to be one of the most disturbing (in a good way) pieces of content in 2018. The Terror is essentially a Man v. Nature (and some other evil) horror film stretched out over 10 episodes. It's a punishing series that is made tolerable by its uncanny grasp of humanity's physical and psychological limitations and endurance. Just make sure to leave the light on while you're binging.
Killing Eve (BBC America)
The Sales Pitch: Killing Eve follows two women; Eve is a brilliant middle-management MI5 security officer in need of some intellectual stimulation. Villanelle is a mercurial, talented killer who is drawn to life's luxuries that her violent job affords her. Killing Eve topples the typical spy-action thriller as these two fiercely intelligent women, equally obsessed with each other, go head-to-head in an epic game of cat and mouse.
Binge-Worthiness: Sandra Oh delivers a career-defining performance in what is sure to be an Emmy-nominated role. Her acting chops alone are reason enough to track down Killing Eve for a quick binge. It's a subversive tale that manages both wit and wry humor with a sense of thriller-esque suspense in a self-aware genre effort.
Barry (HBO)
The Sales Pitch: Bill Hader stars as a depressed hitman from the Midwest who travels to Los Angeles for a contract and winds up finding his perceived calling as an actor. But will his dark past get in the way of his newfound future?
Binge-Worthiness: Instead of milking the innately bizarre concept for all the comedy it's worth, the story quickly finds other avenues to travel down that are equally hilarious and compelling. Barry hops from out-right humor to something far darker while remaining compelling throughout. There's laughs to be had at this glimpse into a broken soul, but there are also lessons to be learned.
Collateral (Netflix)
https://www.youtube.com/watch?v=gJmjKv7WP7U
The Sales Pitch: Set over the course of four days in London, Collateral explores the spiraling repercussions surrounding the fatal shooting of a pizza delivery man. Detective Inspector Kip Glaspie (Carey Mulligan) refuses to accept that this is a random act of violence and is determined to discover if there is a darker truth.
Binge-Worthiness: Collateral quickly takes down societal paradigms from religions to political and legal belief systems that define our code of conduct as a culture en masse. It never elevates itself into truly special territory, relying far too heavily on crime coincidences and getting a little too cheeky for its own good, but it is consistently engaging and refreshingly non-cookie cutter.
The Looming Tower (Hulu)
The Sales Pitch: This anthology drama looks to highlight how tensions between the FBI and CIA may have paved the way for 9/11 and allowed the country to become embroiled in the Iraq War. Both agencies traverse the globe in order to best protect the country (at least in their eyes), while clashing over intel and butting heads at every turn.
Binge-Worthiness: We spoke to Looming Tower co-star Wrenn Schmidt who told us that she thinks "there are a lot of parallels with our story and what's going on right now in our politics and our country." As the relationship between John O'Neill (Jeff Daniels), a member of the counter-terrorism division at the FBI, and the combative CIA head Martin Schmidt (Peter Sarsgaard) unravels, you're left with the central question of what could have been?
The Chi (Showtime)
https://www.youtube.com/watch?v=oPqbhroAPWI&t=15s
The Sales Pitch: The Chi is a timely coming-of-age story centered on a group of residents from the South Side of Chicago who become linked by coincidence but bonded by the need for connection and redemption.
Binge-Worthiness: From Master of None co-writer and co-star Lena Waithe, The Chi often manages to put a fictional face to the tragic headlines that appear all too frequently in this country. And while the series does a good job of highlighting the struggle between law enforcement and Chicago's South Side, not to mention the struggles of such an upbringing, it can also fail to convincingly connect the show's multiple sub-plots and characters. It's a flawed but intriguing series.