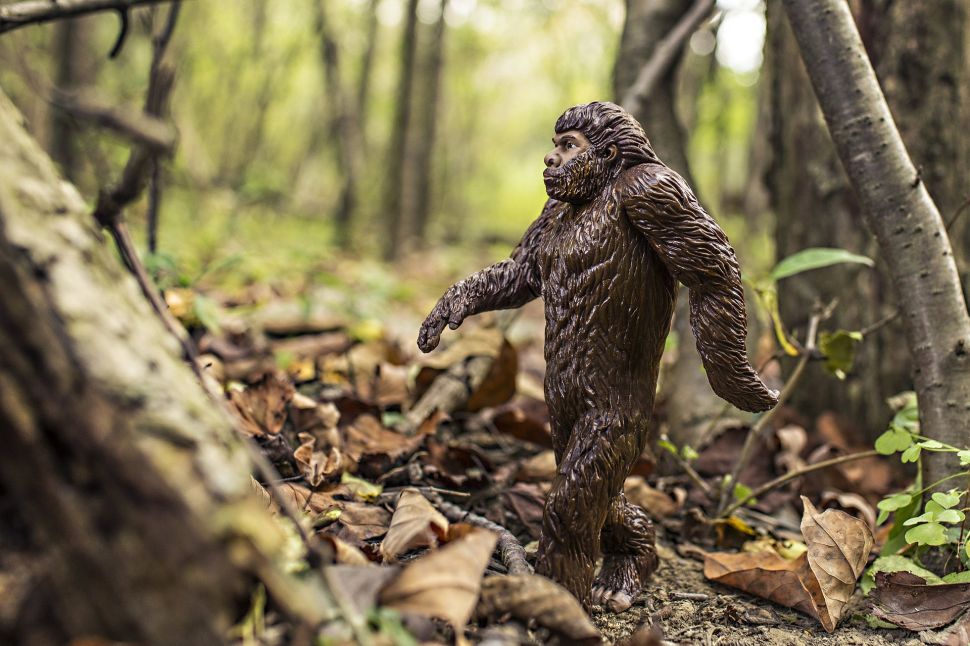 Whenever a celebrity shows up as trending on Twitter lately, there are two immediate fears that come to mind. The first is that they've died. Second, and usually worse, is that they've been outed as an abuser. So fans of Bigfoot might be forgiven for having a few moments of panic this morning when they saw that nearly 50,000 tweets had been sent about nature's gentle forest ape since last night. Thankfully, there's no need to worry, he's definitely alive and well, and, as far as we know, has kept his Sasquatch pants on. 
Not that that's necessarily how everyone would want it to go when it comes to the latter. People like Denver Riggleman, Republican candidate for Virginia's fifth congressional district, who is, allegedly, a patron of the cryptozoological erotic arts. 
Riggleman's proclivities were shared Sunday evening on Twitter by his opponent Leslie Cockburn. As if Riggleman v. Cockburn—which sounds like an unfortunate onanism-based medical diagnosis—wasn't already a silly enough sounding campaign, now, all of a sudden we have bigfoot porn to contend with. A second tweet Cockburn shared, also taken from her opponent's Instagram account, which has now been set to private, had Riggleman's head superimposed on the frightening, and yet somehow simultaneously alluringly powerful body of a Sasquatch. 
Riggleman has exhibited something of an affinity for apes in his other endeavors. The retired Air Force intelligence officer is also the owner of a distillery called Silverback Distillery, producers of such spirits as Strange Monkey Gin and Blackback Rye Whiskey, where they use "out-of-the-nest thinking," as their website proclaims. "Rule your nest… be an alpha" their promotional materials read. Riggleman is also reportedly the author of a self-published book titled The Mating Habits of Bigfoot and Why Women Want Him.
It is, needless to say, even in this already bizarre election cycle, a pretty weird detour. It's also telling that it's Bigfoot dick that's thrusting this campaign, one of the more interesting ones on its own, into the national spotlight.
Riggelman, a libertarian-leaning candidate who has vowed to join the arch-conservative House Freedom Caucus if elected, was selected by the Virginia Republicans to replace outgoing Rep. Thomas Garrett, who announced earlier this spring that he was an alcoholic and would not be seeking reelection. The reliably red seat (Garrett outperformed Trump by five points in 2016) has been seen as a longshot, but plausibly vulnerable, specifically in parts of Charlottesville where anti-Trump sentiment has increased, particularly in the wake of last year's deadly protests. 
Riggleman has refused to answer whether or not he will campaign with Corey Stewart, the Trump-supported Republican challenging Tim Kaine for Virginia's senate seat, but has appeared on video with him, including giving Stewart a tour of his distillery back in March.
Stewart is a fierce defender of the Confederate flag with connections to white supremacists like Jason Kessler and Paul Nehlen. Having connections to white supremacists doesn't really move the needle at this late point in our collapse into collective national insanity, it appears. Nazis are so last month. Can you get me something in the world of monster fucking?
Cockburn, for her part, knows something about how to grab people's attention. The longtime documentary maker and investigative journalist—and mother of actress Olivia Wilde—has dined with everyone from Mick Jagger to Saddam Hussein's sons, and has reported on everything from the CIA's connection to drug trafficking, the U.S.'s covert support of the Khmer Rouge, and Taliban-linked groups in Pakistan. Nonetheless, it's probably safe to say, she never saw anything much like this. 
Neither campaign had returned requests for comment by the time of publication.
Not that there's anything wrong with a Bigfoot fetish, to be clear. And while it's a goofy diversion for the political pundits, it's probably not going to make much of a difference at the polls in Virginia. On the other hand, Cockburn, a progressive democrat, has pledged that she will add her name to the Medicaid For All Act. Now that's a fantastical idea most of us should believe in.