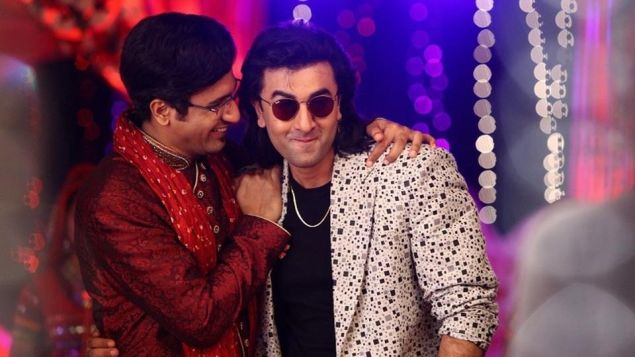 Perhaps more than most films based on real events, the Bollywood box office hit Sanju demands some real-world context. Chronicling the life of Bollywood superstar Sanjay "Sanju Baba" Dutt, from his debut in 1981 (in the Bollywood action film Rocky, directed by his father, Sunil Dutt) to his struggles with drug addiction, to his incarceration for arms trade in 2013 and his subsequent release, this alarmingly dishonest film exists primarily to exonerate its controversial subject.
Writer-director Rajkumar Hirani has been known to navigate complicated characters with deftness. Sanju fits distinctly into his wheelhouse, the story of a wayward soul who needs to learn to self-actualize, but the filmmaker's real-world proximity to the Dutt family results in a cinematic conflict-of-interest. Both Sanjay and Sunil Dutt starred in Hirani's landmark gangster-doctor comedy Munna Bhai M.B.B.S. in 2003, with the former even returning for its sequel. His new film Sanju, beloved by the industry and projected to soon become the second-highest grossing Hindi film of all time (eclipsing Hirani's own PK), attempts to vindicate the filmmaker's friend and collaborator of terror charges for which he was already acquitted.
More pertinently, it seeks to humanize the oft-maligned celebrity by merely paying lip-service to self-improvement. The goal of correcting public misconception is arguably commendable, but Hirani's modus operandi feels particularly ignoble when dealing with public figures. He invents, from thin air, even thinner fictitious characters—among them, an author whose investigations form the film's narrative framework—each of whom exist solely to make Sanjay seem virtuous. One wonders, then, if any real person could have ever served the same purpose.
While within the legal bounds of artistic license, Hirani's myopic attempts at acquittal result not only in a stilted character drama, one that feels boorishly wrong-headed and lacking in discernible ethos, but in a ferociously anti-news media bent at a time when journalists are under attack in India, the United States and elsewhere. Sanju, a film that places the onus of Sanjay's personal transgressions on journalism and circumstance, decries biased media narratives spoon-fed to the public for an easy buck (among countless other forces victimizing Sanjay, the eternally blameless), and it does so without a hint of irony as to cinema's place in this dynamic, let alone its own.
The film, which suggests empathy for the pressures of celebrity-children having to fill enormous shoes, sees third-generation actor Sanjay Dutt played by fourth-generation actor Ranbir Kapoor, whose family is a Bollywood dynasty unto itself. The role feels like familiar territory for Ranbir, who returns to the kind of Bollywood stock character he'd played early in his career: the disaffected youth, adrift and without direction, though privileged enough that it takes years of paternal speeches before the message sets in. In an industry of "launch kids," whose parents, aunts and uncles usher them into immediate stardom when other avenues don't pan out (or aren't explored to begin with), it's no wonder the mainstream Indian studio system is clogged with story after story of twenty-somethings who can afford to slack off until motivation, or opportunity, conveniently finds them.
Such is the case in Sanju, which, after opening with Sanjay on the verge of his prison sentence in 2013, flashes back to his first film role under the directorship of his established father, the late Sunil Dutt (Paresh Rawal). This structure is motivated by familiar biopic framing—Sanjay, in 2013, narrates his past to fictitious London-based biographer Winnie Dias (Anushka Sharma) in order to convince her to tell his side of the story. He spends first half of the film's sluggish 160 minutes describing his early career, the death of his mother, his addiction and his subsequent recovery all through the early '80s.
Dias' investigations in the second half of the film, during which she interviews other characters from Sanjay's past, reveal his actions circa the 1993 Mumbai bombings for which he was a suspect—these other perspectives prove to be unreliable; only Sanjay's appears to matter—until the film catches up to his recent mafia ties, his prison sentence, and his early release in 2016. The purpose of meticulously laying track in the buildup to the accusations, however, is to provide built-in excuses for the actor's mistakes. Sanju makes no genuine attempts at exploring the pressures of being thrust into the spotlight, but begins with Sanjay's debut film primarily to explore the shady motivations of his best friend at the time, Zubin Mistry (Jim Sarbh), the second of three fictitious characters invented expressly to exonerate Sanjay.
Mistry, a real estate mogul, is duplicitous to the point of nearly twirling his twitchy moustache. He approaches the author Dias with a story and a scar, urging her not to get in to bed, so to speak, with the accused actor because of his violent past. But while the events Sanjay "reveals" to counter Mistry's assertions result in Dias giving Sanjay the benefit of doubt, they don't yield the corrective narrative effect intended by director Hirani; instead of unearthing the good man he claims to be, the film portrays a Sanjay Dutt who is morally and ethically oblivious. It positions Sanjay's addiction as a function of both his father's long shadow, and of Mistry's coercion.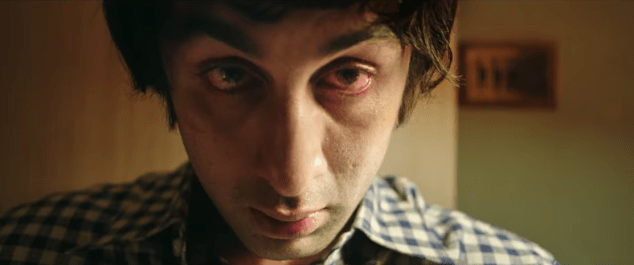 After Sanjay makes the genuine effort to kick his drug habit, Mistry is revealed to be something of a leech, supposedly having fooled Sanjay into snorting cocaine (Mistry would himself snort glucose powder alongside the actor, a medal-worthy leap of logic) in order to live off Sanjay's money. We're told as much, though never once shown how Sanjay was actually taken advantage of, even in a tale of Sanjay's own telling. The film subsequently revels in Sanjay's vengeful beat down of this cartoonish villain, as Sunil looks on with pride at this embodiment of his son saying "no" to drugs; a puerile attempt to contextualize hypermasculine violence as a vital moment of learning.
Sanju wants to have its coke and eat it too, placing Sanjay Dutt in control of most his own narrative and granting the remainder to the people it invented, thus avoiding Sanjay ever having to face his mistakes. Chief among them is his rocky romance with young Parsi girl Ruby (Sonam Kapoor, another third-generation actress), who Sanjay leaves at the altar after getting high and forgetting about her. While this presents Sanjay with an opportunity to do right by someone he wronged, it ends up a misplaced inclusion in this segment narrated by Sanjay himself, since he neither remembers the incident the next day, nor is he told what happened after the fact (at Ruby's behest). His suffering is spared—but such is the purpose of every female character in the film, from his mother to his wife to the investigative author. Ruby is never seen on-screen again. In fact, Sanjay is told she was the one who abandoned him. He's a pain to everyone in his orbit, but he's only ever contextualized as a victim. Even in a story structured as a retrospective on the past, his character never has the need to atone.
After being burned by Mistry's false friendship, Sanjay finds true camaraderie in Kamli (Vicky Kaushal), a New York-based fan of Sanjay's mother, the terminally ill actress Nargis (Manisha Koirala) who moves abroad to seek treatment. Kamli is portrayed as a rube, an immigrant simpleton who puts up with Sanjay's antics despite repeated betrayal. He completes the trio of fictional characters meant to humanize Sanjay, a superstar supposedly embracing "the common man," though it's another note that rings particularly false.
Kamli exists to guide Sanjay through mistakes he ought to learn from, begging him to go to rehab and calling on Sunil Dutt when he doesn't, but the film's pedestalization of the actor for some phantom self-realization doesn't align with the events portrayed. Sanjay goes on to sleep with Kamli's girlfriend to "test" her loyalty, or so he claims (a non-issue between the two) but the only sticking point in the duo's friendship is Kamli's abandonment of Sanjay years later, when he's accused of terrorism. The film's morality is bizarrely Newtonian: any action performed by Sanjay is forgivable, but the equal action against him garners the opposite reaction.
When the film revs up to let Kamli vocalize his side of things to Dias years later, it finally feels like Sanjay's rosy view of events (and of himself) might shatter. Prior to the film's intermission, Kamli reveals he has inside information about Sanjay's role in the 1993 Mumbai bombings, information he claims was told to him by Sunil Dutt himself. (The real Sanjay Dutt was cleared of terrorism charged and only convicted for illegal firearms, supposedly to protect his director-turned-politician father). Kamli's revelation seems like it has the potential for some kind of reckoning in the present—perhaps a twist in this publicly documented saga?—but it's further revealed to be a ruse. Kamli's insistence on Sanjay's guilt stems, as it turns out, from a contrived misunderstanding. He simply walked in on a private conversation at the wrong time, heard the wrong part of a sentence spoken by Sunil Dutt, and left without clarifying. However, the seed of Kamli's doubt is said to have been planted by the film's true villain: the unscrupulous news media.
In the world of Sanju, Sanjay Dutt and the press exist on opposite ends of a moral spectrum. The actor, despite the circumstances he seems to mysteriously find himself in over and over again, is beyond reproach. The press however—whether embodied by news editors played like Shakespearean conspirators, or by montages of dishonest headlines ending in question marks to avoid culpability—is irredeemable. We are lead to believe the press doesn't just bend the truth through error, but through mal-intent, feeding off the industry's most famous sons and the pressures they face. It not only invents salacious stories with no care for facts, but reports on terrorism based on hearsay. The film even goes so far as to connect the terrorism charges against Dutt to the press reporting on an unfounded rumor, rather than his factual social connections to other accused terrorists.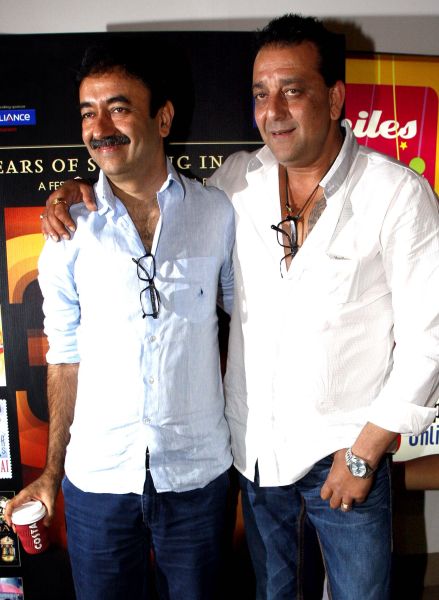 One would think that any counter-narrative, even a dishonest one, from a prolific filmmaker would be competent enough to at least follow-through on asserting its non-facts, but Sanju fails at propagating even its own putrid, anti-press viewpoint. When Sunil Dutt confronts a wry newspaper editor about stories connecting Sanjay to the mafia, the cinematic language on all fronts—from Sunil Dutt's righteous accusation as he stands in the editor's doorway, to the editor's slimy behavior from the comfort of his seat, cowering below the righteous filmmaker—strongly implies a skewing of facts to sell papers. And yet, the very same scene reveals the source of the editor's headlines to be actual police recordings of Sanjay Dutt on the phone with mafia dons. The film's paper-thin spin on this scenario, based on real recordings of Dutt's conversation with a gangster threatening to kill another actor, is along the lines of an excuse every fifteen year old has used with their parents: that Sanjay was being forced into friendship with the gangster, much like he was forced to snort cocaine.
Sanjay subsequently separating himself from the mafia is presented as an act of heroism. Even the don is impressed with this ballsy display, one that works in the context of a power fantasy untethered from real events—but Sanju is also attempting to comment on and recontextualize real-world happenings, in ways that not only alleviate Sanjay of blame, but valorize him.
Sanjay's cinematic comeback from these press accusations is neither framed as a function of familial privilege (the kind that provides continued employment to Sanjay, to fourth-gen Kapoors or to other launch kid despite repeated failure) nor as a function of political, professional or criminal connectedness, but rather, as a triumph of will over the dishonest media. Despite his own continued screw-ups, Sanjay's biggest hurdle is the people reporting on them.
Sunil Dutt's confrontation with the editor serves a dual narrative purpose. While its anti-press screed is dramatically ineffectual, the film's father-son story is emotionally potent. Paresh Rawal's Sunil Dutt, and for that matter Manisha Koirala's Nargis, are portrayed with feet of clay. Sanjay's parents, despite being stars in their own right, have a genuinely caring quality, the very "everyman" element Sanjay lacks to the point of needing an entirely new character, Kamli, by his side to make him seem relatable. Which isn't to say Ranbir Kapoor is at fault for the character's inherent lack of relatability, but his deep-voiced, droopy-eyed impression of Sanjay Dutt injects only what little nuance is possible into such a rigidly written character, one who remains unmoved as the world moves to accommodate him.
On one hand, the film is a stylized hagiography up until its intermission. Lights whiz past Sanjay like trails of paint when he's high on LSD, but even when he claims to want to get past his addiction, the visualization of his drug use never ceases to be attractive. The only coherently dramatized problem with Sanjay being an addict is that his father disapproves.
On the other hand, the film also tries to be a grounded dramatic tale in its second half, the story of Sanjay trying to be a better son to his angelically virtuous parents. But how can this man improve anything about himself if he's never to blame? The film's angelic sheen works for Sunil Dutt and Nargis in a way it can't for Sanjay. Sunil, for instance, needs to descend from his moral pulpit to protect an accused terrorist. He's shouted down in the streets, and in the film's flashbacks we see Sanjay's addiction tearing Sunil up inside despite his hardened exterior, a line Paresh Rawal walks admirably. This internal turmoil, though, is owed in large part to Sunil accepting the blame for Sanjay's addiction via the pressure he inadvertently puts on his son, simply by having achieved his own success. In Sanju, the biggest victim of nepotism is the children it benefits.
After an extended meta-textual "making of" look at Munna Bhai M.B.B.S.—one that plays like a victory-lap for Sanjay, Sunil and director Hirani, even though its only narrative function is Sanjay finally showing up to set on time—the film catches up to Sunil Dutt's real-world passing. In a scene with the utmost potential to be moving and grounded in a powerful performance, Sanjay recounts an undelivered speech in which he would have told his late father how much he deserved a better son. It's at this moment that the film's dueling narratives come to a head, the hagiography clashing with the self-improvement drama, with neither one the victor. Sanjay's words paint himself as a disappointment. The film however, has only ever painted him in a sympathetic light up until this point. He has never once attempted to improve or atone, nor does he do so after the funeral. Something is glaringly, almost daringly, amiss.
Sanju is at its best when it exists outside of reality. Sanjay's stint in rehab, for instance (which casts Eastern Europe as the United States, per Bollywood standard) features a song where Sanjay dances alongside the ghost of his departed mother ("Kar Har Maidan Fateh"), attempting to prove to her, and to himself, that he can climb this particular mountain—embodied by climbing a literal mountain, mind you. It's on-the-nose, certainly, but it's grounded in genuine feeling; this magical realism, however, is the film at its most honest. When Sanju tries to swing in the opposite direction, tackling real-world events and circumstances, its broad brush fails to capture anything resembling real-world morality or motivation for its lead, a particular problem in a story entirely about the morality and motivations of those around him.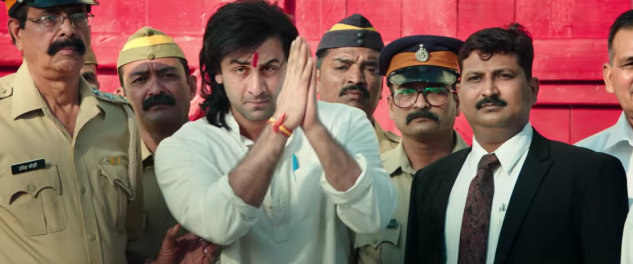 An inordinate amount of screen time is dedicated to fictitious people in conversation with one another, each representing perspectives on news media that are used to weave together the film's flimsy tapestry. Kamli is easily fooled by headlines. Zubin Mistry seeks to take advantage of Sanjay in some nebulous, unseen way, not unlike two-faced journalists. These two however, each reflecting facets the masses that fawn at the foot of celebritydom, are eventually disproved by Winnie Dias, Rajkumar Hirani's own investigative stand-in. The blue-eyed author proves herself more capable than the lowly Indian journos by getting to the supposed truth. Not by investigating leads or vetting facts, but by simply believing Sanjay Dutt because he deserves to be believed. Perhaps more egregious than the film's view of what the press is, is its view of what the press ought to be: uncritical of those in power, if not biased in their favor. In the end, even the sycophantic editor comes around and fawns over Sanju Baba.
Who is Sanjay Dutt? In Sanju, he's more symbol than man. Not a symbol for those wronged by the media or the system, but a stand-in for misunderstood superstars with the means to circumvent the trappings of the system in ways most people can't. His only challenge behind bars is being treated like the common man, even though in reality he was given the star-treatment. And yet, the film demands sympathy for a symbol—not of hope or strife, but of privilege. It demands empathy for an empty vessel, embodying a rich, nepotistic, often narcissistic status quo, without putting in the groundwork to craft character through any visual expression.
How can we learn something about a character who learns nothing about himself? That's the central narrative conundrum posed by Sanju—perhaps one that could've been answered through a more nuanced perspective—but the more pressing question is whether or not the mainstream Indian film industry will use this opportunity to learn something about itself, and who its grants the benefit of empathy. Though, given the largely positive industry response to the film, which ends with the real Sanjay Dutt sitting alongside Ranbir, gleefully ripping up newspapers while singing about "fake news" as if in protest of the media holding the industry accountable, the prospect seems unlikely.