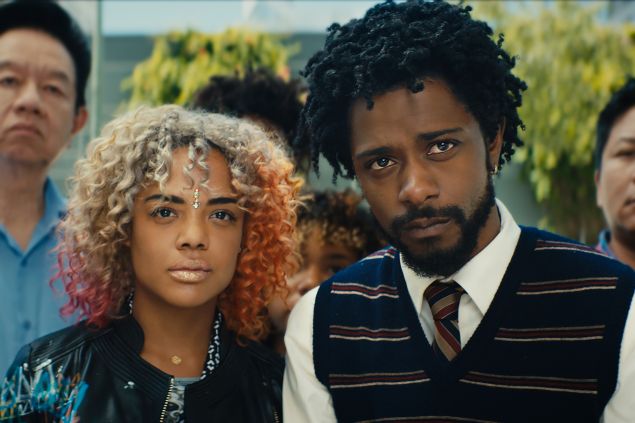 Before it morphs into an uproariously unhinged, surrealist, sci-fi satire and call to action, Sorry to Bother You begins as a modest slice of life comedy, the sort of which we were lousy with back in the '90s but that seem to be in short supply these days.
On the surface, the film tells the story of Cassius 'Cash' Green (Get Out's Lakeith Stanfield), a philosophically inclined Oakland kid living in his uncle's garage and four months late on his rent. He worries to his activist artist girlfriend (Tessa Thompson) about the nature of existence and whether anything he does will matter. It's a state of mind that only darkens when, to solve his economic woes, he takes a telemarketing job.
One of the first signs that Sorry to Bother You is a bird of a different feather arrives when Cash makes his first cold call. After an earthquake-like rumble, he is magically transported, desk and all, to the home of whomever picks up. Like nearly every joke in this movie, this one is inventive, absurd, and packs an unexpected emotional punch. (One woman he calls has a husband with stage four cancer.)
From there, things get really nuts. A coworker (Danny Glover, never too old for this shit) advises that the key to telemarketing success is using a "white voice"—not "Will Smith white," but actual white, i.e., "talking like you don't have a care in the world." Soon, Cash is speaking with the voice of Arrested Development's David Cross. It's an ability that allows him entrée to a golden elevator, achieving the exalted state of "power caller" ("where the callers are ballers").
Now, instead of encyclopedias, Cash is peddling slave labor to corporations, the film's clever way of targeting manufacturing's current race to the bottom (especially among gadget makers like Apple). To say any more—like how cocaine, horses and the 1985 Motown-produced film The Last Dragon fit into all of this—is to risk ruining the considerable and utterly unpredictable fun.
---

SORRY TO BOTHER YOU ★★★ 1/2
(3.5/4 stars)
Directed by: Boots Riley
Written by: Boots Riley
Starring: Lakeith Stanfield, Tessa Thompson, Armie Hammer, Jermaine Fowler, Steve Yuen, Terry Crews, Danny Glover and David Cross
Running time: 105 mins.

---
Oakland-based musician and first time writer-director Boots Riley has an agile imagination that is matched by breathtaking self-assurance, along with a revolutionary zeal equaled by a wicked sense of humor. When he takes on the appropriation of black culture, he does so in an explosively funny scene where the unrhythmic Cash is coerced by his boss, Steve Lift (a manic and funny Armie Hammer), to rap at a party. He gives his white audience what he perceives they want (and he's right). Riley's targets grow more numerous as his film gallops to its rollicking conclusion, and the whole time his aim stays true.
Riley's cast is more than equal to the task of balancing their director's absurdist comedy and heart-attack-serious intentions. Stanfield keeps Cassius and the rest of us grounded through the film's increasingly surrealist transformations, lending his character an inextinguishable integrity as he goes from slacker to sellout to revolutionary. Tessa Thompson serves not simply as the conscience on his shoulder, but she is the primary conveyance of the film's message of the power of confrontational art to counter the death grip corporations have on society.
Lately we have seen some considerable hand–wringing over movie audiences' apparent aversion to traditional comedies. Blame has been placed on everything from the proliferation of memes to the fact that new superhero movies provide plenty of chuckles on their own. Little mention has been made of the fact that those on offer have largely been retreads without much to say. This bold new film not only shatters comedy's cold streak, but also serves as a powerful reminder of the vitality of the genre as both social commentary and shared experience.
Comedy is just fine, thank you.