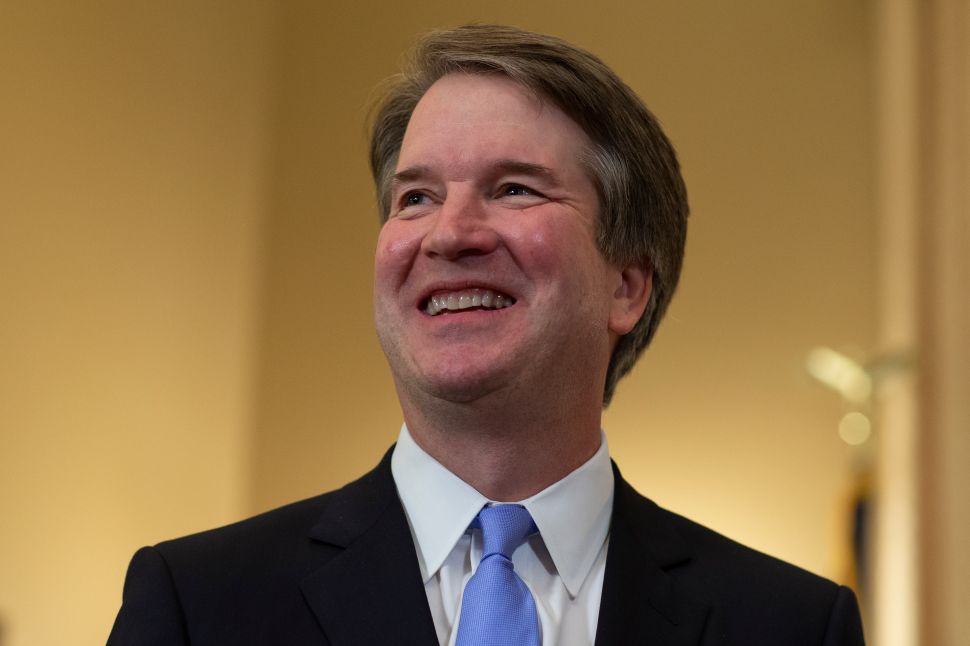 It's been a week since President Donald Trump nominated Judge Brett Kavanaugh to the Supreme Court, and much of Kavanaugh's legal history as a jurist has been analyzed in that time.
But one less discussed aspect of Kavanaugh's history on the bench is his take on the First Amendment and other issues important to journalists.
The Reporters' Committee for Freedom of the Press is looking to change that. Today, the nonprofit released a report detailing Kavanaugh's rulings in First Amendment cases.
Since Kavanaugh served on the Washington, D.C. Circuit Court, he often dealt with press freedom issues like libel, national security concerns and access to government information.
Here's where Kavanaugh stands on key issues.
Free Speech
Washington, D.C. is one of several jurisdictions that protects citizens from SLAPP (Strategic Lawsuits Against Public Participation). Under these anti-SLAPP laws, citizens are protected when they criticize a public or government entity.
Kavanaugh doesn't set much store by this, however. In a blow to free speech advocates, he said anti-SLAPP statutes are "procedural" in nature and inadmissible in federal court.
Government Transparency
Kavanaugh has often stated that the government can withhold information, and his most famous case in this regard actually hearkened back to the Kennedy administration. He wrote that the CIA could withhold the draft of a book describing the agency's actions during the Bay of Pigs invasion.
Even though the failed military operation took place over 50 years ago, the CIA said publication of the book would expose the agency's decision-making process. The agency made this claim despite the fact that four other volumes in the series had already been published without complaint.
Kavanaugh ruled that drafts of government documents were protected from disclosure like their finalized counterparts, in order to safeguard the present and future decision-making of government agencies. This is true even when the events described in the documents are decades old and have been described in numerous other books.
National Security
Kavanaugh supports the bulk collection of phone records in certain cases, writing in a dissent that the Fourth Amendment protected these digital searches in counter-terrorism cases.
He feels similarly about GPS location data. In 2012, the D.C. Circuit found that investigators need a warrant in order to reconstruct a defendant's movements.
But Kavanaugh dissented here as well, saying that while the installation of the GPS may have violated the Fourth Amendment, those monitored still have a reasonable amount of privacy.
Net Neutrality
Kavanaugh dissented from the D.C. Circuit's decision to uphold net neutrality. But he crucially doesn't think elected officials can make Internet Service Providers (ISPs) share data.
"The Government must keep its hands off the editorial decisions of Internet service providers," he wrote. "The Government may not tell Internet service providers how to exercise their editorial discretion about what content to carry or favor any more than the Government can tell Amazon… what books to promote; or tell The Washington Post or the Drudge Report what columns to carry; or tell ESPN or the NFL Network what games to show."
Libel
One bright spot in Kavanaugh's judicial record: unlike the president who nominated him, he doesn't want to "open up our libel laws."
In fact, Kavanaugh often sides with news organizations in libel cases. Last year, he dismissed a defamation suit against Bloomberg's Bureau of National Affairs (BNA).
A prisoner convicted of murdering two U.S. Marshals sued BNA for defamation over its reporting on his case. But Kavanaugh ruled the convict was a public figure and news organizations had written about his case without malice. As such, the defamation charge was dismissed.
"To preserve First Amendment freedoms and give reporters, commentators, bloggers and tweeters (among others) the breathing room they need to pursue the truth, the Supreme Court has directed courts to expeditiously weed out unmeritorious defamation suits," Kavanaugh wrote.
Liability of Tech Companies
Dawn Bennett hired a search engine optimization (SEO) expert referred to as "Pierson" to boost her website in Google search results. But after a payment dispute, Pierson wrote a blog post about how Bennett had cheated her—and used his know-how to make it one of the top Google search results for her name.
Bennett sued Google for defamation when it wouldn't remove the post, and Kavanaugh was among the judges that heard the case. He and his fellow justices found that Google was not liable for defamation or emotional distress because the internet afforded "myriad avenues for intellectual activity" and personal opinion.