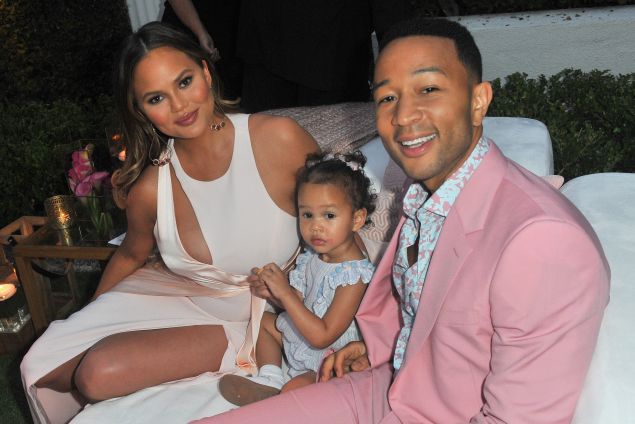 Chrissy Teigen just effortlessly roasted Meghan Markle's dad on Twitter. But where exactly did she do it from, while on her magical family wellness vacation? That's what we're here to investigate.
Actually, let's cut right to the chase: After employing detective tactics akin to Carrie Bradshaw's search for her stolen silver Manolos (with the addition of some serious Instagram stalking), I've come to the conclusion that they are at Como Shambhala Estate, a holistic wellness/health retreat in Bali.
How do I know this? First of all, we have the avocado toast—Teigen's Instagram Story depicts a very specific version of the Markle-approved snack, with a seeds/nuts/fruit/not-real-bread situation that the smashed avocado is perched upon. Lo and behold, the same treat is also on Como Shambhala's Instagram feed. Moreover, there is a "tuna sambal salad" on Teigen's Story, and on the retreat's menu—Sambal is a very specific word choice, making this all extremely scientific.
More evidence includes identical placemats in the resort's restaurant and on Teigen's Instagram, because color blocking extends to tableware now. Teigen's been spending lots of time in the yoga/Pilates studio, too, on the very machine pictured on Como Shambhala's website.
It's also a place Teigen and Legend are already familiar with, as they made the trek there almost exactly one year ago. After they returned, Teigen shared a post on Instagram, writing about what a "beautiful, wonderful time" the whole family had—and, interestingly, exhaustive background research reveals that people like going to places that they like going to. This qualifies as that.
The retreat is in the jungle, which adds to the whole well-being experience—nature and such. Guests can opt for different types of wellness programs with private consultations, as well as Asian therapies and, of course, healthy food that looks way better than any sad desk salad. It feels exactly like a getaway that would be highly recommended on Goop. And after writing that sentence, I perused Goop.com, and discovered that of course it is.
There is, of course, the remote possibility that all wellness retreats in Bali work with the same placemat distributor. Indeed, former president Barack Obama went on his own family vacation through Indonesia last year, and he stayed at the Four Seasons Bali, which also has a jungle backdrop and an infinity pool. Whatever. This is (almost definitely) where they are. Como Shambhala.