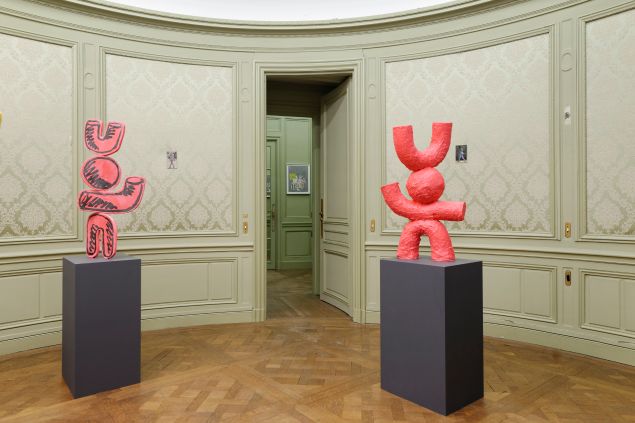 For many small to mid-sized contemporary galleries, it's widely agreed that art fairs are a necessary evil endured solely for the saving grace of getting a lot of eyes on their artists' work. But the jam-packed international fair calendar can have dealers scrambling to get from New York to Switzerland to Shanghai, incurring huge shipping and travel costs all the while—and that's on top of the five-digit figures they've already shelled out for a booth.
As an increasing number of galleries struggle to even keep the lights on, many are looking for ways to cut down on fair costs and find new ways of getting work seen. For some dealers, this means creating their own sharing economy by temporarily showing artists' works at other galleries. These collaborations exhibitions may offer more than just savings, however, instead yielding more intangible returns.
Like Couch Surfing for Art Exhibitions
Perhaps the best example of this new, millennial-type marketplace is Condo, a co-op exhibition project that allows galleries from around the world to show works in the host city's existing galleries. Started in 2016 by London-based dealer Vanessa Carlos, co-owner of Carlos/Ishikawa, the Condo model quickly spread to New York City; its second Stateside edition runs through July 27 at 21 galleries across Manhattan.
"New York City is almost like a year-round art fair," said Jim Dempsey, co-owner of Chicago's Corbett vs. Dempsey gallery, who is participating in Condo NY for the first time this year, showing works by painters Rebecca Morris and Ed Flood at Bortolami in Tribeca. He explained that the idea of New York galleries mounting work from other galleries is a simple but brilliant idea because it offers ease of access to collectors or curators that is "invaluable to an out-of-town gallery," especially one not located in a city with a powerhouse art market.
Condo has quickly expanded its reach far beyond the established art metropolises of New York and London, launching events in Mexico City, Shanghai and Sao Paulo this year. For Hannah Robinson, owner of Glasgow's Mary Mary who has set up shop at Mitchell Algus Gallery on the Lower East Side for the New York edition of Condo this summer, the co-op model isn't all about location. Besides lessening the overhead costs of fair investment, collaborative gallery exhibitions such as Condo add value through a better viewing experience.
Getting Viewers Back Into Gallery Going
"Showing in a gallery space means artists can present work in the optimum environment, possibly showing a larger number of works or a wider spectrum of their practice, than they would be able to in a small fair booth," Robinson explained. "It also brings people back to the idea of seeing gallery shows, talking to the gallerists, artists and being able to spend time with works," she said, all important aspects of the art business that is being compressed by fairs or even erased by online sales platforms.
Alix Dionot-Morani of Paris's Galerie Crèvecoeur is no stranger to alternative fair models, having helped start the multi-gallery-organized Paris Internationale fair in 2015 as an edgier counterbalance to the city's established contemporary art fair, FIAC. That didn't stop her from embracing other new models, though. She, too, is a newcomer to Condo NY this year, exhibiting with Bodega in the East Village.
"I think these new forms of collaboration between galleries are important to play around with because they are more responsive to the challenges that are redefining the way we work," she said, adding that both Paris Internationale and Condo have proven "interesting" ways to meet new collectors and to show artists to a different audience without a lot of upfront costs.
Collaboration Is Catching
While Condo might be the most systematized collaborative exhibition model at the moment, but it's not the only transatlantic, inter-gallery event on in New York right now. Currently on view at five galleries across Manhattan, the group show "The Surface of the East Coast," pairs work by contemporary American artists with that of artists active with the lesser-known 1960s French Supports/Surfaces movement.
Annika Peterson of the Turn Gallery in the East Village—one of venues hosting "Surface," along with Emmanuel Barbault, Ceysson & Bénétière, Josée Bienvenu and OSMOS—explained that the shared show presented her with an opportunity to contextualize the work of her artists in a new historical light. Perhaps even more valuable is that the multi-venue exhibition gives the participating dealers, all of who vary vastly in size and scope, a chance to bring in collectors and curators that might not have otherwise known about what they had to offer.
"No matter the size the gallery, there are more eyes on the artists' work and everyone benefits," said Peterson, noting that as a relatively new gallerist on the scene who has yet to undertake any art fairs due to their prohibitive costs, the collaborative show allowed her to branch out without adding to the bottom line of her usual programming.
As instances of peer-to-peer sharing and stewardship among dealers continue to proliferate, perhaps more galleries will eschew financially exhausting and ultimately ephemeral art fairs. As Dempsey pointed out, any opportunity to exhibit in a good space where there is a strong market is "like participating in the best fair you could imagine—and not just for five days, but for five whole weeks."