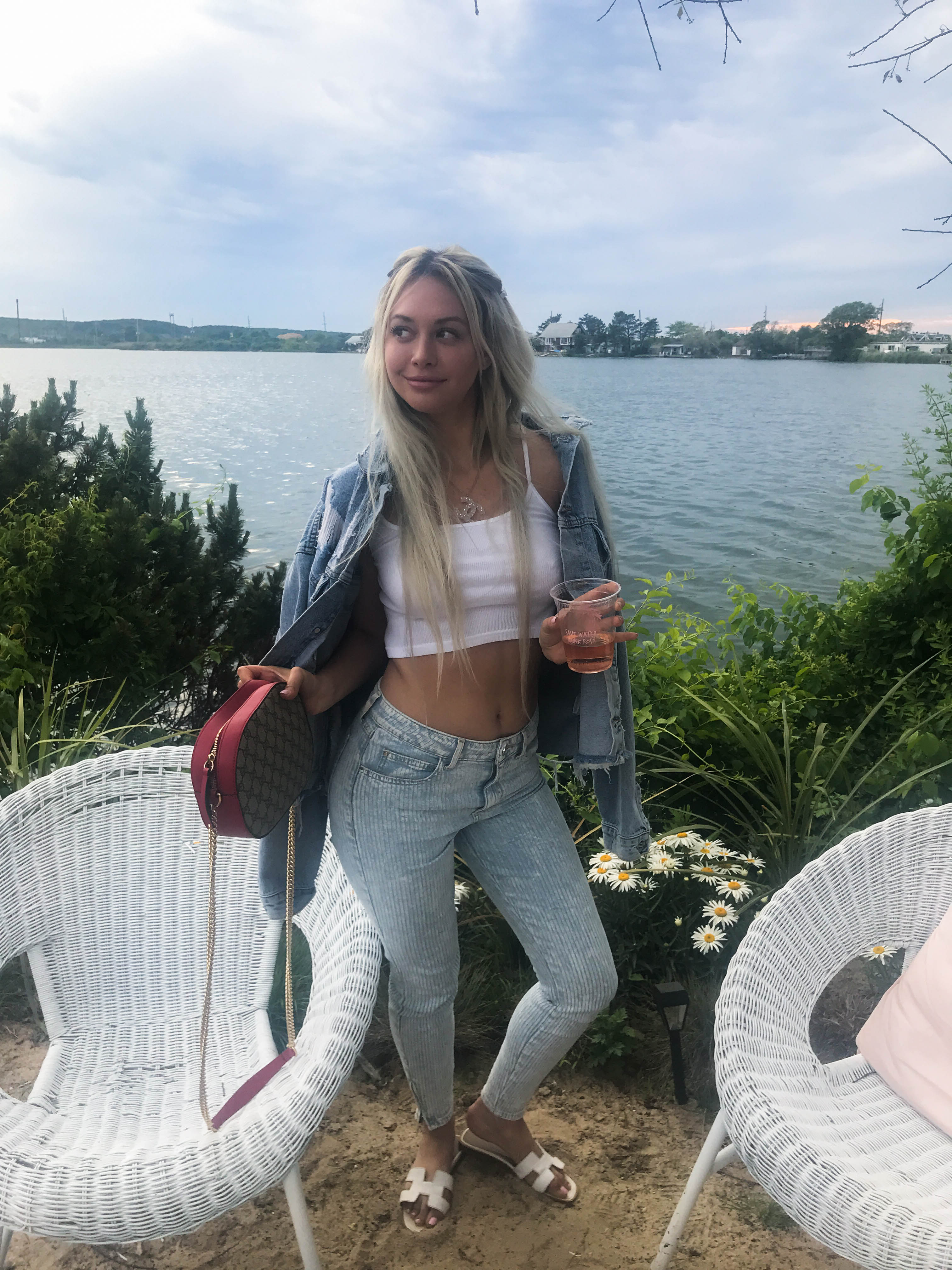 "You're a legend!" a more than somewhat intoxicated woman screams at The Bachelor's most infamous bad girl, Corinne Olympios, immediately requesting a selfie.
Surrounded by friends and perched on an Instagram-worthy chair in the sand, Olympios could be any other twenty-something with a social media following in the thousands (741k, to be exact) sipping a cocktail at Hamptons hot spot Surf Lodge on a Saturday night in the summer—only her stint on reality television made her memorable on a franchise where the contestants are often interchangeable.
While the women gets her requested selfie, millennials in barely-there dresses and sky-high wedges teeter in the sand for their chance to catch a glimpse of The Bachelor's notorious villain, best known for coining catchphrases like "My heart is gold, but my vagine is platinum," and increasing the popularity of the cheese pasta dish her nanny, Raquel, made her off-screen. 
Olympios, a bleached blonde Miami native, was the breakout star of Nick Viall's season of The Bachelorette. That feat wasn't too tough, as Viall was about as compelling as a bottle of Axe body spray, but the self-proclaimed businesswoman brought life to the franchise with her savage one-liners and seemingly endless self-confidence.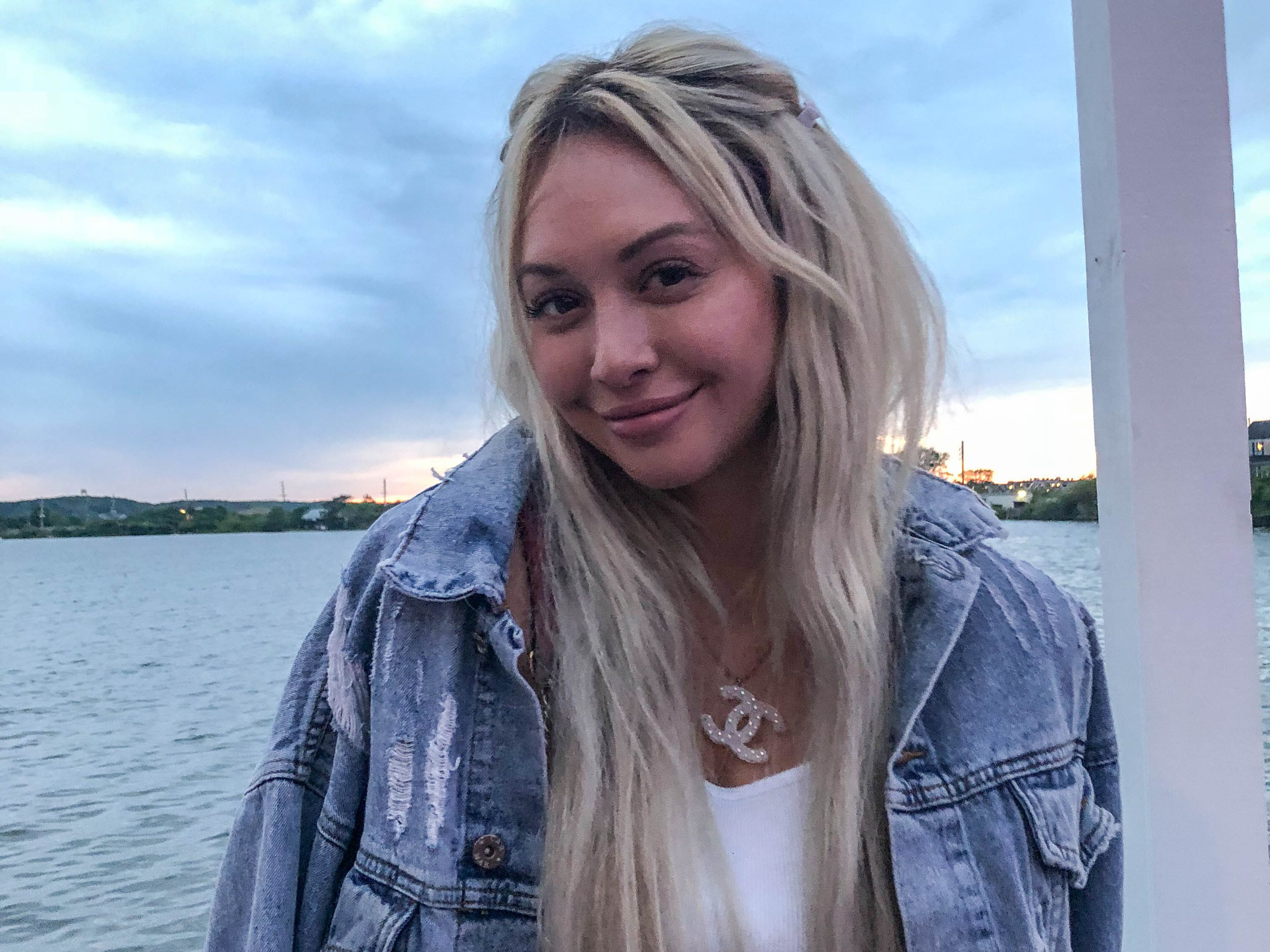 Clad in a white crop top and plastic Chanel necklace she picked up that day in East Hampton, Olympios sipped rosé while sucking on her Juul.
As Olympios discussed her reality TV past, Tiffany Trump and Naomi Biden updated their Instagram story nearby and Leonardo DiCaprio's model ex, Nina Agdal, canoodled with her current beau, Jack Brinkley-Cook. Jaden Smith was onstage, rapping against a backdrop of his own face. The Trump appearance was fitting, as Olympios has a clothing line that includes the tagline, "Make Corinne Great Again."
In person, Olympios is nothing like the villain she plays on TV. Quiet and soft-spoken, she delivers her one-liners in a hushed voice while Cardi B blasts much louder in the background. She's almost shy, which is certainly not what you'd expect (erm, back to "platinum vagine"). But she was eager to divulge the secrets of Bachelor Nation (which she's now far removed from), including why she's not she's still friends with her fellow Bachelor contestants, the reasons she should be the next Bachelorette and how she feels about the franchise post-Paradise.
With that, on to the Corinneterview…
I saw on Instagram you were at Coachella, where you posted lots. How was it?
It was really fun, I went with my sister, we had a really good time there. I was hanging out with Lauren Bushnell for a little bit, she's awesome. I saw Jasmine, I saw DeMario.
Do you keep up with the girls from your season?
For the most part, yes, but they're really cliquey for the other most part. I'm not in that clique because I just do my own thing, and they kind of know that. I don't have time for that. I actually do work, and I do things, and I'm trying to make a living for myself.
So, what's a day in the life for you these days?
I'm writing a book with my ghostwriter, I'm constantly in contact with my design team. I'm going down to Riot Society.
Did you ever think you would have been, or you should have been, The Bachelorette?
Absolutely. I think if they even had half a brain, I would have been The Bachelorette.
And did you wonder why they didn't choose you?
I don't know, maybe I'm a liability. I don't fucking know. I mean, it would have been so epic—fun, crazy, wild, truth, you never know what you're gonna get from me.
What was it like dating after the show? 
It's hard, because people think they know you already, or they judge you really hard based on what they've seen on TV. It can go any which way. And I don't do apps.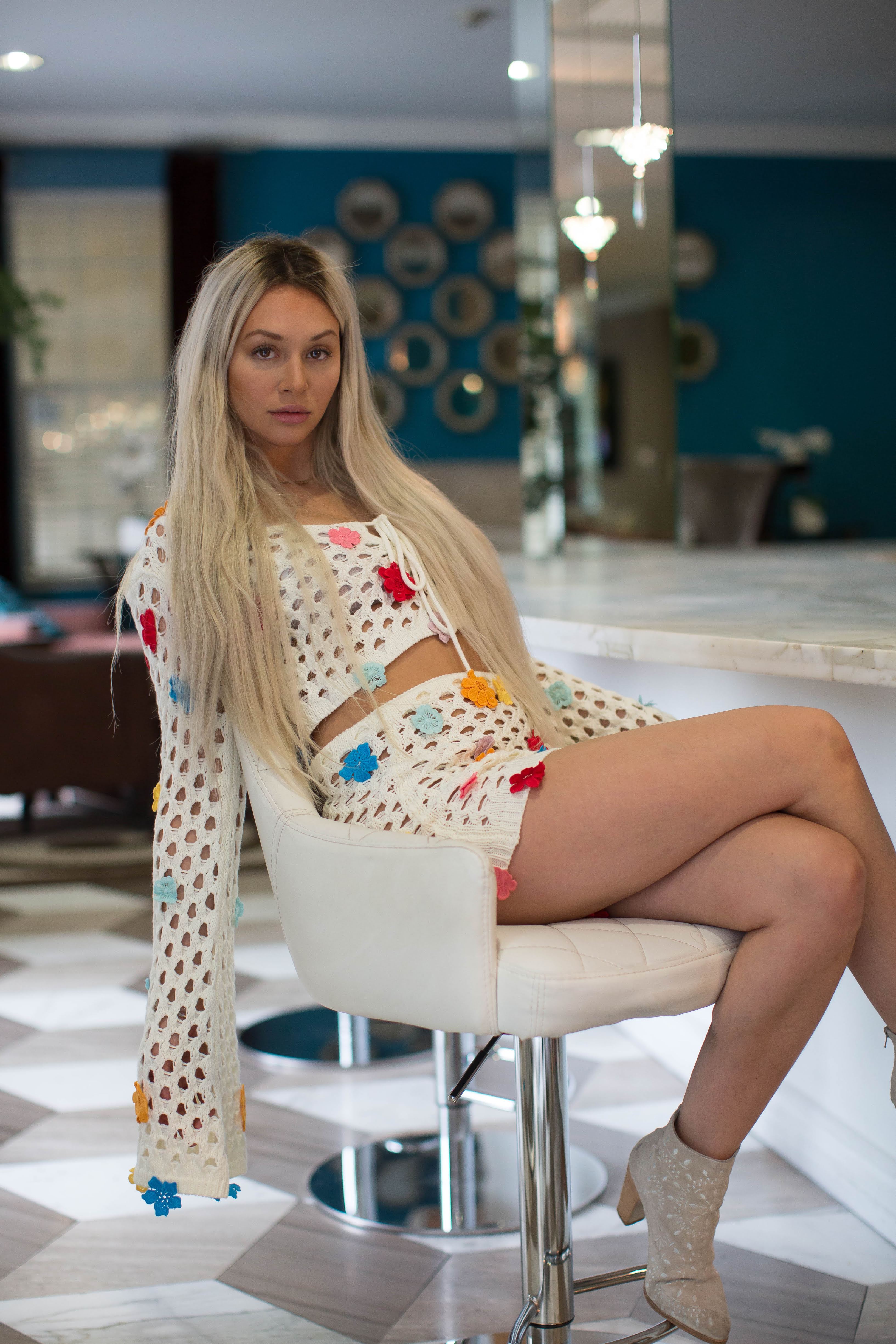 What was the worst thing about being on the show?
Not eating healthy, and not being able to workout. There's no time, there's no gym. So if you have to fit it in, you have to do crunches in your room. I'd do squats, lunges, crunches, burpees. Always. Every workout.
What do you do all day when you're not on a date on the show?
Nothing. You're hanging out, drinking. A lot of people wrote in diaries. I would write "Dear Diary, I'm not gonna write in a diary, because ew."
Your clothing line has your most famous catchphrases. What are the catchphrases people quote to you the most often?
"I have a platinum vagine, too." That's what every girl says to me. I'm like, no you don't. It's weird.
Who do you see wearing your clothing line? Who's on Instagram, buying it and wearing it.
A lot of random people. I sell to a lot of middle America.
Would you ever return to the franchise?
Of course, I would. I have nothing against the franchise. I love my Bachelor fam. It's where corn was born.
How did you handle the backlash after Paradise?
As I should have, I needed to let it play out itself. I never said anything negative, or did anything negative, against ABC or to Ariel. It was simply a situation that needed to be checked out, and it was, and I'm thankful.
Do you think ABC handled it well?
Yes, I do. And DeMario and I are friends now. Because again, he never said anything about me, I never said anything about him. It was consensual at the time. I'm still friends with the producers, I'm still friends with everybody. No bad blood anywhere.
What's next for you? 
I'm writing a book, I have my clothing line, I have my podcast, I'm starting a digital series with a major tabloid outlet starting to film in July. I feel like I'm not going to go back to TV until it's absolutely right for me.
You're not going to do Dancing With the Stars?
Say, "biggest eye roll you've ever seen."
Do you keep up with Nick at all?
Not really, no. Nick's just doing Nick. He's not really friendly to people. I think he's just really unhappy in his own life. And I wish the best for him. That's all.
I wonder if he'll do on another season.
I don't think so. I would be like, you're a loser if you do another season.
Did you know he was going to be your Bachelor?
I was actually thinking about not doing The Bachelor. And then I found out it was him and I was like, I'm down. I thought it was going to be Luke Pell, and I was not down. I was genuinely excited for Nick. I almost crashed my car when I saw. I swear. My sister sent me a picture from Instagram that said Nick's the new Bachelor, and I was like Holy motherfucking god.
What do you think of the Bachelor guys' hair? It gets bigger every season.
It's ridiculous. Put your fucking hair away. They just want to stand out and have no other way of standing out. The guys suck.
If you had to date anyone on the franchise who would it be?
No one. I'm not interested.
Who would be least your type?
Luke Pell, probably.
And finally, how do you make cheese pasta? I found the recipe, but I'm still confused. 
It's mozzarella, it's three-cheese mix, feta cheese, it's everything. Dump that in, and mix it. It's not macaroni and cheese. Mac and cheese has a gooier, thicker sauce.