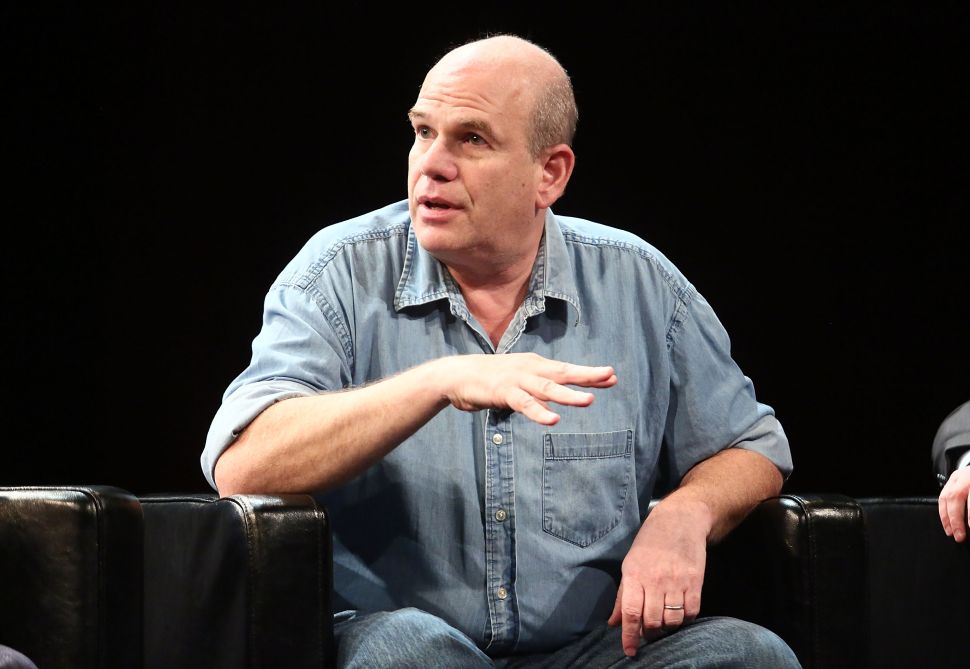 David Simon is one of the most prolific people on Twitter. The Wire creator has tweeted nearly 64,000 times over the last six years.
But now, it looks like he's done with the platform.
Simon explained his reasoning Tuesday night in a blog post called "Fare thee well, scrotelicks." He explained that he had been temporarily banned from Twitter over a post in which he told CEO Jack Dorsey he should "die of boils."
"I've told you to drop dead, as I told libelers and liars to drop dead," Simon tweeted.
This wasn't satire—Simon said in the blog post that he believed it was a "deserved insult."
"I find it harder and harder to believe that Jack Dorsey or the others engaged in regulating speech on his horror-show of a platform are unaware that their detached and dystopic vision of what is responsible speech and what is in fact crippling to our republic is not a solution," he wrote. "Having given us Twitter, they are in this moment, ruinous to its best purposes."
Simon also explained that this was likely his "final go-round" with the social media platform, and as such, he wanted to go out in a blaze of glory.
This isn't the first time Simon has been banned from Twitter. In fact, he said he had just returned from their "gulag" two weeks ago.
But the "boils" ban was the last straw. What made things worse is that Simon never received a warning or any other communication from Twitter aside from the block.
"And so, I can assume, this ends my time on Twitter," Simon concluded the blog post. "It's been fun, you scrotes."
The "scrotes" on Simon's blog overwhelmingly took his side.
"Fuck him [Dorsey] and the horse he rode in on," user Karl Phelan wrote.
While Simon's fury at the platform isn't that surprising (or unwarranted), the timing of his moral stand is regrettable because it comes after some of his most touching Twitter posts.
Simon was friends with Rob Hiaasen and John McNamara, two of the journalists killed last week during the Capital Gazette shooting in Annapolis, Maryland.
In his final days on Twitter, Simon filled his feed with tributes to the men—and fury at the politicians who he felt besmirched their memory.
Simon was also a close friend of Anthony Bourdain. He was banned from Twitter in the immediate aftermath of Bourdain's suicide last month, but posted a touching remembrance on his blog simply titled "Tony."
"He wore life's mistakes as a badge and laughed at the improbability of his newfound cultural iconography," Simon wrote. "The Church of Bourdain was founded not merely on the ever-more-vulnerable national credo that all Americans are created equal, but on the much more ambitious insistence that this declaration might be applied wherever you wandered and with whomsoever you cooked or shared a meal."
Once he returned to Twitter, Simon continued to defend Bourdain's legacy.
If Simon has truly left Twitter, the quality of writing on the social media site just plummeted. But on the bright side, it doesn't look like Simon is deleting his account.
So anyone who needs some written inspiration can just scroll through his feed to get the creative juices flowing again.