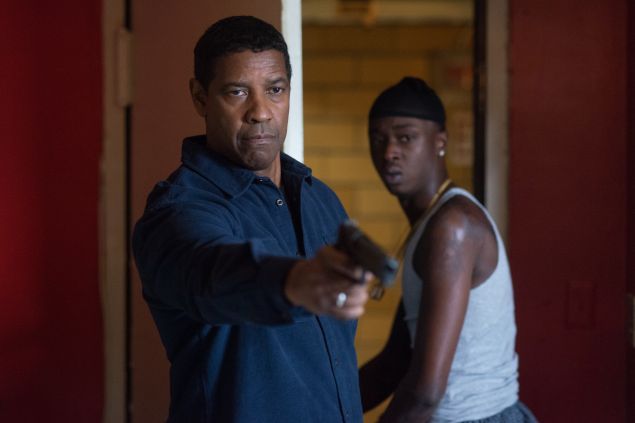 Few films in recent memory provided more illicit thrills than 2014's The Equalizer. Seeing Denzel Washington fillet a host of bad guys with corkscrews, garden clippers and even a drill, as the camera luxuriated over the details, was a cinematic experience you never thought you needed—until you saw it.
For the character's latest iteration, the team from the earlier film—Washington, director Antoine Fuqua and screenwriter Richard Wenk—all return, bringing with them much of the same structure and concepts, right down to the water-soaked denouement. (The first time around it was the sprinkler system in the hardware store where he worked; now, it's a beach town hurricane.) But while the results are much the same, the small yet significant alterations they've made have been deleterious to the delicate alchemy of what makes a good Equalizer movie.
This time, instead of tattooed Russian mobsters, the central bad guys are deep state equivocators, government operatives who are good or evil—depending on their mission. The lead character's intentions have shifted as well. Rather than righting universal wrongs, he's basically just out for vengeance.
These changes are important in a movie where the protagonist specializes in grotesque ways of offing people (Why use a gun to kill a guy when you can use a harpoon?) and the director soaks his frames in each act of violence as if it were a dish of Palmolive. Once the title character is separated from the absolute moral authority he wielded in the first film, the spell is broken, or at least less enchanting. Let's face it: without principles, Washington's Robert McCall is essentially a Jason Voorhees who has traded in his hockey mask for a leather driving cap.
Having left his job at the East Boston hardware store where he once worked (that tends to happen when you kill bunch of people in your place of business), McCall now makes due as a Lyft driver, a job that allows him to interact briefly but intimately with a wide swath of humanity. It also provides a perfect cover—and inspiration for—his secret side hustle (not that it pays anything) as the Bay State's deadliest task rabbit. The best parts of the movie are these comparatively smaller assignments he undertakes on behalf of the besieged: recovering a stolen painting that belonged to a Holocaust survivor, rescuing the child of an independent book dealer from an estranged partner, breaking various limbs of some douchey businessmen who drugged and assaulted an intern, etc.
---

THE EQUALIZER 2 ★★1/2
(2.5/4 stars)
Directed by: Antoine Fuqua
Written by: Richard Wenk
Starring: Denzel Washington, Pablo Pascal, Melissa Leo, Ashton Sanders, Bill Pullman, Tamara Hickey and Orson Bean
Running time: 121 mins.

---
The centerpiece story is comparatively less compelling. It involves the overseas murder of his one friend, the operative Susan Plummer (Melissa Leo, returning from the first film along with Bill Pullman, who plays her husband). Her death is part of a series of double-crosses that are murky as plot points but give McCall his purpose in the film: hunt down and kill the guys who did it in various grotesque ways.
In the meantime, he finds time to mentor a young artist in his building named Miles (the talented Ashton Sanders, who played teen Chiron in Moonlight), luring him away from street life by introducing him to good works and Ta-Nehisi Coates' Between the World and Me. (As a result of his friendship with McCall, Miles gets to be a hostage for the final part of the film).
The final showdown at the abandoned and hurricane-ravaged beach town where McCall once lived with his long ago dead wife is drawn out and psychologically strange: it feels like The Gunfight at the Eternal Sunshine of the Spotless Mind Corral. Indeed, for much of the movie Washington seems like he's in a somnambulant or at least dreamlike state. His eyes are dead but his mind is always working; he is at once inured to the violence he commits and thrilled by the efficiency with which he commits it.
Regardless, Washington is a pleasure to watch on the screen. The two-time Oscar winner is able to tap into his own surplus of moral righteousness even when the script is pulling the carpet out from under him. It's just enough to push the film across and make the audience feel less conflicted about enjoying its gushy avalanche of violence.