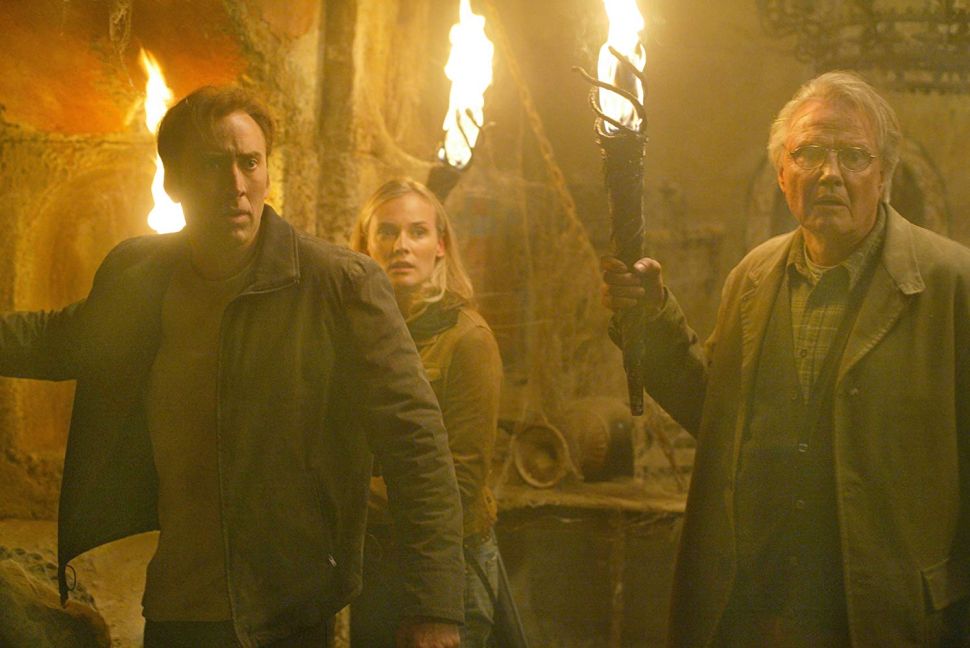 The entertainment industry is waiting with bated breath for Disney to introduce its streaming service, which will immediately threaten Netflix for streaming supremacy and upend the hierarchy. But more so than shake up the ongoing Hollywood arms race, Disney's streaming service will further muddy the definition of what a "movie" really is.
In a recent interview with Slash Film, National Treasure director Jon Turteltaub revealed that rather than make a National Treasure 3, Disney is much more likely to reboot the series as a new film for its own streaming platform. It's a sign of the times, where enticing big screen original concepts, troubled feature productions, risky box office bets and diminishing theatrical franchises can all receive a new lease on life thanks to the advent of the new entertainment medium.
Some members of Hollywood's old guard still continue to refuse to acknowledge streaming movies as movies. Steven Spielberg recently argued that Netflix should not be permitted for Academy Awards consideration, even going so far as to label the company a "clear and present danger to filmgoers." These comments echoed similar remarks made by Christopher Nolan last year, though the director eventually walked those back somewhat. But the point of exclusion was driven home when the Cannes Film Festival banned Netflix from competition earlier this year.
All of these are instances of holding on to an outmoded way of thinking and a refusal to accept the rapidly changing reality of the film industry. Yes, seeing a picture in theaters can still be a magical experience, but it isn't the only way to consume content and it isn't the defining characteristic of a movie. Dunkirk was made for IMAX viewing, but streaming has slowly begun planting its flag across genres and circumstances.
Netflix's Okja, from Snowpiercer filmmaker Joon-ho Bong, is one of its very best originals and one of the most fiercely unique films of 2017. Dee Rees' Mudbound was nominated for four Oscars, including Best Adapted Screenplay, proving to be a smart buy for the platform out of Sundance. Both represent different takes on the prestige drama.
Will Smith's Bright may have been more punchline than hit, but the $100 million sci-fi fantasy was a beacon to the industry that Netflix is willing and able to bankroll blockbusters. With Annihilation and The Cloverfield Paradox, Paramount was able to mitigate some of its box office risk with the former while unloading a troubled project with the latter. In the process, Netflix bolstered its library with a smart, compelling and cerebral sci-fi picture and disrupted the natural flow of an entrenched linear television tradition (advertising during the Super Bowl).
The streamer needs to focus more on delivering consistent quality—something the Coen Brothers' The Ballad of Buster Scruggs should help with—but you can see the early stages of a game plan begin to take place. Amazon Studios has been chugging along with theatrical releases that hit its streamer soon after. Do they make the cut in the eyes of the old guard? Where is the line drawn?
Back to Disney, National Treasure still has its fans, and it isn't the only valuable piece of IP that could be retooled for streaming. Once the Mouse House takes control of Fox, other franchises currently on box office life support that might be suited for a paint job include Alien, Ice Age and even Die Hard (the adult skewing content could find its way to Hulu). Even the studio's live action Peter Pan film may be earmarked for online distribution.
The point is, audiences are much more willing to give something a try if its delivered with the inexpensive convenience of not having to leave the couch. The viewing setting does not decide if a movie is a movie. Our tastes as paying customers is a far more powerful factor to consider if a company want to stay in this business long-term.
Our consumption methods are changing, and the industry's perception of content needs to change with it. These are all still movies, nothing has changed except where we watch them. While that may affect how these movies are made in the future, it doesn't change what they inherently are.
And while we're on the subject, Hugh Jackman would be perfect for a National Treasure reboot.