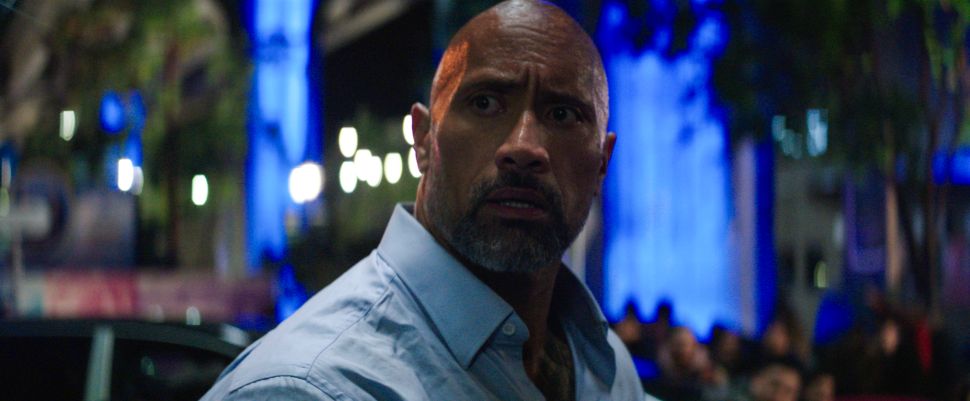 Film fans know all about Dwayne "The Rock" Johnson's impressive box office streak. His $20-plus million pay days are sources of admirable envy throughout the industry and beyond. But the entire time we've been examining Johnson as a global Movie Star—every smashing worldwide hit and box office flop—is it possible that we've actually been underestimating just how successful he really is?
According to Forbes' annual highest-paid celebrity list, Johnson has just set a record among actors for the highest salary ever (excluding non-acting paydays). From June 2017 to June 2018, the blockbuster action star raked in a staggering $124 million, reclaiming the top spot from Mark Wahlberg ($68 million), who usurped the throne from Johnson last year. The Skyscraper star earned "just" $65 million from June 2016 to June 2017.
Johnson's success over the last 12 months isn't entirely shocking.
He helped push Jumanji: Welcome to the Jungle to unexpected heights as it earned $962 million worldwide and became Sony's top-grossing domestic film of all-time. April's Rampage added a healthy $425 million, and even though Skyscraper isn't doing big business, Johnson is adding to his income with audience bonuses thanks to his massive social media following (110 million Instagram followers, 12.7 million Twitter followers). Those numbers give him significant leverage when negotiating social media promotion fees.
But box office points are really where Johnson earns his money.
According to the term sheet for his upcoming film Red Notice with Gal Gadot, Johnson will earn $1 million for every $25 million the film earns in worldwide box office dollars after it has grossed 2.5 times its budget. For the sake of argument, let's just assume the former WWE champion had a similar deal in place for Jumanji. That would mean he's earned $28.24 million in profit sharing alone. That's just conjecture, but you can see how Johnson claimed the title of Hollywood's biggest earner from 2013 to 2016 and set records this year.
Johnson has three films set for release in 2019—Jungle Cruise, Hobbs and Shaw and Jumanji 3—before Red Notice arrives in 2020. Don't be surprised if he continues to top the leader board in salary.