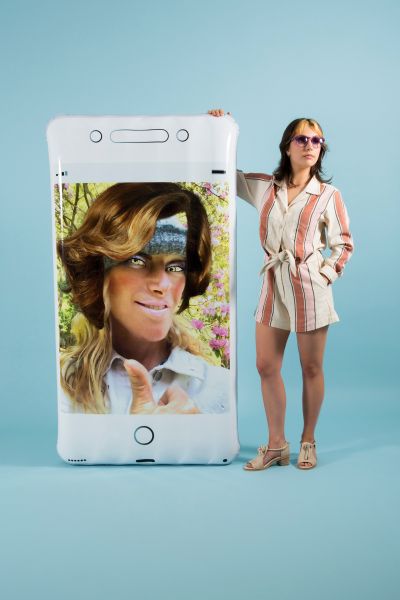 Cindy Sherman made her private Instagram account public last summer, gifting the world with countless distorted selfies. Known for her non-conformist self-portraiture work, it was hardly a surprise to see the artist experiment with strange filters, wigs and make-up on social media.
This summer, Sherman is giving one person the opportunity to buy a signed copy of a selfie art piece, in the form of a smartphone shaped pool float, on ebay (EBAY) for charity. All proceeds from the auction will go to +Pool, New York City's favorite pie-in-the-sky concept we are all actually rooting for, a non-profit initiative to install a water filtering, floating swimming pool in the East River.
The pool float was released earlier this year in collaboration with Third Drawer Down, but the signed version went live yesterday. Sam Bright, VP of Soft Goods at eBay, said he expects the pool float will be a sought-after collectible. "This is the first time that we've had a Cindy Sherman-designed pool float, and the only one signed by the artist," he said.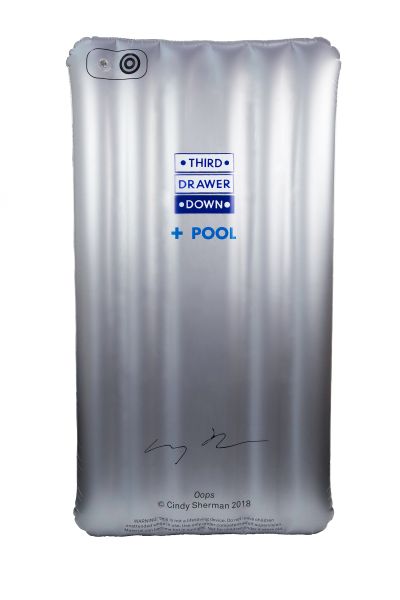 The float features a selfie image that was created by accident, hence its name, Oops Phone Float. Sherman took the photo for someone who knitted the hat for her but wanted to "play around with some apps." "I thought it was a nice accident, so I kept it," she said in the official release from Third Drawer Down. Known also for her passion for swimming, supporting +Pool seems like a natural fit for the artist.
For Abigail Crompton, founder of Third Drawer Down, this is not their first artist-designed inflatable. She said the idea of a Cindy Sherman collab came to her after the success of their David Shrigley Ridiculous Inflatable Swan-Thing float. She's passionate about making unique art more accessible to people and thinks pool accessories are one fun way to do so.
"As artist John Baldessari once said, 'I will not make any more boring art,' and we agree," Crompton told Observer. "Why buy something boring when you can support an artist and surround yourself with little gems from the greatest creators of our time?" Yesterday was also the launch of Third Drawer Down's eBay site, where she says we can expect more, possibly pool related, collaborations.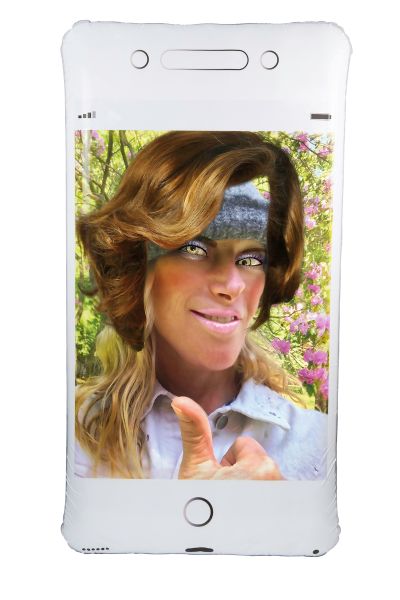 The unsigned Oops Phone Float sells for $250 on Third Drawer Down's website, but the opening bid for the signed float began at just .99 cents. Just how much it will raise for +Pool is a guessing game that neither Bright nor Crompton are willing to play. Sherman is currently responsible for the third most expensive photograph ever sold, with her Untitled #96 having fetched $3,890,500 at Christie's in 2011. Last year on eBay for Charity an exclusive sculpture and print by artist Ai Weiwei raised nearly $800,000 for Public Art Fund and an acoustic guitar signed by Ryan Adams raised over $63,000 for the ACLU, showing the potential for a big price tag.
So it's possible collectors could shell out tens or hundreds of thousands of dollars for an original Sherman, but it's also a decidedly delicate item (if it were to be used anyway—otherwise, how does one mount a pool float to a wall…do you need a conservator to keep it blown up and what happens if a bee lands on it and gets scared?).
Purchase of the float includes an engraved, personalized +Pool tile that will be installed at the pool, a "first dip" pool pass to +Pool and a canvas tote designed by Virgil Abloh that reads, "I'd rather be swimming". As of posting, the price of the float had reached $167.50 with 22 bids in the pool. If you would also rather be swimming, specifically with a Cindy Sherman signed inflatable, or simply want to help support +Pool, you may want to take a dip in the auction. It's open through July 29.