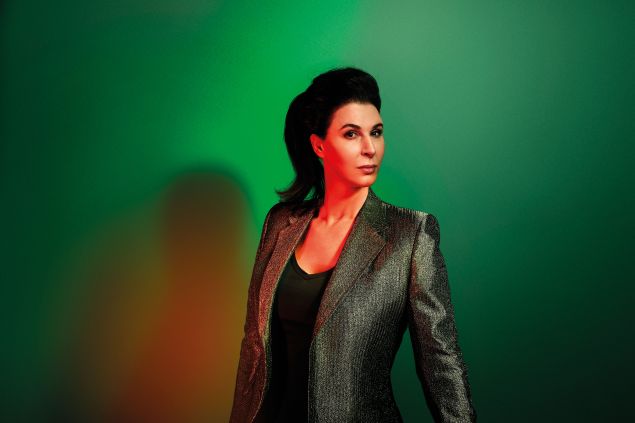 Sue Nabi's resume is overwhelming. To look at her trajectory in beauty brand management and marketing is to spot the names of products that line the shelves of your medicine cabinet—and have for decades. They're the kind of credentials that seems almost exclusively designed to propel someone towards starting their own brand, which of course is just what Nabi did, after two decades climbing the ranks at L'Oréal. Her vegan skin care line, Orveda, is as fancy and expensive as La Mer, but with the kind of "clean" ingredient list she'd been dreaming of using throughout her illustrious career.
Career Goals
By the time Nabi landed her first job at L'Oréal, she'd studied biochemistry, environmental studies, and agronomy, and earned an MBA in luxury marketing. The beauty industry seemed a natural next step—it provided a space where she could apply both her scientific knowledge and her understanding of good marketing.
Nabi joined L'Oréal as a brand manager for men's deodorant (for a little product known as Speed Stick), but was quickly promoted to marketing director of L'Oréal's mid-90s acquisition: Maybelline. Successful in this endeavor, too, Nabi then stepped up to general manager for L'Oréal, and subsequently the worldwide president. In this role she became one of the early champions of using models over the age of 25. Including a range of ages in their image—as so many brands are now discovering, 20 years later—worked.
When the CEO approached Nabi about becoming the worldwide president of a brand he referred to as "a sleeping beauty called Lancôme," she was initially skeptical. But the products created under her tenure there speak to her success in the role. Take, for example, the Génifique collection, which remains one of the company's bestsellers. Another? The fragrance she created with Julia Roberts as her muse. "There was a lot about sexiness, about but nothing about happiness," she told Observer, talking about the market at the time. So it was decided, they'd create a fragrance inspired by happiness. Three years later, La Vie Est Belle was born.
Time for A Change
Eventually, Nabi found herself itching for something new. But this time, she didn't want to reinvent an existing company, rather build a new one from the ground up, something she initially wanted to do with L'Oréal. "I was 44 years old, I thought it was the right time. I still had the energy and the ideas," she said. But L'Oréal rejected her proposition. "They were under-using me in a way. Business is supposed to be about thinking of the future and building new things, but today big companies mostly grow by buying smaller brands. They have very little growth coming from their biggest brands," she says. "I think they thought it was just a crush. When I announced that I was going to resign, they realized I was more serious than they'd thought."
And resign she did.
The Origins of Orveda
By 2014, she was finally formulating Orveda. The beauty market is infamously crowded, but nevertheless, she "saw a white space for a brand worth its price, but more efficient, and cleaner than the existing offerings."
Many of the highest-end, priciest skin care brands on the market tell great marketing stories, but are ultimately "water and silicon with a hint of actives," Nabi said. If consumers look a little deeper, many will find, "they're buying skin care that contains phenoxyethanol," a preservative with safety concerns Nabi believes will be banned soon, or "things like mineral oils that are very cheap and not very good for the skin."
But Nabi knew what she wanted Orveda to be, inside and out.
Her first mission was to create a truly genderless line. After all, "at the end of the day, efficacy has no gender, and if a product works on men's skin it will work even better on female skin because it's thinner," she explained.
The goal of the products, she decided, would be to "activate glow." An elusive quality, perhaps, but as Nabi explained, "glow is probably the best way to assess the health of somebody's skin." The resulting products are highly concentrated, intended to fight both aging and acne, and use greener formulations containing bio-fermented actives.
While in some skin care circles you'd be hard pressed to find a product that doesn't contain glycolic acid or retinol, Orveda stays away from these ingredients all together, focusing instead on strengthening the skin barrier.
There are three main ingredients Orveda uses to help skin achieve this covetable glow. The first is prebiotics—a.k.a. healthy, good-for-your-skin bacteria. The second is a proprietary healing enzyme which is also a result of a bio-fermentation of deep-sea bacteria. Finally, the third is a buzzworthy one—kombucha, the fermented black tea every girl in your yoga class is toting, and which also, Nabi said, "has been clinically proven to increase the skin's luminosity."
While these ingredients are naturally derived, Orveda is not meant to be a 100 percent natural brand either. Simply put, "the idea is to use the cleanest ingredients possible and none that are potentially dangerous."
And now, as of May, Americans—and especially New Yorkers—can finally try the line for themselves as Orveda has staked out prime real estate at Saks's new flagship beauty department, though if you can't make it to the store, the line can can also be found on Saks online. (It launched at Harvey Nichols in London last year).
There are 18 products for now, each of which comes with a special tool. For example, the Clay Mud Cleansing Powder comes with a special Konjac sponge and mixing bowl. The hero product—the Healing Sap, applied with a set of included pads—is an Asian-inspired hybrid between a serum and a toner that brightens thanks to the kombucha. The Prebiotic Emulsion is the most recent addition, which was developed with plastic surgeon Patrick Bui, and works as a serum-esque cream that speeds post-procedural healing. The "tool" here is a reusable silicone sheet mask to encourage deeper penetration.
There are a couple tricks to understanding Nabi's guiding philosophy for Orveda. For example, masques are never meant to be washed off, "because I think it's a shame to rinse off expensive products," Nabi says. Rather, they are intensive treatments. The Ironing Effect Masque, for example, is painted on with the included brush over or under makeup working to prime or set. It has quickly gained a cult following for giving skin an instantly filtered look. 
The use of bio-fermentation is integral to the brand "because it is the most sustainable way to create natural ingredients," she explained. "You take a base, or a plant, and you add bacteria and water and this bacteria is going to cut the plant into small pieces and create new molecules." It's her belief that this method is, in fact, superior to using pure botanical, from-the-earth ingredients. "Imagine," she said, "that L'Oréal group, Unilever, and all the big companies became 100 percent organic—there wouldn't be enough resources on Earth to provide for their needs. It would kill nature."
Bio-fermentation is Nabi's solution to this problem. "I choose things that are sustainable, that will not deplete nature's resources, but that also have a scientifically strong track record," she said. "I don't want to use the latest active, I want to use the stuff that scientists say works." And judging by its following so far, people agree Nabi's labor of love gets results.