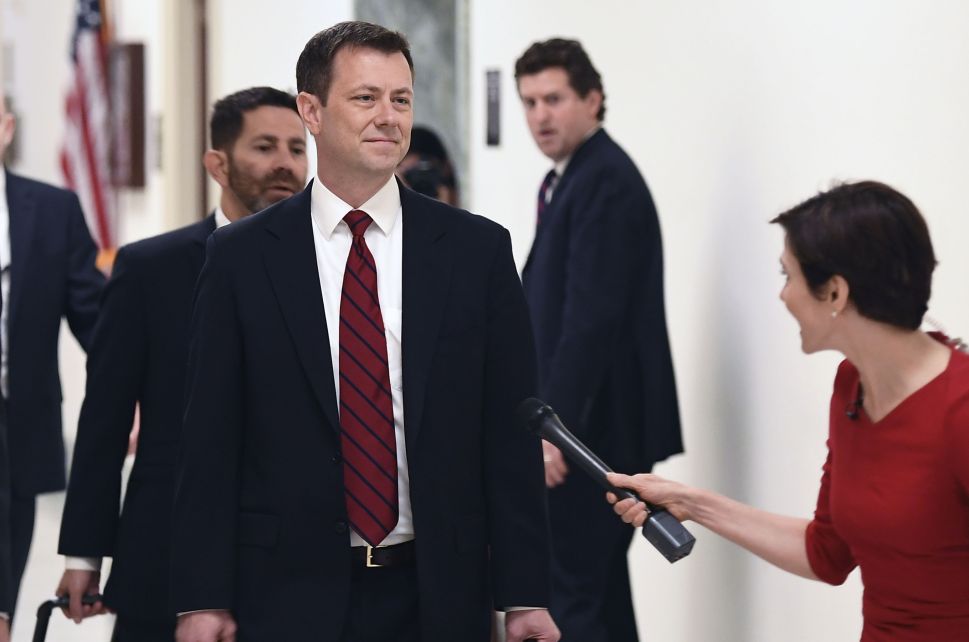 Peter Strzok is expected to give a defiant testimony on Thursday over whether his motivations at the FBI were fueled by partisanship.
"Let me be clear, unequivocally and under oath: not once in my 26 years of defending my nation did my personal opinions impact any official action I took," Strzok is expected to say during his opening statement to the House Judiciary and Oversight committees, according to a draft obtained by POLITICO.
After text messages surfaced wherein the agent told FBI attorney Lisa Page "we'll stop" President Donald Trump's election, Special Counsel Robert Mueller reassigned Strzok from the Russia investigation to the bureau's HR department. But even after his removal from the probe, the president and House Republicans have continually used the messages as basis to undermine the Justice Department.
On the eve of Strzok's testimony, Trump tweeted: "How can the Rigged Witch Hunt proceed when it was started, influenced and worked on, for an extended period of time, by former FBI Agent/Lover Peter Strzok? Read his hate filled and totally biased Emails and the answer is clear!"
Strzok, in response, is calling Thursday's hearing "another victory notch in Putin's belt."
"I have the utmost respect for Congress's oversight role, but I truly believe that today's hearing is just another victory notch in Putin's belt and another milestone in our enemies' campaign to tear America apart," reads Strzok's opening remarks.
"As I head out to a very important NATO meeting, I see that FBI Lover/Agent Lisa Page is dodging a Subpoena & is refusing to show up and testify," Trump tweeted Thursday morning from Brussels before heading to the United Kingdom. "What can she possibly say about her statements and lies."