In what's quickly become the feel-good story of the week, a young Alabama man named Walter Carr is being lauded across the country for his perseverance and indomitable spirit. It's the type of story that can instill hope in a divided nation when it's sorely needed and serve as inspiration for the rest of us that if you work hard enough and keep a positive attitude, good things will come to you. It also happens to be disgusting horse shit and an utter indictment of the brutal, indifferent hell of the nightmare capitalist wasteland we all suffer in. So, a bit of a mixed bag here. 
Carr, a 20-year-old college student, as nearly every news outlet has pointed out in sepia-tinted coverage—from CBS News and USA Today to the BBC—was set to start a new job on Saturday morning with the moving company Bellhops. At the last minute, his car broke down, and he was unable to find a ride from friends to get there. Instead, he decided to walk. He began the trek, which was roughly 20 miles from his home, at midnight, hoping to get there by 8 a.m. the next day to meet the rest of the movers. 
"I didn't want to defeat myself," Carr later told ABC News.
Along the way, around 4 a.m. in the morning, Carr, a young person of color, was stopped by local police officers, who, out of the kindness of their hearts, no doubt, asked him where he was headed. When he explained the situation—and after his story checked out—they decided to give him a ride the rest of the way, even going so far as to take him to breakfast.
"He was very polite. It was 'yes sir' and 'no sir,"' one of the officers later said. I bet he was!
When he arrived at the moving job a few hours later, complete with police escort, they explained the situation to Jenny Lamey, the woman who had hired the movers. Inspired by Carr's work ethic and apparent decency, she shared the story on Facebook, where it soon went viral. 
The story eventually came to the attention of Bellhops CEO Luke Marklin, who arranged to meet Carr a few days later for a big surprise. 
"This is how you pay it forward… treat your employees with respect and incentivize them and bet you'll get a much better worker for it," wrote one commenter on Twitter. "It is awesome to see a young man not make an excuse like it's too far to go to work, and then see him rewarded for it. Wish the young man and the company all the best in the future," added another. 
It's enough to drive you to tears. What kind of tears those are will probably depend on how susceptible you are to the lie at the heart of American capitalism and Horatio Alger nonsense.
Carr who set out the night before with a kitchen knife to protect against stray dogs on the walk, as he explained to The Washington Post, nonetheless floored everyone he encountered along the way. 
"He's such a humble, kindhearted person," Lamey said. "He's really incredible. He said it was the way he was raised."
"We set a really high bar for heart and grit and… you just blew it away," Marklin told him, after gifting Carr his 2014 Ford Escape (barely-driven! as alabama.com reported). 
A GoFundMe set up by Lamey to help Carr with his car troubles has since raised almost $40,000. 
"Nothing is impossible unless you say it's impossible," she told the Post. 
Nothing except for paying workers an actual salary with benefits, which, you may not be surprised to hear, Bellhops does not do. Essentially Uber for movers, (Marklin came to the company from Uber), Bellhops relies on the labor of young college students, like Carr, who take jobs on a gig-by-gig basis. The company, which operates in dozens of cities around the country, and has raised tens of millions of dollars in rounds of funding since it was founded in 2011, pays movers between $13-16 an hour. 
"It's a transitional job," CEO Cameron Doody told BuzzFeed News in a story from 2015. "It's not a career."
Alabama, incidentally, is also only one of five states that has traditionally never spent any state money on public transportation.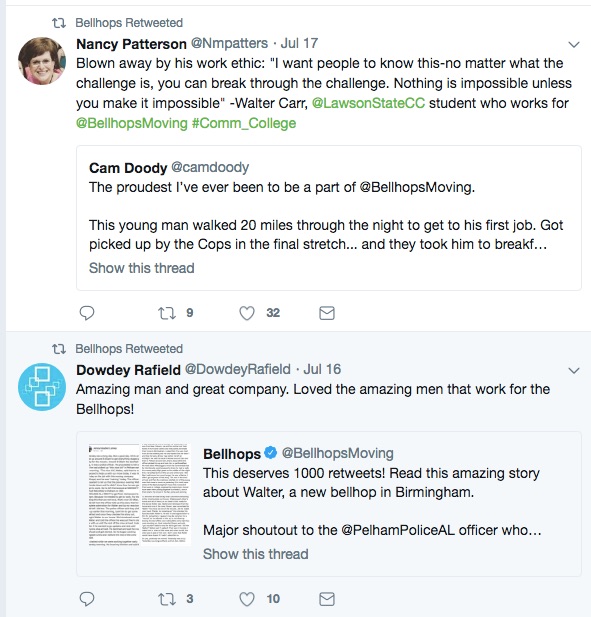 Naturally, Bellhops are very proud of themselves, and have been reveling in the attention. You probably didn't know the company existed before yesterday, and may be thinking about contracting their services in the future now. Win win. 
"I want people to know this—no matter what the challenge is, you can break through the challenge," Carr, who also wants to become a Marine some day, said of his story. 
"Nothing is impossible unless you make it impossible," he added. "You can do anything you set your mind to. I've got God by my side. I'm really emotional right now trying to hold back the tears."
It's a heartwarming reminder that, much like with getting sick or injured in America, which needs to be done in a tragic but endearing enough way to go viral so people will pay your medical bills, all you have to do to make it in this beautiful country is have your life fall apart in such a way that the news wants to write about it, then hope the benign feudal lords will see fit to offer you as an aspirational example to the rest of us so we remain compliant.