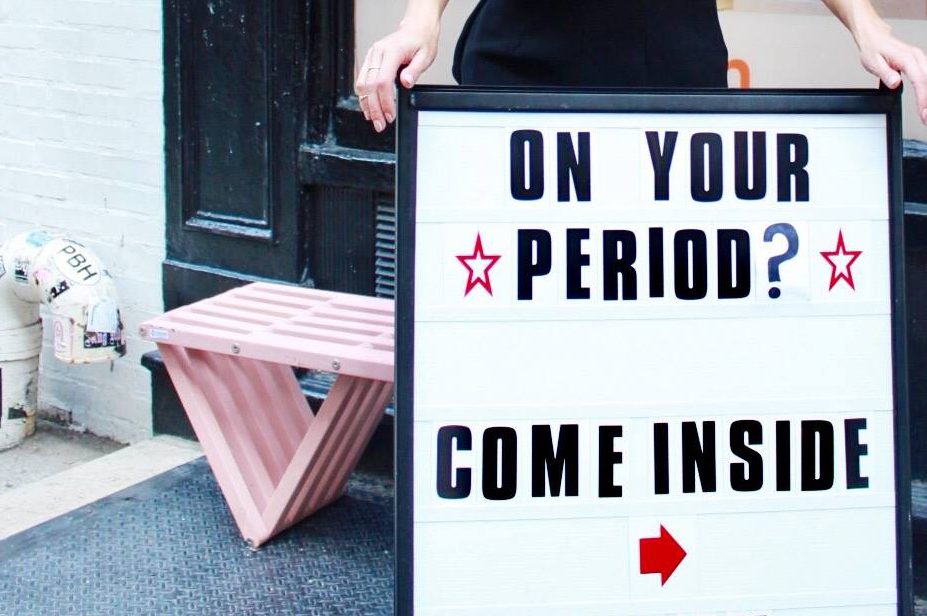 "Have More Period Sex." Those were the first words that popped up on a banner as I walked into the room of Y Combinator's startup event in New York last week.
The owner of the banner is a company called Flex. I walked straight up to its booth, full of questions, especially after having an enthusiastic office discussion about a $369 period sex blanket that same morning: What exactly is going on with this sudden buzz around period sex?
Turns out Flex's product is a tampon alternative that happens to function as a "blood blocker" during period sex.
Flex is a disposable menstrual disc—a piece of plastic film circled by a rubber-like band—that can last for up to 12 hours. It's made of medical-level polymer that's used for surgical tools and is FDA-approved to be hypoallergenic. Unlike tampons or menstrual cups, which plug the vaginal canal, Flex disc sits just past the vaginal canal, so once in place, it can barely be felt.
Lauren Schulte, who founded Flex in 2015, said a majority of women who had switched from tampons to Flex discs found them so comfortable they forgot they were on their periods while wearing one. (Well, that's dangerous.)
"I came up with the idea for Flex because I'd been sensitive to all kinds of tampons and pads available in the market for over 15 years," Schulte, now the company's CEO, told Observer.
Although mess-free period sex is just a side benefit, it is obviously Flex's biggest selling point. In her pitch to Y Combinator in 2016, Schulte touted Flex as "a product that allows couples to increase their opportunity to have sex by 23 percent," TechCrunch reported at the time.
"The great tragedy of people avoiding sex on their period is that this is really the time when women want it most," Schulte said.
The period sex selling point may explain why 25 percent of Flex trial signups were from men in its early days. Schulte estimates that currently about five percent of trial subscribers don't identify themselves as women (although Flex doesn't require users to disclose gender before checking out).
"By talking about the problem openly, I was surprised to learn how many men were actually quite eager to talk about menstruation. Many had many questions that they were too afraid to ask," Schulte said. "If you think about it, most Americans learn about periods in school. Boys and girls are separated, and boys don't learn much about periods. We try to come at the issue with compassion and empathy. Rather than chastising men for their lack of knowledge (or assuming they have no knowledge), we start by asking questions, trying to see where they are at with their own understanding, and take the conversation from there… So in many ways, sales to men are simply a by-product of the conversations being had."
Flex was one of 150 startups accepted into Y Combinator's incubation program in the summer of 2016, standing out from over 7,000 applicants. Schulte said the company has achieved seven figures in annual sales.
"We are very founder-driven when it comes to selecting startups, regardless what industries they operate in," Kat Mañalac, a partner of Y Combinator, told Observer. "We look for the wisest teams; we look at how they knew each other and what they have accomplished in the past. Flex's team are clearly very strong brand builders."
Schulte worked in marketing for over a decade before founding Flex. Most recently, she was a marketing director for freelancing platform Upwork.
If you are curious but unsure, you can order a 16-piece trial box (two-month supply) at a discounted rate of $15.