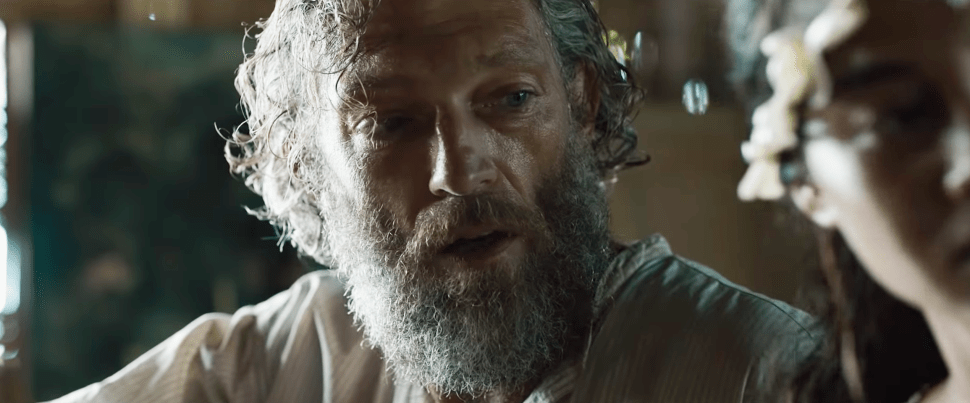 Another "genius is misery" epic about the solitude and sacrifice of art, Gauguin: Voyage to Tahiti chronicles events in the life of Paul Gauguin after he fled a life of penury and fled Paris in 1891 for self-exile in the jungles of Polynesia. Written and directed in French by Edouard Deluc, with a riveting and dedicated performance by a heavily bearded Vincent Cassel as the tortured painter, the film has beautiful cinematography and occasional peaks of high drama, but lacks the kind of significant tempo necessary to sustain enough interest for nearly two hours to keep a viewer focused. Vincente Minnelli succeeded in making Van Gogh fascinating from start to finish in Lust for Life and in Moulin Rouge, John Huston did the same thing for Toulouse-Lautrec. Gauguin has its moments, but is not in the same league.
---

GAUGUIN: VOYAGE TO TAHITI ★ ★
(2/4 stars)
Directed by: Edouard Deluc
Written by: Edouard Deluc
Starring: Vincent Cassel, Tuhei Adams
Running time: 102 mins.

---
Battered, weary and broke, Gauguin stuffed every last centime in his ragged pockets, deserted his wife and children, and traveled to the other side of the world to live "wild and free", escaping the confines of European morality in search of a fresh start. In Tahiti, he married a native girl named Tehura (Tuhei Adams) and found a new direction for his art, but instead of fame and fortune, he found more poverty, sickness and emotional torment.
The movie drags us through every challenge, from Gauguin's poor diet to the never-ending heat and rain that drove his already advanced diabetes to a heart attack, but he found inspiration in the bold native colors that turned his paintings into textural masterworks. When he ran out of money to buy canvases, he painted glass windows. On a personal level, he was driven wild with jealousy when Tehura left him for a handsome native boy and he ended up desperate for money, in the same condition he was in before he left Paris, working as a dockworker. He died in 1903, penniless and unheralded. Today his savage Tahitian paintings from his Tahitian period are worth millions.
It's a familiar story that ignores his famous friendship with Vincent Van Gogh and leaves unexplored the impact Tehura had on his future mental state. The primary source of intrigue is Vincent Cassel's obsession with the character of Gauguin, a rabid search for creative freedom of expression that borders on madness. But he is no more memorable than Anthony Quinn or David Carradine, two actors who have previously played Gauguin with equal drive. In this version of the saga, nothing happens to move the story along, and the lack of momentum necessary to accompany Gauguin's struggle makes the film quite a slog.