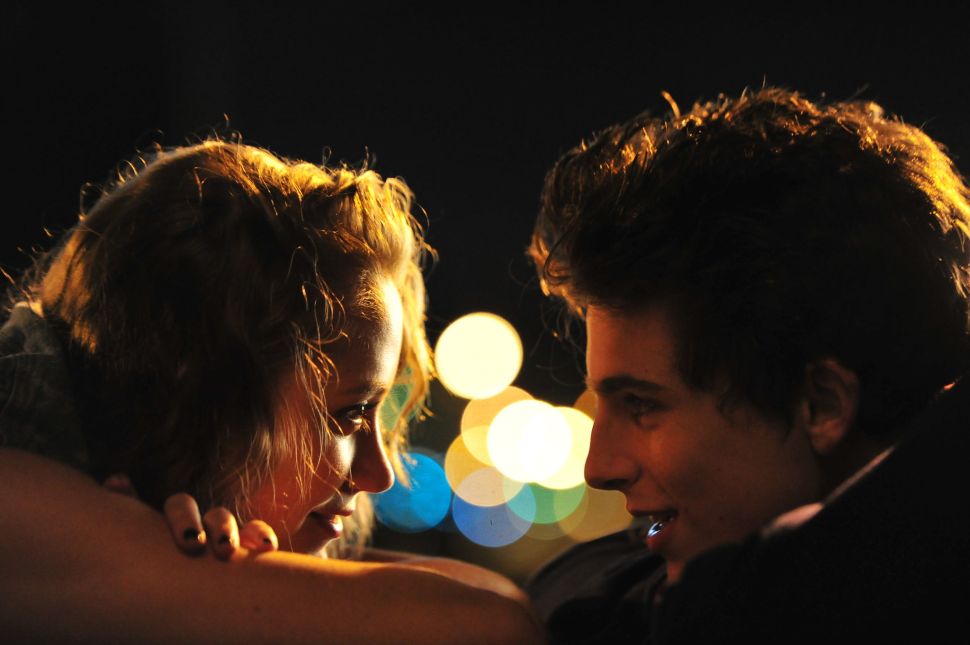 For kid actors, sudden success can be lethal. Instant stardom can often lead to poorly selected sophomore films that dilute fanfare fast. For Timothée Chalamet, who captivated critics and audiences alike as a sensitive teenager in love with an older man in last year's beautifully made coming-out film Call My By Your Name, the second time around is a mediocre disappointment called Hot Summer Nights. More good films, one hopes, are on the horizon for a budding career filled with promise. This is not one of them.
The film opens with the star driving recklessly through howling wind and pouring rain. His red sports car is suddenly smashed. Is he dead? The story evolves, with painful plodding and pregnant pauses, in a languorous flashback narrated by an unseen, unexplained 13-year-old, about a troubled boy named Daniel Middleton (Chalamet), traumatized by his father's death and sent to live with an aunt in 1991, during the hottest summer in the history of Hyannis, Massachusetts.
Daniel is a lonely, rudderless and scrawny outsider, but this is the summer that changed his life when he met hunky Hunter Strawberry (Alex Roe), another outsider and small-time drug dealer so cool that when the weather hit 96 degrees he never raised a sweat.
---

HOT SUMMER NIGHTS ★★ 
(2/4 stars)
Directed by: Elijah Bynum
Written by: Elijah Bynum
Starring: Timothée Chalamet, Alex Roe, Maika Monroe, Maia Mitchell, Thomas Jane
Running time: 107 mins.

---
The other local kids glamorized Hunter and feared him at the same time, but Daniel, who was working a dull job in a convenience store, established a sudden, unexpected bond when he rescued him from the cops by hiding his marijuana in the cash register. Hanging out with Hunter made Daniel a sudden object of curiosity and intrigue for kids who had never before given him a second glance, including the school sexpot McKayla (Maika Monroe), a girl considered so alluring that one boy even dislodged her discarded chewing gum from under a mailbox and kept it as his prize possession, according to the anonymous narrator, until the day he died.
As the story stumbles along, Daniel falls for McKayla big time, but more importantly, he teams up with Hunter to buy real quality weed from some of the most dangerous dope dealers in Massachusetts. Daniel has asthma, but before you can say "Smoke this one, Alice", he's down the rabbit hole and stoned in Wonderland. Using his resourcefulness, business acumen and ignorance of the dangers of dealing with ruthless criminals, Daniel is buying, inhaling and selling pot with his new mentor, partner and best buddy Hunter, moving their business up to 20 pounds a day and covering the entire market from Wellfleet, Falmouth, Chatham and Marblehead all the way to Boston. (The film is based on a true story.)
The perfect partnership is dangerous enough on its own terms, but it's the girls they fall for who turn the liaison lethal. Written and directed by first-time filmmaker Elijah Bynum, the film adds a wimpy attempt to spice up the criminal dynamic with some tepid romance. Daniel loses his virginity to the tantalizing McKayla, unaware that she is the estranged sister of Hunter, who vows to kill anyone who touches her. An hour into the movie, Hunter meets and falls for Amy (Maia Mitchell), who turns out to be the daughter of a vicious police lieutenant (Thomas Jane) who is already looking for any excuse to bust him. With a battalion of cutthroat drug dealers to avoid, the boys now find themselves running from each other.
Things end badly for everyone concerned, culminating in that opening crash sequence in the flashy red convertible.
There's plenty to look at, but nothing really works here. Filmed in the garish, theatrical style of an acid trip, ace Argentine cinematographer Javier Julia is the real star, charging the mundane material with electrical images from hot popcorn popping to blazing sunsets slowly sinking into a horizon of still water. The dialogue is pretty top-loaded too, even though young Mr. Chalamet's mumbling delivery of it sometimes lacks coherence. As a result, Hot Summer Nights is short on details and long on things like starting the ignition in that shiny red convertible Daniel buys with his drug money. Some characters are introduced and never fully explored. Others disappear without a trace, leaving the impression that key elements have been left on the cutting room floor. For Timothée Chalamet, one hopes for better luck next time.