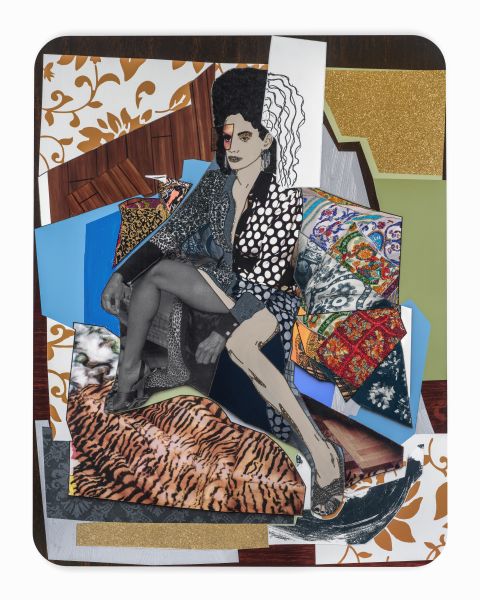 This weekend, several users took to Twitter to highlight the striking similarities between photographer Juergen Teller's months-old photo shoot of Rihanna for Vogue Paris and the work of artist Mickalene Thomas. In the December 2017/January 2018 photographs, Rihanna is clad in a series of brightly colored outfits accessorized with faux fur, feathers, animal print, and sequins. The backgrounds of the photographs are made up of vivid patterns and mid-century furniture impossibly similar to Thomas's signature collages of black women in hypersaturated domestic settings.
The critic Antwaun Sargent noted on Twitter that when Vogue Paris posted a photograph from the shoot on Instagram in 2017, they hashtagged #MickaleneThomas in the caption. Meanwhile, the photo shoot on Vogue Paris's website bears no mention of Thomas's art.
What's more, both artists are represented by the same gallery in New York, Lehmann Maupin, making it impossible for Teller to plead ignorance about Thomas's work. Sargent noticed that the two artists even appear side-by-side on the gallery's artist roster.
In a statement issued Tuesday Morning, Lehmann Maupin noted that Teller's photographs "have rightly been compared to Mickalene Thomas's work."
"Mickalene Thomas' prolific body of work has been instrumental in addressing inequality within art history and art institutions through her representation and reclamation of traditional art historical genres and depictions of beauty and desire around the female body, particularly Black women, who have too long been marginalized in our culture," the gallery's statement reads. "Throughout her career, Mickalene has developed an internationally recognized visual language that is deeply rooted in photography but encompasses collage, painting, video, and immersive installation. Mickalene has earned the right to be recognized and commended for her ground­breaking contributions to contemporary art and visual culture, and for a signature aesthetic that she has been cultivating for decades. As Mickalene's long­time gallery and advocate, we vigorously stand by her in defending the originality of her work."
Lehmann Maupin told Observer that the gallery has been "emphatically clear in [their] support of Mickalene Thomas." The gallery clarified that they represent Teller's fine art practice, not his photography, and that "Lehmann Maupin was not consulted or aware of the Juergen Teller Vogue images until, like most, this week." Teller has yet to release a statement about the photographs.
Over the past several decades, Thomas's portraits have established her as one of the generation's leading artists and a seminal figure in black culture and representation. Her work channels a host of black art history and pop culture references, from the work of artists Carrie Mae Weems and LaToya Ruby Frazier to images of supermodel Beverly Johnson and the 1970s black-is-beautiful movement.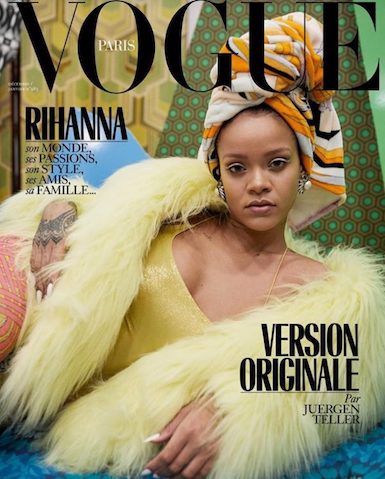 Through May 13, her work was exhibited alongside that of Robert Colescott and Kerry James Marshall in the Seattle Art Museum's Figuring History exhibition, a show dedicated to reclaiming the western art canon to include the contributions of people of color. Her collages bring together the experiences of being black, queer, and female to give new agency to the female form. Unlike Teller, Thomas's choices of materials are rooted in memories from her childhood and the liberated spaces that queer black women carved for themselves throughout the 1970s and beyond.
"We should remember that artists like Mickalene have taken great pain to create an aesthetic that is informed by concern, study, history and a love of black women," Sargent wrote on Twitter.
In the long tradition of white artists appropriating and reclaiming black culture (in music, in fashion, and in art), Juergen Teller's blatant plagiarism of the aesthetic that Thomas has worked decades to create undercuts all the complex considerations of history and identity that inform her decisions behind materiality, pattern-choice, and the muses that inspire her.
Thomas's hyperreal photographs and photomontages are a celebration of black beauty and femininity, yes, but they are also a critique of how female bodies are brutally scrutinized and picked apart in contemporary culture. Teller's airbrushed images of Rihanna instead reinforce notions of exploitation and desire in black female subjects.
This controversy has landed in the midst of a crucial discussion finally beginning to take place in the art world about the underrepresentation of female artists, especially female artists of color. The fact that it took us over six months since the publication of the Vogue Paris story to realize the source of the imagery speaks volumes to the work that still needs to be done about how we produce and consume visual culture.