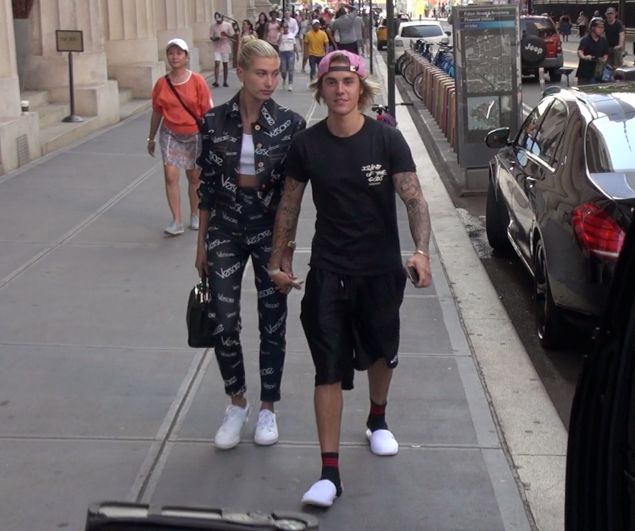 Just when you thought this summer of strange, rapid fire relationships couldn't get any weirder, Justin Bieber and Hailey Baldwin decided it was time to make moves.
Though we've already blamed Ariana Grande and Pete Davidson, but it can't just be the ponytailed singer and her SNL comedian fiancé that sparked this influenza of celebrity engagements. Maybe Mercury is in retrograde for forever, or the royal wedding is still on our minds, or the heat wave experienced from coast to coast somehow brought cuffing season out early. Whatever it is, Bieber and Baldwin have now fallen victim—erm, become a part—of it, as they're reportedly put a ring on it.
Bieber and Baldwin are currently in the midst of the vacation period, also known as a permanent honeymoon time for those who are able to frolic from one locale to another at the drop of a hat. The two were first linked together back in late 2015, culminating with their PDA-filled trip to the Caribbean over New Year's. It ended a few months later, and they both continued on their merry ways, with Baldwin declaring she's not an Instagram model and dancing on yachts and Bieber doing his best not to egg any more houses and ending back up with Selena Gomez.
Alas, Jelena fans were heartbroken once again when Bieber and Gomez called it quits for the 17th time earlier this year, but that made way for the JB and HB reunion, starting with a trip to Miami where they went to Casa Tua and for some unknown reason later headed to LIV. Oh, also because they were there for the VOUS Church Conference, which led to this wonderful source quote to E!: "They both have two things in common; they love to party and they love their church organization."
Anyway, Bieber and Baldwin are continuing on their perma-vacay lives, with a pit stop in New York to dine at DUMBO House and take in Domino Park, before following the masses out to the Hamptons to celebrate July 4.
They had a minor mishap when their fancy Mercedes broke down, but then proved they are just as basic as the rest of us when they had a Starbucks and beach day shortly thereafter. We didn't spot any thus far, but they should really take advantage of their ability to share any monogrammed clothing and accessories.
The two made another stop in New York City before jetting off on their latest getaway to the Bahamas—they're reportedly staying at Baker's Bay, which is where the Beebs popped the question. He apparently went the rather confident route of proposing in front of a restaurant full of people, but not before his security told the diners to put their phones away as "something special" was about to happen. That seems a little presumptuous that this crowd fell into the Beliebers camp, but sure.
The two were then seen celebrating the following day at Nipper's Beach Bar & Grill, with Baldwin donning a massive diamond ring on a certain finger—according to Page Six, a gemstone like that is about 6 carats and costs approximately $400,000. Well, now we understand all those layovers in New York, as apparently Bieber custom-designed the bauble.
Neither Bieber nor Baldwin have officially confirmed their engagement, though both of their parents have shared and deleted social media posts that seemed to congratulate the two. Maybe now they can double date/vacation with Grande and Davidson—they already know each other, as Bieber, Baldwin and Grande share the same manager, Scooter Braun. In fact, the bunny ear-loving singer recently refuted the idea that Braun is the puppetmaster behind these relationships in a since-deleted tweet—perhaps he's just a matchmaker with talents akin to Kris Jenner.