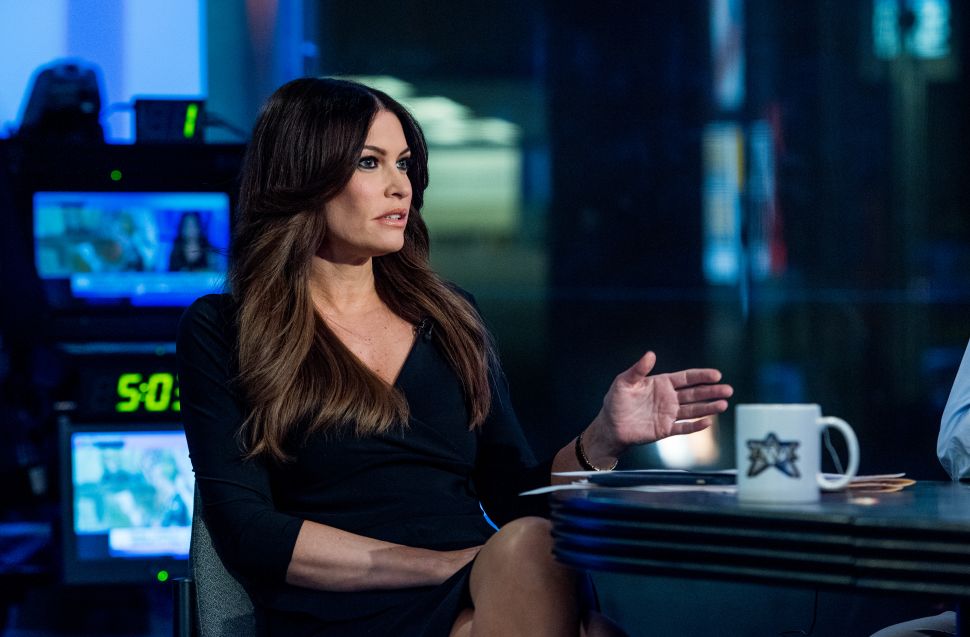 Fox News co-host Kimberly Guilfoyle spent the Fourth of July mingling with Trump titans and an internet conspiracy theorist.
In several photographs uploaded to Instagram by her new boyfriend, Donald Trump Jr., Guilfoyle is seen shaking hands with the president and greeting veterans.
"A very Happy 4th of July to everyone!" wrote Trump Jr. in documenting their Independence Day glee.
The same day she galavanted across the White House grounds alongside America's First Family, Guilfoyle also was photographed at the Trump International Hotel with a fringe character associated with #Pizzagate—a dispelled conspiracy theory from 2016 about a human trafficking ring orchestrated by Democratic operatives.
In a picture uploaded to Twitter, one of the theory's heaviest promoters, David Seaman, posed next to Guilfoyle flashing an "OK sign," a hand gesture commonly thrown by alt-right figures like Milo Yiannopoulos that has since become associated with white supremacy.
"HILLARY CLINTON BABY SACRIFICES: Revealed by WikiLeaks" and "Satanic PizzaGate Is Going Viral Worldwide (Elites Are Terrified)" are just two titles of video rants Seaman published about Pizzagate. The Daily Beast reported last year that Seaman's videos amassed hundreds-of-thousands of views.
Although many former Pizzagaters like Mike Cernovich distanced themselves from the scandal after a vigilante gunman shot up a D.C. restaurant in response, Seaman has doubled down—his Twitter feed is a mine of unhinged messages promoting the falsehood.
"Hi, go fuck yourself," Seaman told Observer via email. "[Kimberly Guilfoyle] was gracious to take a pic with a fan. Why do you want to make me look ridiculous? Could it be because the Clintons are up to their eyeballs in Pizzagate human trafficking filth?"
Seaman CC'd his attorney and threatened legal action should Observer misconstrue his "words or actions, even remotely."
"I'm not stealing [Guilfoyle] away from Don Trump Jr., but more importantly we didn't discuss Pizzagate. Why is that so sensitive to you cocksuckers in the press?" added the conspiracy theorist in a 43-minute video later uploaded to Twitter.
A spokesperson for Trump Jr. and Guilfoyle told Observer the Fox News personality was inundated with "hundreds" of photo requests on July 4th and could not have possibly known about Seaman's background.
Fox News did not respond to Observer's request for comment.
Editor's Note: A previously published version of this article stated that Kimberly Guilfoyle "pow-wowed" with David Seaman. The article has been updated to reflect that taking a photo with someone does not necessarily imply further discussions or exchanges of ideas that would constitute a pow-wow.