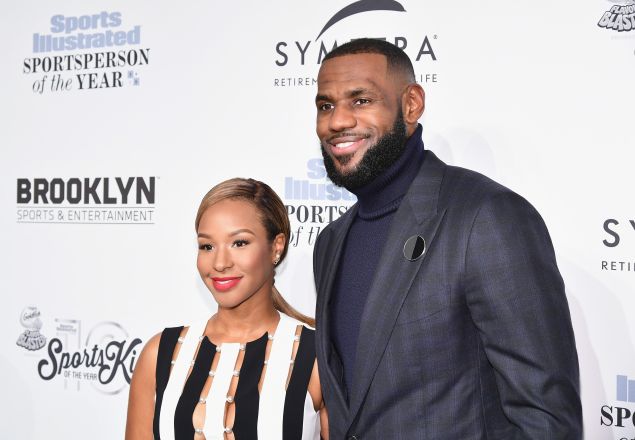 If you're trying to spot a celeb overseas this year, look no further than the sleek yachts sailing around the Italian coast. It's barely July, but Gwyneth Paltrow already returned from her vacation with fiancé Brad Falchuk aboard Valentino Garavani and Giancaro Giammetti's luxe boat, and Kourtney Kardashian is currently gliding along the Mediterranean with her boyfriend, Younes Bendjima. Then there's Kyle Richards, who is navigating around the high seas and exploring Capri, Positano and Sardinia.
But let's not forget about LeBron James, who boarded a yacht in Positano earlier this week with his family. The basketball superstar does have a lot to celebrate at the moment, considering the erstwhile Cleveland Cavaliers player just signed a four-year, $154 million contract with the Los Angeles Lakers.
In fact, he flew out to Italy with his wife, Savannah, and three children mere hours after finalizing the multimillion-dollar deal.
He's already been spotted hanging with a billionaire guest, as fellow traveler Jimmy Iovine came to celebrate July 4 on the yacht. That same day, he headed to Casa Malaparte, where he hung out with artist Brice Marden.
The Jameses then spent Friday in a Capri nightspot, where James showed he loves a cheesy rendition of "I Will Survive" as much as the rest of us normals, dancing away and smoking a cigar.
His pal and former teammate Dwyane Wade once jokingly declared James the "cheapest guy in the NBA," as apparently the new LA Laker won't use cellar data and roaming (very relatable TBH), nor will he pay more to listen to Pandora sans commercials. Luckily, yachts that cost hundreds of thousands for a week typically come with WiFi!
This is just the latest stop on James' envy-inducing summer trip schedule. Before he jetted to Los Angeles to sign his contract, he was in Anguilla with his family, staying in a casual $75,000 a week villa. It came with a full-time chef, butler and additional staff, as well as an infinity pool, home theater and direct beach access. It also happens to be where Justin Bieber stayed a few years ago. Honestly, James might win for the ultimate vacationer this summer.
Not that James will be slumming it once he does finally return to the West Coast—he has not one, but two mansions to choose from, both located in Brentwood.
Indeed, James paid $23 million for a 15,846-square-foot residence in Brentwood Park in December 2017, and it's located less than two miles from a $21 million pad he bought in late 2015. Yes, it's kind of completely crazy, but it's also just the welcome to California we'd expect for King James.