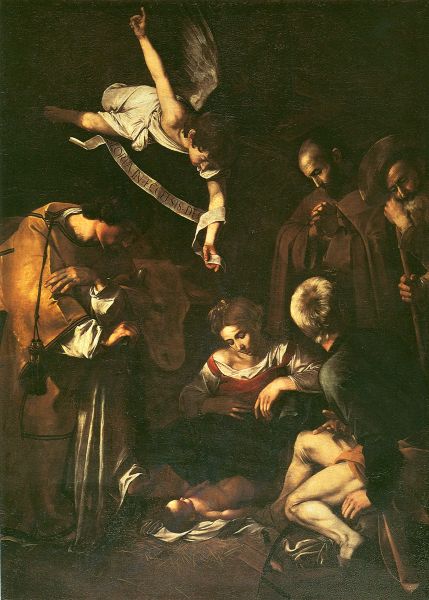 Caravaggio's Nativity, stolen from the church of San Lorenzo in Palermo in 1969 and still missing, may be one step closer to recovery. Taken by members of Cosa Nostra, the Sicilian mafia, during a time when Italy was cracking down on organized crime, its theft prompted the establishment of the world's first dedicated art police unit, the Italian Carabinieri Division for the Protection of Cultural Heritage. But despite that effort, the painting has not been seen since.
Investigators rarely consider that a famous work of art has been stolen for display at some super villain's lair. That far-fetched idea is largely a myth promoted in film and fiction (including one of my own books, I'm afraid, The Art Thief). The motive behind most cases of high-profile stolen art is more complicated, but also, in many ways, more interesting.
Simply selling ill-gotten art is supremely difficult. Much stolen art is believed to enter a closed black market, used as barter or collateral in deals with other organized crime groups for other illicit goods. But there are some prominent exceptions to this rule, proving that sometimes life is really a lot like fiction. New evidence suggests the fate of this Caravaggio could be one such movie-esque example.
The most noted recovery attempt of the Caravaggio to date took place in 1979 when journalist Peter Watson went undercover for the Carabinieri, pretending to be a shifty art collector happy to deal in stolen art (he wrote of this adventure in The Caravaggio Conspiracy). When police are able to discover who was behind a theft it's often through a paid network of criminal informants. The Carabinieri had learned that Cosa Nostra members were boasting possession of the painting, and Watson was recruited to lure them into offering it to him. He concluded that Cosa Nostra was indeed very likely in possession of the Caravaggio, but he was not offered it for sale—instead he was offered a Bronzino and an Andrea del Sarto, which were recovered through this sting operation.
In 1996, a mafia penitento (an informant) claimed that he had stolen the Caravaggio on the request of a high-ranking boss. In 2009, another penitento asked about the Caravaggio and said that he'd heard, back in 1999, that the painting had been ruined during an earthquake while in storage in Sicily, and had subsequently been eaten by rats and pigs rooting through the rubble. The work still hovers at the top of the FBI's Most Wanted Stolen Works of Art list, but it has since been labelled "missing, presumed destroyed."
But new hope recently dawned. Yet another penitento has claimed to the Carabinieri that the Caravaggio remained intact and was acquired by mafia boss Gaetano Badalamenti, who was in touch with an art dealer in Switzerland prior to his arrest in 1984. The head of Italy's anti-mafia unit announced last week that there was "enough evidence to launch a new investigation," with a focus on Switzerland. So it is entirely possible that the painting has survived its kidnap by Cosa Nostra and can be found again.
As I noted in Art Crime: Terrorists, Tomb Raiders, Forgers and Thieves, art police say that most art crime since the 1960s has involved organized crime at some point in the life of the crime (either through theft, smuggling, laundering or fencing). This definition includes both smaller groups working together in criminal enterprises for collective, long-term goals (as opposed to quick cash crimes) and large criminal syndicates, or "mafias."
Major syndicates have been involved in innumerable high-profile art crimes. The Corsican mafia was responsible for a string of thefts along the French Riviera in the 1960s and '70s; the Balkan mafia has certainly played role in art thefts in Zurich, such as the 2008 heist from the Buehrle Collection; there's reason to believe the Russian mafia was involved in several thefts of Edvard Munch paintings; and of course there's Cosa Nostra and our missing Carravagio. But law enforcement the world over is pretty bad at prosecuting art crime. As I showed in The Museum of Lost Art, as little as 1.5 percent of art theft cases end with the recovery of the object and successful prosecution of the criminals. Police learn who is, or which groups are, behind art heists through criminal informants, but such information must be taken with a grain of salt. For example, how do they know which mafia penitento is telling the truth about the Caravaggio Nativity theft? All they do know is that the group was somehow involved.
Peter Watson's experience trying to recover the Nativity shows how murky the task of assigning motive can be when it comes to an art heist. After all, art syndicates are almost always involved in such instances of high-profile theft, yet their viable options for what to do with the work are slim. Watson wasn't offered the Carravagio but he was offered other work they had acquired, suggesting that resale is at least the reason some works of art have been snatched. The Carabinieri helped build an identity and history for Peter Watson that suggested that he was a legitimate art dealer who was not afraid to buy questionable pieces. Known art dealers and art world personalities contributed to this subterfuge, providing documents, letters, contracts, etc. which would give the impression that Watson's character had a long career as a dealer.
They must have done the job well. The representatives of Cosa Nostra failed to detect his undercover status. And criminals are clearly under the impression that there's a market out there for stolen art. But did they get this impression from experience or assumption? Connecting with such individuals can be difficult, even for groups with an elaborate international network at their disposal. Watson's experience speaks to this difficulty, too, because if said criminal collectors were easy to find, the stolen art would have already been sold, or Watson would have been asked to bid against other potential buyers in the closed black market of stolen art. Criminals seem to believe that they can find Dr. No or Thomas Crown criminal art collector types as seen in films. Some certainly must exist, otherwise the Cosa Nostra wouldn't have fallen for Watson's disguise, but there have been precious few such figures in confirmed historical case studies.
So in general, it's understood that the major reason the mafia has been involved in art theft is to conduct closed deals among a circle of criminal groups. As in the case of a 1986 heist carried out by Martin Cahill (head of an Irish organized crime group) of 18 artworks from Russborough House, stolen art is used as collateral on loans and in a barter system for other illicit goods. As I outlined in Art Crime: Terrorists, Tomb Raiders, Forgers and Thieves, a Vermeer taken by Cahill was smuggled to Antwerp where it was used as collateral on a loan, the cash from which bought wholesale drugs to sell on the street. This became clear when several criminals involved were arrested. A Gabriel Metsu painting also taken then was recovered in Turkey being swapped for a shipment of heroin. Thus, art stolen from extant collections can provide a variety of benefits for major organized crime groups.
But then there are the surprises that add fuel to the misconception that most stolen artworks end up at the homes of Dr. No-like figures. The 2002 theft of two Van Gogh paintings, View of the Sea at Scheveningen and Congregation Leaving the Reformed Church in Nuenen, from Amsterdam's Van Gogh Museum on 7 December 2002 remained a mystery for more than a decade, with no promising leads on recovering the works. It came as a surprise when, in September 2016, Italian police involved in an unrelated raid on the holiday home of a member of the Camorra, the Campanian mafia, spotted the two Van Goghs proudly on display.
It's cases like this that give life to the idea of the criminal art collector, even though such verified examples are few and far between. And yet they also serve to provide hope that perhaps some of our lost masterpieces (or even some of the tens of thousands reported stolen each year to Interpol) have been carefully preserved somewhere, hanging on a crime boss's wall. For the world's sake, we can only hope that Carravagio has met such a fate.