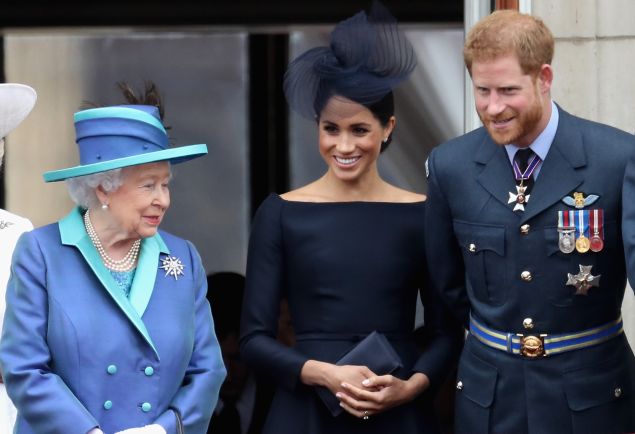 Prince George should consider asking his great-grandmother to elevate his birthday present this year. Sure, the future King of England turning five was commemorated with a new coin from the Royal Mint, and he's reportedly living his best regal life on a family holiday with Prince William, Kate Middleton and his siblings on the private Caribbean island of Mustique. But Queen Elizabeth hasn't forgotten about the most recently married members of her family, as she's said to be giving Prince Harry and Meghan Markle a new royal home.
The house in question is Adelaide Cottage; located in Home Park, at Windsor—it's part of the Crown Estate's private 655-acre park. Queen Elizabeth offered it to the newlyweds as a present, according to the Daily Mail, and after the redheaded royal and Hallmark movie queen viewed the abode, they decided it was the right fit. Someone get the calligraphy pens and avocados ready for the Duchess of Sussex!
The cottage was originally built in 1831 by William IV, as a retreat for his wife, Queen Adelaide. The name stuck, but perhaps the best known former resident is Group Captain Peter Townsend. The name is recognizable even to those of us who only made it through the first five episodes of The Crown as the paramour of the original wild royal, Princess Margaret, who puts all of Prince Harry's pre-Markle adventures to shame—never forget that time he played strip billiards in Las Vegas.
The Grade II home was renovated in 2015, and is really more of a mansion than a "cottage." The master bedroom features a coved ceiling with gilded dolphins and rope ornament, taken from a 19th century royal yacht, because nautical is very in right now. There's a Graeco-Egyptian marble fireplace, though one of the best aspects of the property is likely the privacy. There are seven different gated entrances and exits to Windsor, so the Duke and Duchess of Sussex will be able to move about without being photographed every second. Maybe.
It's a definite upgrade from the couple's two-bedroom home at Kensington Palace, Nottingham Cottage. Still, Kensington Palace hasn't confirmed the news, and we're still holding out hope that the newlyweds are moving into Apartment 1 at KP, so that they will be true next door neighbors with Prince William and Kate Middleton—not to mention Prince George, Princess Charlotte and Prince Louis, so that Prince Harry can read the littlest Cambridge more Winnie-the-Pooh stories.
It's not clear if this will be Prince Harry and Markle's main residence, or simply another home to add to their growing portfolio—aside from Nottingham Cottage, the Queen was thought to be giving the couple their own country home, York Cottage, at Sandringham. It's right by Anmer Hall, an 18th century home the monarch gifted the Duke and Duchess of Cambridge as a wedding present.
And let's not forget about the couple's other country estate, as Prince Harry and Markle reportedly signed a two-year lease on a non-royal home in the Cotswolds. Then again, there are probably special rules for royals breaking rental agreements—maybe Markle and Queen Elizabeth chatted about it on their train sleepover.
We wonder what Princess Eugenie should expect once she married Jack Brooksbank in October—she's already following in her cousin's footsteps when it comes to location and the guest list, so perhaps she'll be receiving a brand-new home, too.