The trade war has been keeping CEOs awake at night recently. During its latest quarterly earnings call (on April 24), the CEO of Harley Davidson mentioned either "tariff" (or "tariffs") 16 times, the most any company has ever discussed this topic, according to CB Insight's analysis of company earnings calls during the past quarter.
And Harley Davidson isn't the only company deeply concerned about the trade war.
Per CB Insights' analysis, total mentions of "tariff" (or "tariffs") and "trade war" spiked in recent earnings calls and reached a historic high. Considering the fact that most of these researched calls happened before the most dramatic tariff hikes were either announced or imposed, it's safe to assume that attention and worry on trade tensions are continuing to grow.
Most CEOs don't like the idea of a trade war.
"We're all reading that things have de-escalated a bit there and seem to be headed in a more positive direction. But I think it's in everyone's best interest to try and avoid a trade war, if we can," Citigroup CEO Michael Corbat said during an April 13 call with investors.
Unfortunately that wasn't the case. In the weeks following Corbat's optimistic comment, trade negotiations quickly escalated to a trade war, with the U.S. and the rest of the world bombing each other with tax hikes on multi-billion-dollars worth of imports and exports.
Declared tariffs and fear of retaliatory tariffs from the affected countries have propelled many businesses to rush into major decisions that would be considered controversial in normal times.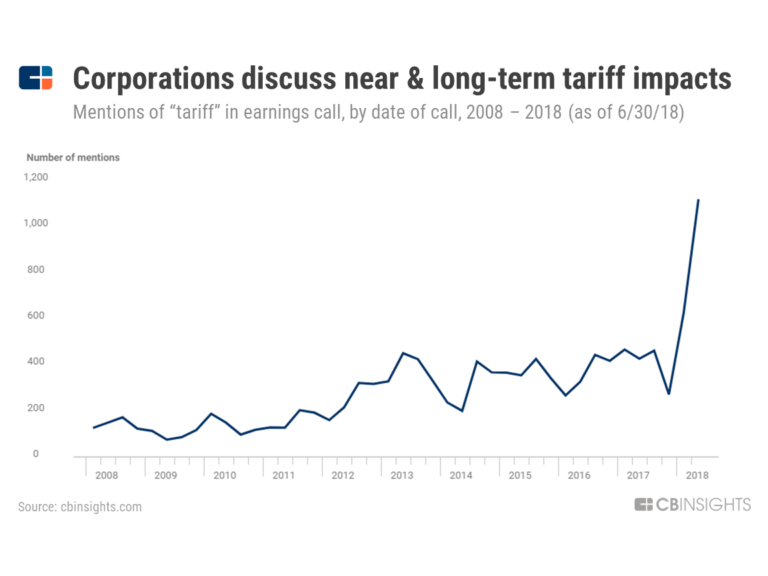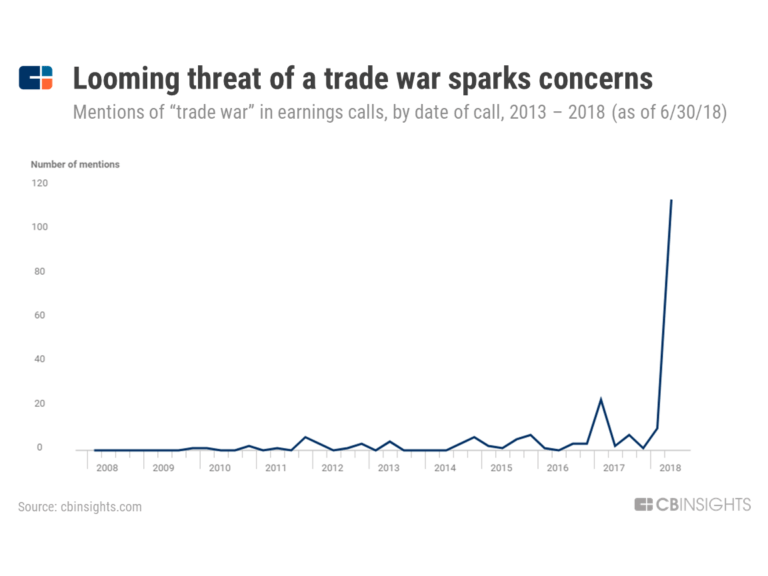 Last month, after President Trump announced a 25 percent tariff hike on European cars, Harley Davidson told investors that it would move some of its manufacturing to Europe to make motorcycles meant for that market. American soybean farmers have been shipping products to South America since China announced new tariffs on U.S. soybeans in April, betting that China would buy more soybeans from Brazil after the tariffs went into effect on July 6. (The U.S. ships about 60 percent of soybeans to China every year.)
"That seldom happens, but what's happening is the Brazilians are selling more beans to China, so we are having to backfill the Brazilian internal demand for their own crushing facilities," Paul Pittman, CEO of Farmland Partners, a farmland real estate company, told investors on a May 10 call.
But there is one group of CEOs who speak about tariffs out of joy, not fear: local aluminum and steel companies.
In fact, aluminum and steel were the real trigger of how this trade war started. If the Trump administration had not slapped a tariff hike on steel and aluminum imports from a number of countries in March, no tariffs would have been imposed on American exports, and therefore no companies would have had to move production or agricultural commodities abroad in advance.
"Even before these tariffs were announced, anticipation of this action had led to reduced imports during the quarter and strengthening domestic steel pricing," Tamara Lundgren, CEO of Schnitzer Steel Industries, said during the company's earnings call on June 26.
Since the announcement of the tariffs, domestic prices for rebar (a steel reinforcing rod in concrete) have increased further. Lundgren said the trade tensions have, so far, benefited the domestic metal industry.