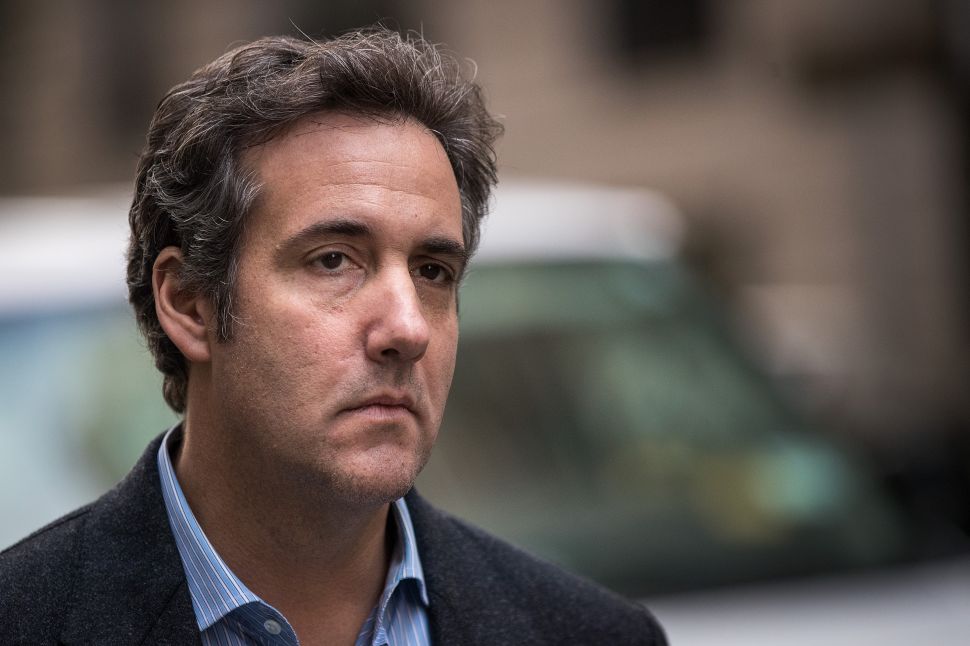 Michael Cohen's decision to release a secretly recorded tape—in which himself and President Trump discuss hush payments to a Playboy model—has inhabitants of Trumpland worried about a civil war between the two.
"With the leak of this tape, people are saying 'all bets are off.' There's a wait-and-see attitude," Michael Caputo, a former communications advisor on the Trump campaign, told Observer. "When all bets are off, it's a perilous situation."
"I think he's hitting back at Trump," added former Trump advisor Sam Nunberg. "I feel for Michael in this situation."
Trump tweeted fury at his former attorney in the aftermath of the tape's release, writing: "What kind of a lawyer would tape a client? So sad!"
Although it is unclear if the content of the tape creates legal hurdles for the president regarding campaign finance violations, Trumpers believe the pair's conflict has been orchestrated by Special Counsel Robert Mueller's strategy for the Russia probe.
"I'm struck by how this investigation has destroyed decades-long relationships," lamented Caputo. "Mueller spent quite a bit of time trying to destroy the Gates-Manafort relationship. This one isn't as long, it's only 15 years or so, but so much of the high hopes of the haters have been predicated on the destruction of the Cohen-Trump relationship."
Caputo admitted to being "shocked" upon discovering Cohen had secretly recorded conversations with Trump but did not anticipate any legal landmines.
"The idea that the president was involved with other women is bait into his candidate model and no news to anyone… There's no crime committed or alleged. It's salacious and intended to embarrass the president," explained Caputo. "Most all of us around the president are convinced that Michael Cohen doesn't have anything that could implicate the president."
"The tape is a complete bust!" echoed Nunberg. "The president did not commit any illegal act. In fact, perhaps the only illegal act in all of this tape, is a lawyer recording his client without his client's knowledge."
The operatives also warned of the motives surrounding Cohen's attorney, Lanny Davis. Having served as a special counsel to Bill Clinton, Davis' past involvement with American Media, Inc. (A.M.I.)—the parent company of the National Inquirer, which bought and killed stories that were potentially damaging to the Trump campaign during the 2016 election—has led to a potential conflict-of-interest.
"Lanny is conflicted-out from a legal point of view because Lanny represented A.M.I.," said Nunberg. "This is really outside of Lanny's valley walk. He's dealing with somebody who is a target of the investigation who is looking to cop a plea deal."
Mueller's investigation, coupled with Davis and Cohen's offensive against the White House, has created a tenuous situation: More secretly recorded tapes between the president and his flipped-attorney are expected to surface over the upcoming weeks. Davis told Axios on Wednesday "there's more to come" in Cohen's fallout.
"I think we're going to see multiple leaks out of the Southern District of New York at the behest of the Mueller investigation. And I think we'll see leaks from Lanny Davis because that's a Washington legal counsel's strategy," said Caputo. "Anytime a new source of information on the investigation presents itself like Michael Cohen has, it complicates the communications challenge for the White House. The problem becomes there are too many fountains, and not enough buckets. It's time for them to get more buckets."
However, not all players involved in this tabloid saga of models, politicians and media empires are buying Cohen's redemption arc—even though Davis told CNN that the lawyer "has turned a corner in his life" and remains "dedicated to telling the truth to everyone."
"I think he's trying to pick his reputation off the ash-heap," Stormy Daniels' attorney Michael Avenatti told Observer. "They're trying to play the American people by not coming 100 percent clean with everything they have right now."
"The problem is that these tapes are going to show that the president and Michael Cohen engaged in improper conduct on many fronts across many years," added Avenatti. "This is what I first predicted in early April before the FBI search warrants were executed—that ultimately Michael Cohen would flip on the president."