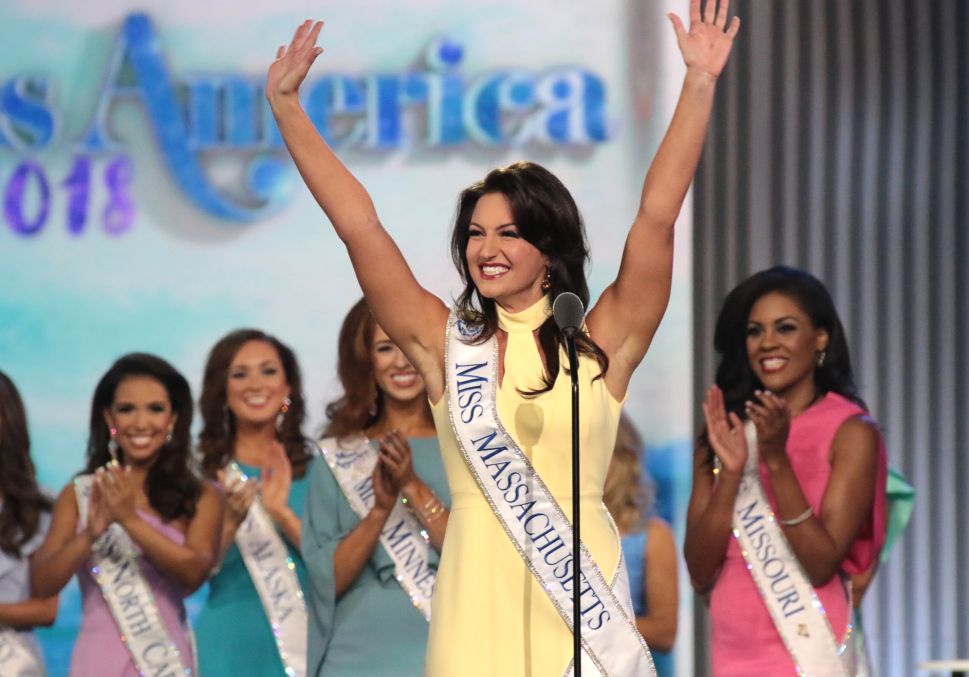 Miss America 2.0 is here, with hot hashtags like #ByeByeBikini and #MissAmericaEmpoweredMe, at the ready. Starting with the 2019 Miss America competition, contestants will no longer strut around in bikinis and high heels, but the beauty contest's latest attempt to upgrade for the 21st century is already off to a rough start.
"We are not going to judge you on your outward appearance," Gretchen Carlson, the former Fox News host, catalyst of the #MeToo movement and Miss America's chairwoman, announced on ABC's Good Morning America in early June.
Almost immediately, people across the internet got their bikinis in a bunch over the elimination of the swimsuit competition. Former Miss Americas joined forces online to express their disapproval, and a contentious organizational shake-up has been linked to the pageant's new progressive direction.
However, the real dispute may be happening on the state level—where all but five of the qualifying pageants are still holding swimwear contests and organizers, contestants and fans are publicly disparaging the move online. According to Philadelphia magazine, eulogy posts in the Miss America Fan Group on Facebook are calling the decision "a death nail into the program and predicted 'a mass exodus' from participation at the state level."
During the final round of the Miss Massachusetts competition last Saturday night was one of the foremost examples. The organization featured a skit—Observer exclusively obtained the video seen below—lamenting the removal of the swimsuit competition, with the loss being cheekily blamed on the #MeToo movement. 
"We may have very well seen the last ever swimsuit competition on stage. It's very upsetting," a woman kneeling on a chair on stage bemoaned as part of the comedy sketch. "And I'm trying to understand, God, why it happened."
"Me too, Amy," responded a person dressed as God, holding up a #MeToo sign.  
A very vocal part of the crowd cheered following the comment, and the emcee had to wait until the applause died down to proceed. But many of those in attendance were floored by the tone-deaf remark. In the aftermath, at least one title holder is planning to turn in her sash.  
"You know I am a survivor of rape at the age of 13. I've been very public with my story," Maude Gorman, Miss Plymouth County 2018, told Observer. "In 2015, I was Miss Massachusetts World and I shared my story for the first time with The Boston Herald, and I became a figure against sexual violence. And you know I'm in the middle of writing my resignation letter because I don't even really want to have a local title anymore after seeing something like that. Personally, I can't see myself being a part of the Miss America organization." 
The outrage extended to others in attendance, with multiple contestants and audience members expressing incredulity over the entire sketch.
"I understand that some people are frustrated with the removal of the swimsuit because it holds so much history with the organization, but you know, I don't really understand why they think that being progressive is a negative thing," Kenneth Livingston, a longtime Miss America volunteer who witnessed the skit, told Observer. "It's a positive thing and taking a jab at the #MeToo movement was ignorant, irresponsible, and to blame the removal of the swimsuit competition on that was completely ignorant… After [Miss America chair Gretchen Carlson] sued Fox News, so many women came forward and they told their stories, they felt empowered by her. I don't think it represents Miss America." 
"I understand they were frustrated, but they had little girls in the audience; they had maybe 50 little princesses in the audience who might one day step on that stage," Livingston continued. "And statistically speaking, one in four women are victims of sexual assault. And if you look at it like that, there were 28 girls on that stage, so there were about six girls who probably were a victim, and they had to walk out on stage after that whole skit. And I just think it's highly inappropriate." 
With a new mission of female empowerment and a leader so acutely identified with the #MeToo movement, Miss America must implement change not just at a national level, but specifically within its 51 licensed state-level organizations (all 50 states and the District of Columbia). Contestants must win a state title to compete in the national Miss America competition, and each state has its own set of guidelines, in addition to the national criteria set forth by the Miss America organization (MAO). Currently, most states are in the midst of rewriting their rules to align with the MAO's new objective.
"We are no longer a pageant. Miss America will represent a new generation of female leaders focused on scholarship, social impact, talent, and empowerment" Carlson said in a statement. "We're experiencing a cultural revolution in our country with women finding the courage to stand up and have their voices heard on many issues. Miss America is proud to evolve as an organization and join this empowerment movement."
Miss America wants women to stand up and speak out, and now, Miss Massachusetts has given many a new reason to do exactly that.
"I think with everything, the changes that have undergone in the Miss America organization, I think there's definitely a disconnect between what they're trying to stand for and what they're actually representing just based off that skit," Gorman explained. "I'm not really sure what will happen next; I know I'm going to make a stand against it." 
Not everyone involved with the pageant believes that the skit was a reflection of the organization overall, but merely an issue at the state level. Livingston explained how at this year's Miss Tennessee pageant, "it was just clean, humorous jokes, but at Miss Massachusetts, they were totally taking jabs at Miss America 2.0."
Not to mention, sexual assault victims.
"Being someone who understands how essential it is to allow victims of sexual assault to be heard without feeling like society is playing the blame game, the #MeToo movement is not something to joke about," explained Samantha McGraw, who began competing in the Miss America organization in Massachusetts four years ago. "Regardless of who did or did not know about the skit that was put onstage during the finals of the Miss Massachusetts 2018 Scholarship Pageant, I think the emcee should send a public apology. Her words are not a reflection of my state organization and something I continue to compete in year after year."
"I use the Miss America Organization as a tool to inspire future generations to be the most authentic, compassionate, and successful version of themselves," she continued. "We need to be sensitive and understanding to those who were hurt by the remarks and to show our leaders and viewers that we, as a state, are supportive of the positive changes that are starting in September at the Miss America 2.0 competition!"
An Observer request for comment was not returned by the Miss Massachusetts organizers by the time of publication.