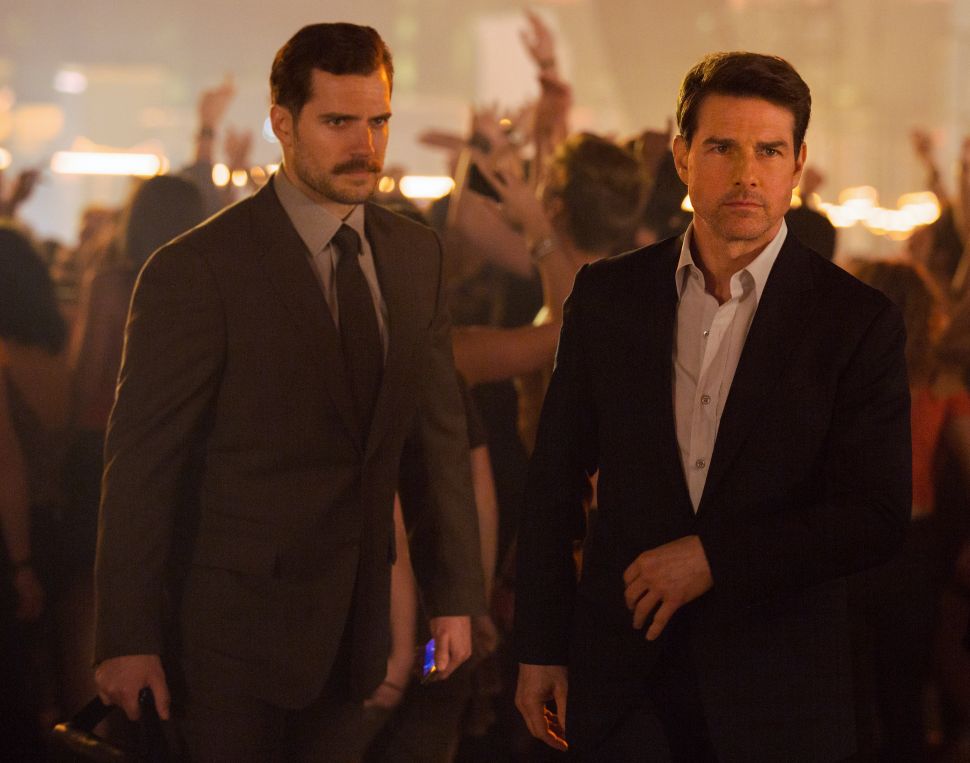 One thing I've learned, through trial, error and experience, is not to go to Mission: Impossible movies expecting anything fresh, important or memorable.
So it's business as usual with Fallout, the sixth installment in the ossified franchise series that seems more like the sixtieth, but despite the fact that after the night I saw it I failed to remember anything in it by breakfast the following morning, I am forced to (a) confess I had a good time watching it while it lasted, and (b) give Tom Cruise credit where it's due. At 56, the ubiquitous superstar looks ageless. He produces his own pictures and doctors his own scripts, guaranteeing his fans that he will leap from rooftops and dangle from helicopters with his picket-fence teeth white as porcelain and his IMAX grin unmatched by anyone except Julia Roberts. Most remarkably, Cruise does most of his own stunts, including the film's most thrilling sequence, when he jumps out of a plane at 25,000 feet with a real-life broken ankle.
There is plenty to marvel at, and there you have it: the primary reason to sit through nearly 2 and ½ hours of Fallout without a Band-Aid in sight.
---

MISSION : IMPOSSIBLE—FALLOUT  ★★★ 
(3/4 stars)
Directed by: Christopher McQuarrie
Written by: Christopher McQuarrie
Starring: Tom Cruise, Rebecca Ferguson, Ving Rhames, Simon Pegg, Henry Cavill
Running time: 147 mins.

---
Returning as implacable, indestructible, danger-seeking IMF (Impossible Mission Force) leader Ethan Hunt, Cruise is again joined by some of his old fellow agents (Rebecca Ferguson, Ving Rhames and Simon Pegg) and once again directed by Christopher McQuarrie, who called the shots on the top-grossing Rogue Nation. What passes for a plot leapfrogs from convoluted to preposterous, without making a word of logical sense. It's full of red herrings, twists and false endings, with agents wearing Wolf Blitzer masks and villains like "The Widow", a rich philanthropist whose charities camouflage her talent for money laundering. But what holds interest more than anything else are the helicopters, motorcycles, electric cars, and special effects.
Anything resembling real people is accidental. What Ethan Hunt & Co. are tracking here is a syndicate of international terrorists called "The Apostles", dedicated to destroying the world with plutonium bombs. The goal of the IMF is to find the nuclear weapons before they wipe out Jerusalem, Mecca, and the Vatican. To that end, the Mission Impossible gang is joined by a CIA agent to make their impossible mission more possible. If you don't know this unwelcome watchdog, played by Henry Cavill, might turn out to be the Apostles' star assassin, then you haven't been paying attention.
Cavill is actually more handsome than Cruise—calendar material, close-up ready, and charismatic enough to have already played Superman. But he's no match for the eternally youthful star with good hair, taut workout abs, tight T-shirts and all the best camera angles, busily dispensing endless intensity without ever breaking a sweat or learning how to act. When Cavill finally confronts Cruise face-to-face with the snarling line "Why won't you die?" the audience laughter at the critics' screening I attended was entirely understandable.
In the traffic explosions and car crashes, with the star behind the wheel, there is never so much as a stripped gear or a flat tire, and every tap on the shoulder with a briefcase sounds like a building collapse. From a dozen chases and pileups that wreak carnage on Belfast, Berlin, London and the boulevards of Paris, to a smallpox epidemic in the snowy mountains of Kashmir, Mission : Impossible—Fallout knocks itself out to keep you awake and entertained. The result is a film that won't make a dent in cinema history but, with an ebullient gusto, it is impossible to resist.