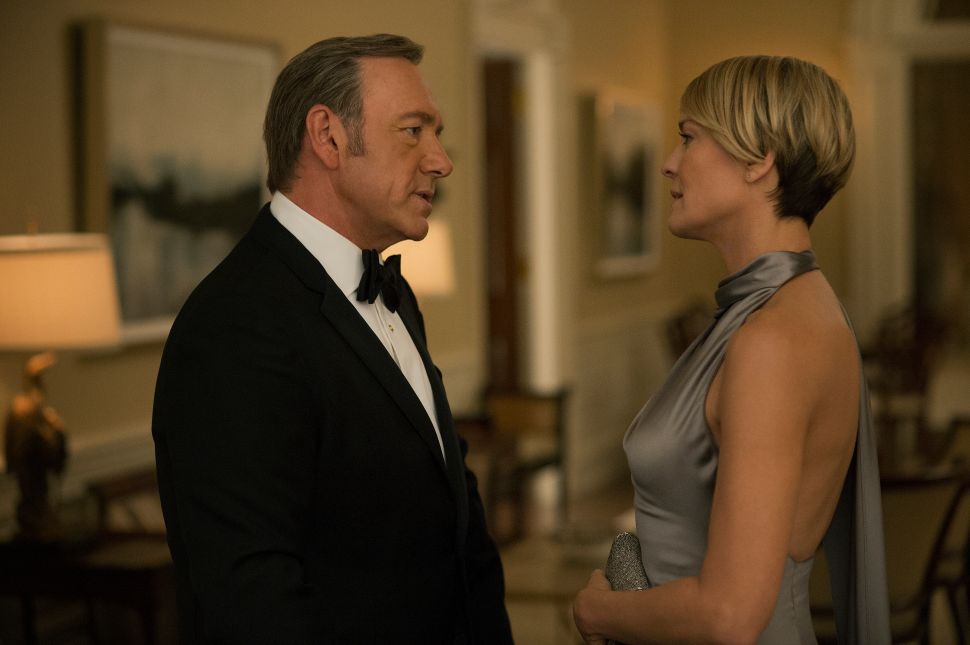 After Kevin Spacey's sexual misconduct scandal broke, production on Netflix (NFLX)'s flagship series House of Cards was halted indefinitely while the streamer figured out how best to proceed. Ultimately, the decision was made to cut ties with Spacey while elevating Robin Wright's Claire Underwood to lead and wrapping up the series with a final truncated season.
In that time, several other accusers have stepped forward while many Hollywood celebrities have openly discussed their experiences with Spacey. But Wright mostly remained quiet as the drama consumed the news cycle—until now, that is. Wright sat down with Today's Savannah Guthrie for an interview in which the talk show host asks if there were any red flags ahead of Spacey's public scandal.
"Kevin and I knew each other between action and cut, and in between setups where we would giggle. I didn't really — I didn't know the man. I knew the incredible craftsman that he is," Wright said in a promo for the interview.
"We were coworkers, really. We never socialized outside of work. [It was a] respectful, professional relationship," she added. "He was so great with me. He was never disrespectful to me, so that's my personal experience. That's the only thing that I feel I have the right to talk about."
Spacey, one of Hollywood's most decorated character actors of the last 20 years, was first put in the cross hairs when actor Anthony Rapp wrote an essay detailing a sexual advance Spacey made toward him when the Star Trek Discovery co-star was just a teenager. This prompted several other accusers to step forward, including eight employees who filed sexual harassment claims to Netflix and series production company Media Rights Capital, according to CNN.
"I think we were all surprised, of course, and ultimately saddened," Wright said of the accusations. "We forged ahead, and we were so thankful that we were able to complete the series as planned."
Spacey's character was written out of the show while Wright's Claire Underwood will now take center stage, though cast members say a change in focus was coming before Spacey was hit with multiple sexual misconduct allegations. For the final season, Netflix has also brought in Diane Lane and Greg Kinnear for guest roles. The pair have two Oscar nominations between them.
House of Cards was one of Netflix's very first originals and has remained a consistent awards contender since its debut in 2013. But with the exploding popularity of Stranger Things and the streamer's continued growth elsewhere, Netflix won't have to look too hard for an heir-apparent that boasts broad appeal.