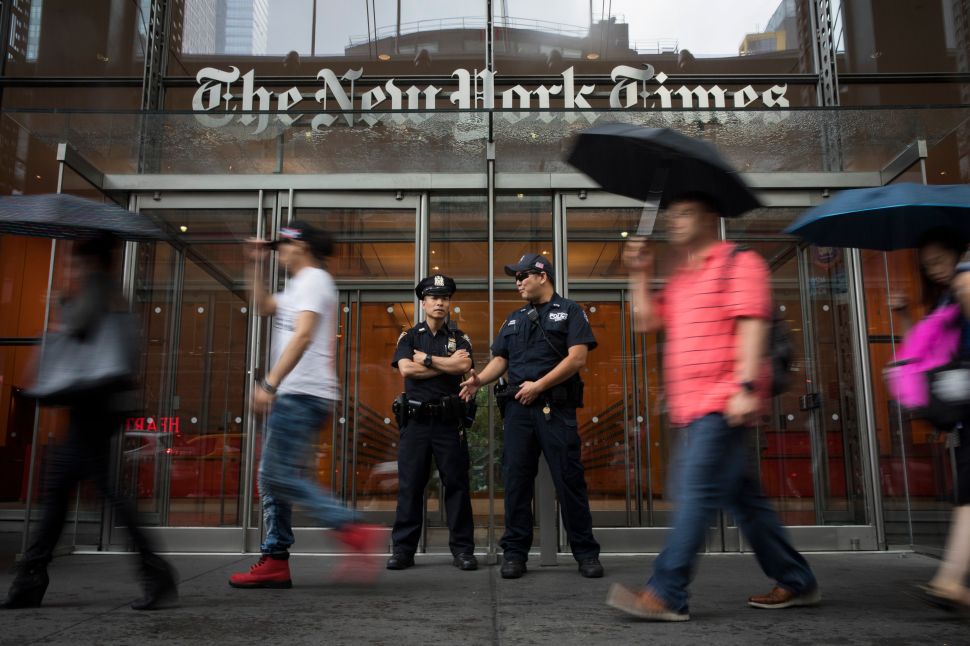 Maybe we should start calling it the Red Lady.
A new study from Media Matters for America shows that The New York Times quotes more than twice as many Republicans as Democrats in its political coverage. The Washington Post is guilty of the same favoritism.
Using the Nexis news database, the progressive nonprofit analyzed print articles in the two papers' news and politics sections from between May 1 and June 30 that mentioned an elected official or someone in the Trump administration.
About 2,200 stories and 2,000 people fit this criteria. Each government official was coded either Republican or Democrat (officials in the Working Families Party were classified Democrat).
Over the 61-day period, the Times quoted 1,466 Republicans and 611 Democrats (a difference of 58 percent). The Post included 1,403 Republicans and 615 Democrats (a discrepancy of 56 percent).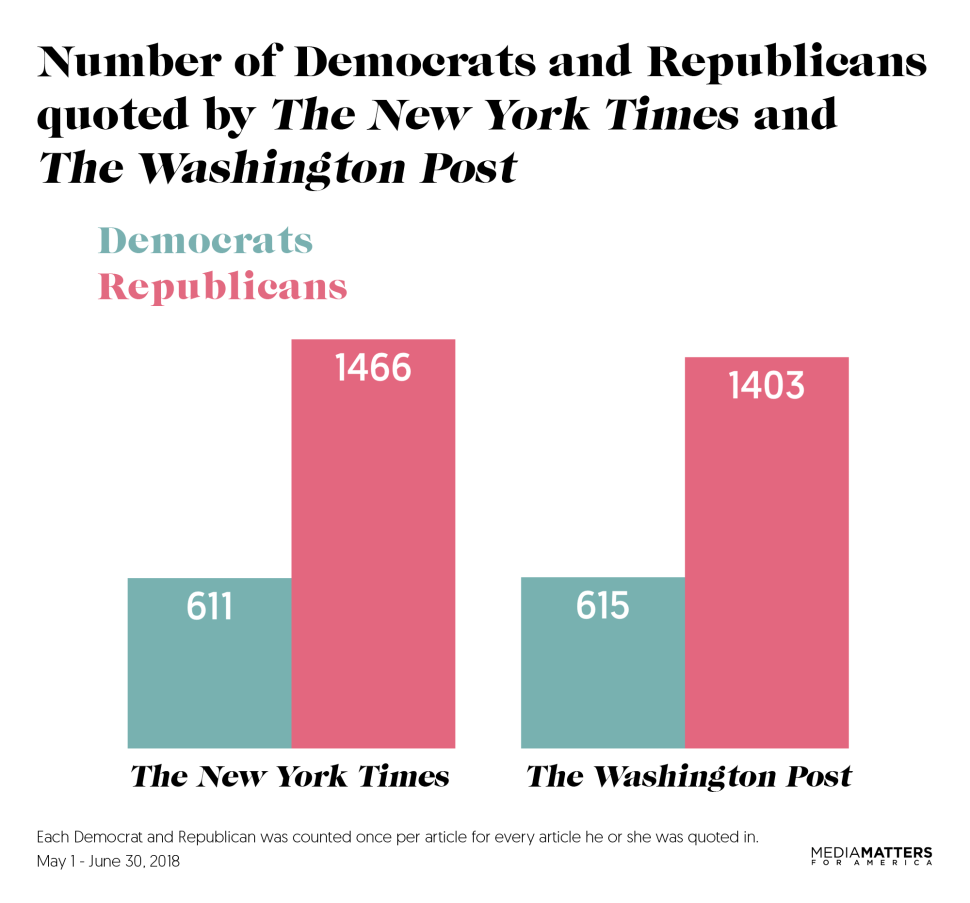 The day-by-day breakdowns are especially stark. At certain points during the two-month period, the papers quoted over 50 Republicans, but only one or two Democrats (if any).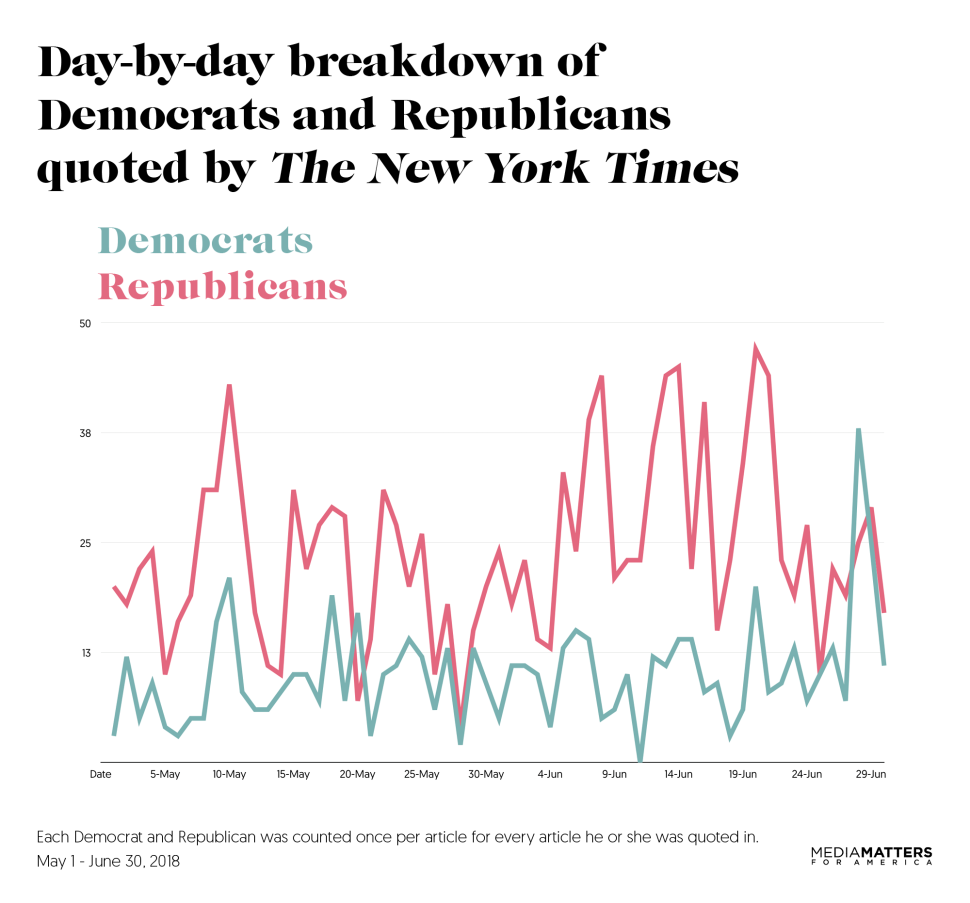 So while President Donald Trump and his fellow conservatives may complain that the "fake news media" is "rigged," it appears the papers have actually bent over backwards to appease the right.
Notwithstanding this two-month period, the Post has done a pretty good job of holding Republicans' feet to the fire. For example, the paper broke the story of sexual assault allegations against Alabama Senate candidate Roy Moore.
But the Times has consistently struggled to balance breaking unflattering news about Trump with pandering to his base.
The Gray Lady has run numerous stories about how random voters love Trump no matter what he does. These articles have been relentlessly mocked on social media.
In May the Times got heavy criticism over "The Renegades of the Intellectual Dark Web," a glossy profile of intellectual conservatives like Ben Shapiro and Jordan Peterson who felt neglected in the age of Trump.
Within the past year, the Times also ran a sympathetic profile of a neo-Nazi and hired climate change denier Bret Stephens as an op-ed columnist.
On the flip side, while kowtowing to conservatives, the Times has missed several big shifts in the Democratic Party.
For example, when 28-year-old Alexandria Ocasio-Cortez defeated 10-term incumbent Joe Crowley in New York's 12th district primary last month, many pointed out the Times had not run any profiles of her in the lead-up to the race.
But the Times and Post haven't been the only outlets felled by false balance. Top tech platforms are dealing with the same issues.
Facebook's Mark Zuckerberg came under fire this week for stating that Holocaust deniers "aren't intentionally getting it wrong." His sister Randi then doubled down on these comments, declaring that Facebook shouldn't be "a sterile, Stepford-like online community."
But there has to be a middle ground between Stepford and Nazis. Here's hoping newspapers and social media giants figure that out soon.