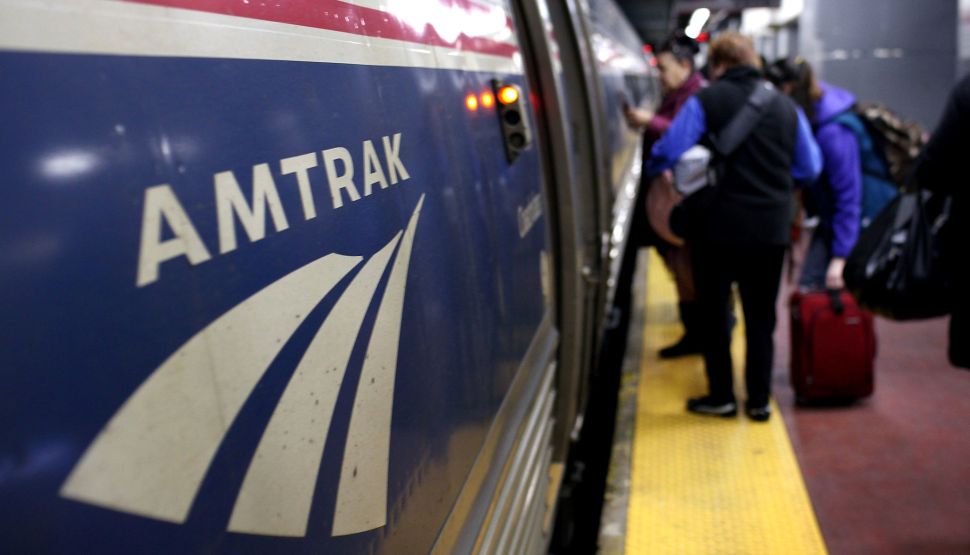 It's no secret that President Donald Trump is no fan of the Gateway Tunnel Project. But now two local transportation agencies are taking steps that they hope will help ease the president's enmity to the $14.5 billion plan.
As NJSpotlight reports, the Port Authority of New York and New Jersey will now take the lead in grant applications and environmental work for the rail tunnels under the Hudson River.
Meanwhile, New Jersey Transit has worked to cut costs on the $1.5 billion Portal North Bridge project and to increase New Jersey's financial commitment to the work, according to the report.
While agency officials have expressed confidence that the changes should address Trump administration concerns about the project, the NJSpotlight article also points out that Trump is reportedly using his opposition to the Gateway project as a bargaining chip with Senate Minority Leader Chuck Schumer, a Democrat from New York and a proponent of the tunnel project.
Quote of the Day: "That's one we're going to observe and stay out of." — Gov. Phil Murphy, on endorsing a candidate in the Democratic gubernatorial primary in New York.
NJ Agencies Try to Calm Trump Hostility Toward Gateway
Two local transportation agencies are looking to neutralize the Trump administration's stated opposition to the Gateway tunnel project, although no one is confident the moves will satisfy federal demands amid fears that President Donald Trump is blocking the project due to politics.
NJSpotlight Read more
Murphy defends his staff after powerful Democrat claims administration is 'Trump-like'
Gov. Phil Murphy stood by his staff Tuesday after George Norcross III, arguably New Jersey's most powerful non-elected official, told a political new website that the rookie governor is "suffering from a Trump-like administration."
NJ.com Read more
New Jersey will move away from PARCC testing, but the transition could take years
New Jersey will begin moving away from the controversial PARCC exams and move toward a "new generation" of statewide testing, Gov. Phil Murphy said Tuesday.
The Record Read more
Murphy won't endorse Cuomo
Gov. Phil Murphy doesn't want to wade into New York's Democratic gubernatorial primary.
New Jersey Globe Read more
NJ Takes Another Small Step Toward Cranking Up Offshore Wind Industry
The state is seeking input on how it should go about developing 1,100 megawatts of offshore wind capacity, an initial step toward soliciting project proposals from developers after years of delay.
NJSpotlight Read more
Grossman doubles down after NRCC pulls endorsement over Facebook post
South Jersey congressional candidate Seth Grossman doubled down on his candidacy after the National Republican Congressional Committee pulled its support, saying he will not drop out of the race and NRCC Chairman Steve Stivers should resign for not supporting "pro-Trump candidates."
Press of Atlantic City Read more
Atlantic County GOP chairman offers support for Grossman
Atlantic County Republican Chairman Keith Davis said Tuesday he won't withdraw his support for congressional candidate Seth Grossman, despite Grossman's sharing of a racist article from a white nationalist website on social media.
Politico Read more
Cowboys fan arrested in bar fight challenged N.J. bail overhaul. Here's how a judge ruled.
The sweeping overhaul of New Jersey's criminal justice system that took effect last year has survived another legal challenge after a federal appeals court ruled it did not violate the constitution.
NJ.com Read more
Diversity in Workplace on the Rise in NJ, Survey Finds
New Jersey is known as a melting pot — one of the most diverse states in the nation. And a new Taft State of Diversity survey finds interaction among people of different ethnic and racial backgrounds in the Garden State is continuing to grow.
NJ101.5 Read more
State shuts down town's first aid squad, says chief made threats to kill
The state Department of Health has suspended Delran's first aid squad after an investigation found it was operating emergency vehicles with uncertified staff — including its chief, who the state says was threatening to state staffers too.
NJ.com Read more
World Cup highlights Phil Murphy's passion for soccer and sport's deep base in New Jersey
Just ahead of the final rounds of the 2018 World Cup, Gov. Phil Murphy sat down for an interview with The Record and NorthJersey.com to discuss his predictions for the last few games, the popularity of soccer in New Jersey and his role in helping to bring the 2026 World Cup to the state.
The Record Read more
Montclair boy, son of former councilwoman, drowns in pool July 4
The son of Montclair Democratic Party committee member Kathryn Weller-Demming drowned July 4.
The Record Read more
Getting her wheelchair on the beach was a struggle. Brigantine just made it easier
As a teenager in leg braces, Bernadette Scarduzio struggled to walk across the hot sand at Brigantine beach. Shaking, she would lean on relatives for support as she kept her eye on the finish line: the distant ocean.
Inquirer Read more
Lakewood to spend $2 million for sidewalks on busy roadways
Cars flew by from both directions on Gudz Road at alarming speeds as Shimshon Sendler walked among the leaves and trash mere inches from the whirring traffic.
Asbury Park Press Read more
Editorial: Voters, beware the billion-dollar bond
Remember not long ago when legislators were pondering a $500 million borrowing plan to expand New Jersey's vocational and technical school programs?
Asbury Park Press Read more