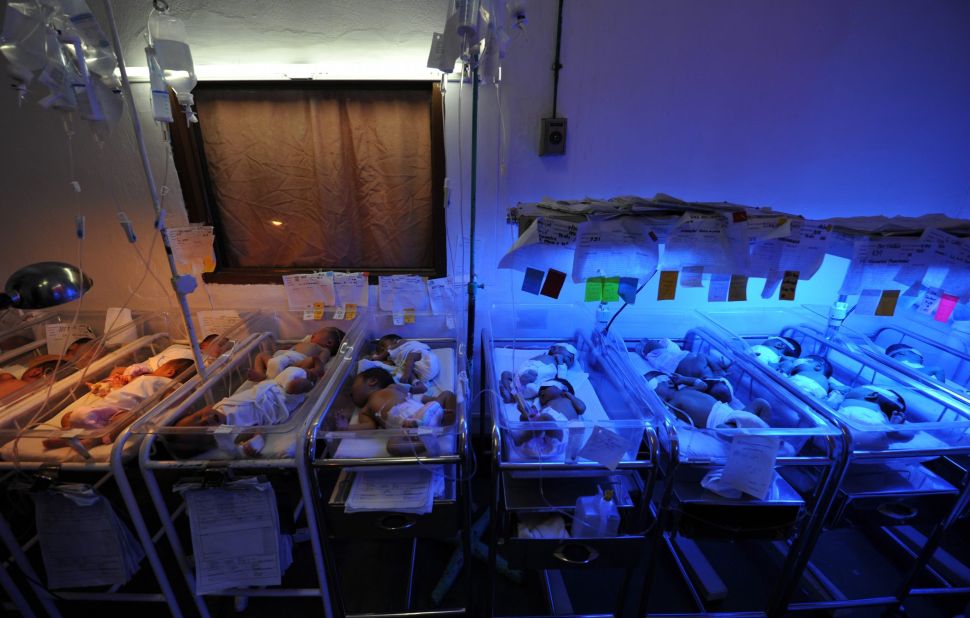 A child advocacy group is calling on lawmakers to pay more attention to the needs of the state's youngest residents from the lowest-income families.
Advocates for Children of New Jersey released its first Babies Count report, outlining the social and health challenges faced by the state's 310,000 infants and toddlers, according to a NJSpotlight.
The report finds that 35 percent of the state's infants and toddlers live in families with incomes of $49,000 or less.
The report found that families of infants face challenges—such as the high cost of childcare faced by all in the state—while a third of young children live in one-parent households.
The report, however, also notes good news in the state, including proposals to almost double state aid for child-care expenses and increase time off for parents. The report also found only three percent of children younger than three in the state were without health insurance.
Quote of the Day: "People are going to continue violating the laws with smoking and vaping and in most instances nothing will happen." — Gregory Conley, president of the New Jersey-based American Vaping Association, on new state regulations to prevent smoking and vaping on public beaches.
Longshot: Why the GOP plan to permanently cap the SALT deduction may never become law
House Republicans last week doubled down on the tax overhaul the GOP and President Donald Trump enacted last year, offering a plan to extend tax changes that are due to expire in 2025.
The Record Read more
Pa., N.J. suspend tens of thousands of driver's licenses a year for not paying court costs. Is that constitutional?
Driver's licenses of hundreds of thousands of Pennsylvania and New Jersey drivers have been suspended in the last several years for failure to pay court costs related to low-level offenses. Now, advocates and some public officials are trying to put the brakes on a practice that they say unfairly punishes the poor.
Inquirer Read more
Gov. Murphy is gone for 11 days. Is he at his Italian mansion? The state won't say
Stone buildings line the narrow cobblestone streets and walkways in the small Italian town of Parrano, which was built on a hill in the 15th century and has a population of about 550 people.
NJ.com Read more
How pro-Trump Facebook pages turned N.J. Gov. Murphy into a misleading viral meme
Pro-Trump Facebook pages are spreading a misleading meme that suggests Gov. Murphy cares more about undocumented immigrants than about American citizens, making the New Jersey Democrat a fresh target in a social-media campaign that purports to document stories of former liberals who have renounced their party.
Inquirer Read more
New Jersey children face social, health barriers, report shows
The early years of New Jersey's youngest residents are crucial to childhood growth and development, yet some of the state's 310,285 children under the age of 3 face challenges that threaten their potential to succeed and thrive, a new report has found.
Press of Atlantic City Read more
NJ May Soon Limit Number of Patients Per Nurse
New Jersey lawmakers have not been as quick to act as in California, where it is already law, or Massachusetts, where it will be a ballot initiative this fall. But there is at least a measure introduced in both houses of the Legislature that would set patient limits for nurses in hospitals across the state.
NJ101.5 Read more
Rule Allowing NJ Workers to Donate Unused Sick Time May be Made Law
State employees can donate unused time off to a co-worker who has exhausted all their own allotted leave in New Jersey under an existing employment regulation, but now lawmakers want to see that longstanding policy become codified as a matter of law.
NJSpotlight Read more
Judge denies Melgen bail, new trial as he awaits appeal
Florida eye doctor Salomon Melgen, the friend of Sen. Bob Menendez who was his co-defendant in the federal government's unsuccessful corruption case, will stay locked up as he appeals a separate conviction for Medicare fraud.
Politico Read more
$300K a year, a penthouse, and prominence. How the 'lavish' life of an N.J. political prince crumbled.
Under a hot July sun last year, Kiburi Tucker – the son of late political icon Donald Tucker and state Assemblywoman Cleopatra Tucker – stood in a sharp blue suit before a coterie of the state's political brass and announced the culmination of a six-year effort: A 42-unit apartment complex bearing his family name that would transform Newark's South Ward.
NJ.com Read more
Atlantic City getting more sports betting options
The Wild Wild West Casino at Bally's just got a little wilder, as the resort became the third Atlantic City property to accept sports betting.
Inquirer Read more
N.J. in last gasp effort to stop imminent release of plans that would let anyone print a gun
New Jersey's attorney general is asking a state court for an emergency restraining order to block a Texas gun rights group from releasing design schematics that would allow anyone to produce a gun at home using a 3D printer.
NJ.com Read more
NJ's Banning Smoking on all Beaches, So Who Will Enforce It?
When smoking is banned on all New Jersey public beaches next summer, will it come down to the lifeguards to enforce the law?
NJ101.5 Read more
Obamacare premiums to rise in NJ next year, but could be worse
New Jersey health insurance companies proposed increasing premiums in the Obamacare market by an average of 5.8 percent for next year, in line with the overall rise in health care costs, officials said.
Asbury Park Press Read more
How much does college really cost in New Jersey? Here's what students paid
Rutgers University's governing board voted this month to raise tuition by 2.3 percent to nearly $15,000 — but even after the increase, it's still one of the best deals around among four-year schools in New Jersey.
The Record Read more
Lakewood fraud: One year after welfare arrests, what's the holdup?
Shock swept through the township one year ago when law enforcement officers over several days raided numerous homes, arresting more than two dozen in a welfare fraud probe that trained an unflattering spotlight on members of an insular community for weeks.
Asbury Park Press Read more
New prison reentry job training program gets 50 slots in Paterson
Anthony Ritter has been in and out of jail multiple times, but the 53-year-old Paterson resident said he's trying to change his life.
Paterson Press Read more
Panel offers support for immigrants facing 'gut-wrenching decisions'
As chairwoman of the Lowenstein Center for Public Interest, lawyer Catherine Weiss meets immigrants and families in crisis and sees how situations can have long-lasting effects.
NJ.com Read more
$20 million from medical marijuana taxes? The numbers don't add up.
In the budget passed at the 11th hour last month, state officials penciled in $20 million for marijuana tax revenue this fiscal year, which runs from July 1 to June 30, 2019.
NJ.com Read more
Watson Coleman sticking with Pelosi
Unlike some of the state's congressional hopefuls, Rep. Bonnie Watson Coleman isn't ditching House Minority Leader Nancy Pelosi.
New Jersey Globe Read more
What weird town laws still exist in North Jersey today?
Want to move out of your home on a Sunday? Can't do that in Garfield.
The Record Read more
New Jersey has second-best schools in nation, according to analysis
Garden State schools were ranked No. 2 in the nation, according to a Wallethub analysis released Monday.
The Record Read more
Rutgers law clinic's First Amendment argument helps free Mexican journalist detained by ICE
Free-press advocates praised the work of a Rutgers University law professor and her students last week after the release of a Mexican journalist who was detained by immigration officials after speaking out against the Trump administration.
The Record Read more
New Marlboro special ed director under scrutiny for lacking experience
The Marlboro Township Public School District's new director overseeing special education has drawn the ire of parents with disabled students.
Asbury Park Press Read more