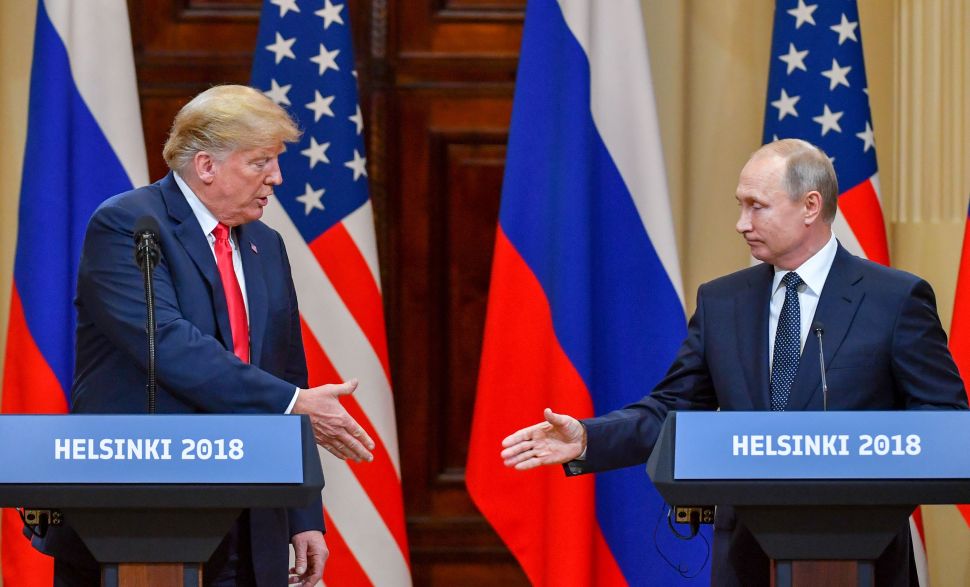 These days, it takes a lot to unite New Jersey lawmakers from both sides of the political aisle. But President Donald Trump meeting with Russian President Vladimir Putin can do it.
On Monday, both Democrat and Republican lawmakers from the Garden State expressed disappointment at Trump's performance in Helsinki, according to a report on NorthJersey.com.
Christine Todd Whitman, a longtime Republican critic of the president, called on Trump to resign following the president's failure to condemn Russia for meddling in the 2016 elections.
But even more surprising was the criticisim leveled by Republican Rep. Tom MacArthur, who has supported Trump when no other federal legislator in New Jersey would.
"I take issue with President Trump blaming the state of our relationship on our supposed 'foolishness and stupidity,'" MacArthur (R-Toms River) said in a statement. "Our relationship with Russia is strained because of Vladimir Putin's actions. He has invaded his neighbors, attacked America's allies and interfered with our elections and the elections of our closest allies."
Only Republican Rep. Chris Smith stopped short of criticizing the president's embrace of Putin, saying Trump's summit with Putin "raised important issues," including human rights, terrorism and the Syria conflict, according to the NorthJersey.com report.
Democrats, of course, did not hold back in their criticism of Trump, with Sen. Cory Booker decrying "presidential malfeasance" while Gov. Phil Murphy, who—like Booker—is rumored to have presidential ambitions of his own, labelled the president's actions "jaw dropping."
Quote of the Day: "The problem I have of re-cutting a deal on the pension side is that we have left the public-sector employees at the altar now for 20 years." — Gov. Phil Murphy, expressing reluctance to tackle reform of public employee benefits and pensions.
NJ reaction: Widespread condemnation after Trump appearance with Putin
Former Gov. Christie Whitman called on President Donald Trump to resign Monday after he appeared to accept Russian President Vladimir Putin's denial that Russia interfered with the 2016 presidential election.
The Record Read more
Here's one thing Phil Murphy and Cory Booker like about Trump tax law
Gov. Phil Murphy has never been shy about denouncing the federal tax overhaul that President Donald Trump signed into law this past December. He's called it a 'scam' that leaves New Jerseyans 'screwed.'
NJ.com Read more
Stile: More cuts to NJ pensions and health benefits? Not so fast, says Phil Murphy
Senate President Stephen Sweeney's plan to wring savings out of government is also putting the squeeze on Gov. Phil Murphy.
The Record Read more
Lawmaker Proposes Tax on Tap Water to Fix Pipes
It's a problem that keeps getting deeper. Much of New Jersey's water infrastructure system is so old and corroded that contamination in many areas is getting worse and worse.
NJ101.5 Read more
Budget Spending Breakdown: How Will New Spending Plan Affect Pensions?
In this first of a multipart series, he examines how the budget will affect the public pension system.
NJSpotlight Read more
State gets 5 more sports betting applications
New Jersey regulators have received five additional applications from gambling companies seeking to start offering sports betting before football season starts in September.
NJ.com Read more
Booker, Menendez warn that Trump's Supreme Court pick threatens abortion rights
New Jersey's two U.S. senators, Robert Menendez and Cory Booker, warned that President Donald Trump's nominee for the U.S. Supreme Court would cast the deciding vote to end abortion rights.
NJ.com Read more
Portal Bridge Plan 'A Home Run"
NJ Transit's plan to seek $600 million in local financing to replace the aging Portal Bridge between Newark and New York is "a new ballgame," according to the same federal official who had previously cast doubt on the project.
The Record Read more
Shattering NJ record, Mikie Sherrill raises $1.9 million for House race
Shattering a record she set earlier this year, Democrat Mikie Sherrill raised $1.9 million during the three months ending June 30 for her campaign for an open House seat.
The Record Read more
Former Christie aides give Menendez foe big boost in heated U.S. Senate battle
A super political action committee run by officials with ties to former Gov. Chris Christie will enter New Jersey's U.S. Senate race on behalf of Republican Bob Hugin's quest to oust U.S. Sen. Robert Menendez.
NJ.com Read more
How to Repair NJ Transit? Start With Top Brass
New Jersey Transit just got a hefty infusion of cash from the latest state budget, but an influential transportation-advocacy group is urging policymakers to press ahead with reforms of the beleaguered mass-transit agency, including by overhauling the structure of its governing board.
NJSpotlight Read more
With Proposed New Law, GPS Makers Can be Told to Avoid Your Town
As the state's top law enforcement officer goes after a North Jersey borough for a recently enacted ordinance that blocks non-residents from its streets during rush hour, legislation introduced in Trenton would ensure other New Jersey municipalities have the right to make the same rules—as long as they follow the right steps and their concerns are found to be legitimate.
NJ101.5 Read more
Lights, Cameras … Major Taxpayer Ripoff?
The Garden State Film and Digital Media Jobs Act—reinstated by Gov. Phil Murphy—offers generous tax credits to film and TV production companies filming in New Jersey.
NJ101.5 Read more
N.J. doubling number of medical marijuana dispensaries, to 12
Feeling the state's six not-for-profit medical marijuana dispensaries will not be able to handle the needs of the program as it grows, the Department of Health and Gov. Phil Murphy's administration announced a request for six more dispensaries in a statement Monday.
ROI-NJ Read more
JCP&L Wants $400M For Upgrades to Grid
Jersey Central Power & Light is asking state regulators to approve a four-year, $400 million spending plan to upgrade its electric grid to buttress its reliability.
NJSpotlight Read more
Freeholders, under fire for new ICE contract, award themselves pay raises
Hudson County's nine freeholders were already the highest paid freeholders in the state, and on Thursday they voted to award themselves 2.5 percent pay increases.
NJ.com Read more
Murphy, Booker hail Opportunity Zones at Choose NJ event
Lawmakers on Monday hailed an aspect of the controversial federal tax-reform legislation with broad support in the state: the recently created Opportunity Zones program.
NJBiz Read more
District pays $174K to boss who says he was fired for not hiring Hispanic workers
Perth Amboy school district paid a fired employee $174,000 to settle a lawsuit claiming he was axed for not hiring Hispanic workers.
NJ.com Read more
He Preyed on Men Who Wanted to Be Priests. Then He Became a Cardinal.
As a young man studying to be a priest in the 1980s, Robert Ciolek was flattered when his brilliant, charismatic bishop in Metuchen, N.J., Theodore E. McCarrick, told him he was a shining star, cut out to study in Rome and rise high in the church.
New York Times Read more
Paterson group accuses ex-Mayor Jose 'Joey' Torres of corruption in foreclosure case
The foreclosure of a prime piece of property earlier this year has prompted the former owner of the land to file court papers that make new allegations of corruption against the city's imprisoned ex-mayor, Jose "Joey" Torres.
Paterson Press Read more
High-ranking prosecutor fired in Ocean County
The third person in command at the Ocean County Prosecutor's Office was ousted from his job Monday and escorted out of the building, according to sources.
Asbury Park Press Read more
Paterson to pay $75,000 in suit over confrontation by off-duty cop
The city has agreed to pay $75,000 to settle a lawsuit involving a 2015 incident in which an off-duty Paterson police officer pointed his gun at several men while trying to find the person who had stabbed his son.
The Record Read more
Lakewood police crash unit under federal investigation, subpoena shows
Lakewood Police Department's traffic crash investigation unit is under the microscope of federal authorities, a subpoena obtained by the Asbury Park Press shows.
Asbury Park Press Read more
ICE arrests 37 immigrants in five-day sweep in Middlesex County
Immigration and Customs Enforcement officers arrested 37 people during a five-day operation last week targeting immigrants who had been previously held at the Middlesex County Jail, officials said Monday.
The Record Read more
Trust cited as factor in Paterson's selection of 12 recruits for police academy
The city has hired 12 new police recruits, its first training class following an FBI probe that resulted in the arrests of four Paterson officers during the past several months.
Paterson Press Read more
Editorial: Democratic-led benefit reforms would be welcome
New Jersey hopes to save more than $200 million with a series of cost-saving measures aimed at public-worker benefits.
The Record Read more