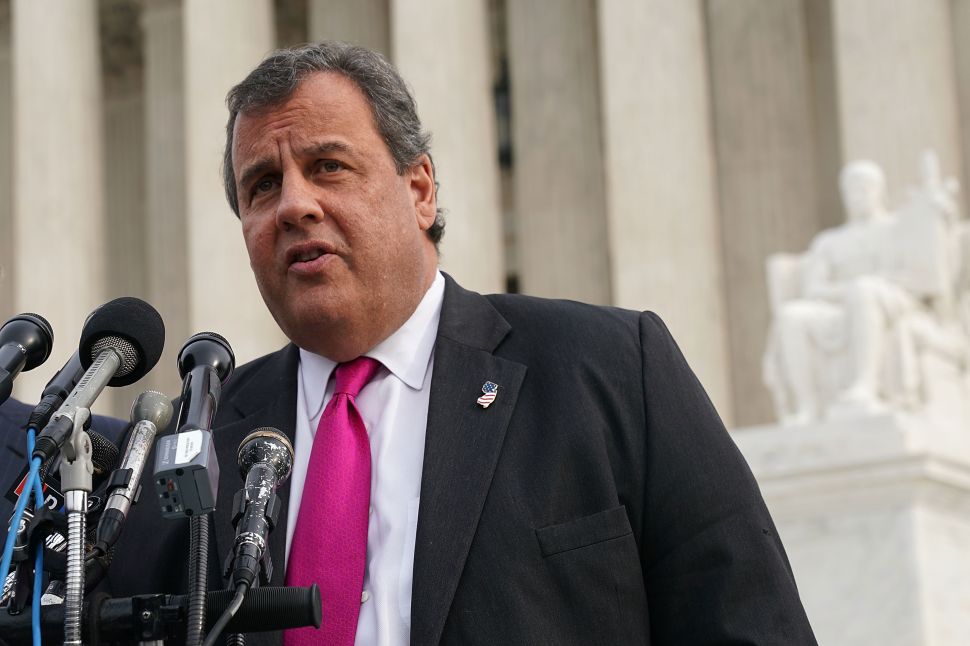 It was probably not the national exposure Chris Christie had been dreaming of. But when a photographer from The Star-Ledger shot an arieal photo of the then-governor and failed presidential candidate sprawled in a beach chair on Island Beach State Park—a park he had closed to everyone else in the state during a government shutdown—it spawned an avalanche of memes featuring the state's historically unpopular governor.
Gov. Phil Murphy hasn't forgotten.
And while the Democrat didn't win the most recent budget fight with his party-mates in the legislature, he came out of the confrontation in a lot better shape than Christie did last year. So Murphy took the time to gloat and to take a dig at Christie—who last week had taken to Twitter to slam Murphy in an observation that was ostensibly about Germany's loss in the World Cup soccer tournament.
In his Tweet on Sunday, Murphy noted: "A year ago, government shut down and beaches were closed (for most of us, anyway…)."
And while the governor didn't include the now-infamous photo of Christie and his beach chair, there was no need. The image is already a part of the state's pop culture landscape.
Quote of the Day: "I am ecstatic." — Senate President Steve Sweeney, talking about the state budget deal that includes his effort to revamp school funding.
Here Are All the Financial Problems That the Latest New Jersey Budget Deal Doesn't Fix
New Jersey's political leaders have avoided an embarrassing and potentially costly government shutdown, but their budget deal buys a year of peace while leaving many of the state's most intractable challenges to fester.
The Record Read more
NJ Budget: Here's How Much You'll Actually Pay in New Taxes, and What You'll Get
So New Jersey's state government didn't close down after all, and Gov. Phil Murphy moments before midnight Sunday signed a brand new state budget that will take us into next July.
NJ.com Read more
Is Phil Murphy Moving to Ban Plastic Bags in New Jersey?
Gov. Phil Murphy deleted language from the state's $37.4 billion budget Sunday that would have raised millions from a proposed 5-cent fee on plastic supermarket bags, signaling that he may support more stringent restrictions, including a ban.
The Record Read more
How the New Jersey Budget Deal Will Affect South Jersey
Gov. Phil Murphy signed a $37.4 billion budget Sunday night, ending a month-long standoff with Democratic legislators and avoiding a state shutdown that would have closed some parks and beaches around the state during the peak summer season.
Press of Atlantic City Read more
Sweeney, Coughlin Show Governor Their Power in Budget Fight
Gov. Phil Murphy has some of the broadest powers of any governor in the country, but it was the New Jersey Legislature that flexed some muscle in the budget deal that was ultimately worked out over the weekend.
NJSpotlight Read more
Ecstatic Sweeney Wrests Changes in School Funding
There will be lots of talk about winners and losers in the Democrats' 11th hour budget agreement this weekend, but when it comes to school funding, Senate President Steve Sweeney did not hide his satisfaction about the deal.
NJSpotlight Read more
Meadowlands Racetrack to Open Sports Betting One Day Ahead of Schedule
The Meadowlands Racetrack has announced that it will open its legalized sports betting service on July 14, one day sooner than previously scheduled.
The Record Read more
Six-Figure Ad Pushes Lance to Reunite Families
Equity Forward Action is spending more than $100,000 to air a new cable television ad linking Republican Rep. Leonard Lance (R-Clinton) to President Donald Trump's unpopular decision to separate more than 2,000 children from their migrant families.
New Jersey Globe Read more
Dem Smacks Hugin on All-Male Intern Crew
Republican U.S. Senate candidate Bob Hugin tweeted out a photo last Friday with his campaign interns and the head of the New Jersey College Democrats is complaining that the group included fourteen men and no women.
New Jersey Globe Read more
Trump Taj Employees Get Settlement Checks
Former employees of the closed Trump Taj Mahal received settlement checks as a result of a labor dispute with their ex-employer on the very day the property reopened on the Boardwalk as Hard Rock Hotel & Casino.
Press of Atlantic City Read more
Phil Murphy: With New Budget, Era of a Stronger and Fairer NJ Is Beginning
New Jersey has a new budget. The era of fiscal gimmicks is ending, and an era of a stronger and fairer New Jersey that works for every family is just beginning.
The Record Read more
Phil Murphy Marks the Anniversary of Chris Christie's Famous Trip to the Beach
One year ago, on a hot afternoon in Trenton, a reporter remarked to then-Gov. Chris Christie—who was staying with his family on Island Beach State Park amid a state government shutdown—that he looked like he'd gotten some sun.
NJ.com Read more
Donald Trump Crashed a Wedding This Weekend at his Bedminster Golf Club in New Jersey
When you picture your wedding day, one thing you may not imagine is the President of the United States crashing it.
Asbury Park Press Read more
NJ Society of CPAs: State Could Learn From Errors of Others When It Comes to Combined Reporting
Like almost everyone else, the heads of the New Jersey Society of CPAs were surprised when they heard combined reporting was included in the budget compromise between Gov. Phil Murphy and legislative leaders.
ROI-NJ Read more
'It Felt Like When Obama Was Elected': Paterson Residents Hopeful Sayegh Will Bring Change
With smiles on their faces, city residents Regana Bracey and Teresa McDermott stood outside the auditorium at International High School on Sunday afternoon savoring what they had just experienced.
The Record Read more
State Gives Paterson Schools Superintendent Another Year in the Job, Removes 'Acting' Designation
The New Jersey State Board of Education last week voted to keep Paterson's schools superintendent, Eileen Shafer, in that job for another year, raising her base salary to $229,075.
The Record Read more
NRC: Oyster Creek Nuclear Plant to Close Early But Remain Until 2075
Oyster Creek nuclear power plant will shut down Sept. 17, weeks earlier than originally planned, but the mothballed facility will continue to stand for another 60 years, according to the Nuclear Regulatory Commission.
Asbury Park Press Read more
Atlantic County to Introduce Single-Use Plastics Ban in County Parks
Atlantic County freeholders are expected to introduce Tuesday an ordinance to ban single-use plastic bags and straws in all 7,000 acres of county parks.
Press of Atlantic City Read more
Bergen County Will Collect $12M for Housing Immigrant Detainees
As the debate over immigration policy roils the nation, at least one winner has emerged: Bergen County, which is set to make more money this year from U.S. Immigration and Enforcement than ever before.
The Record Read more
Morristown Wants $1.7 Million Verdict in Officer's 'Whistleblower' Case Thrown Out
Morristown wants the $1.7 million awarded to a police officer who filed a whistleblower lawsuit thrown out or reduced.
Daily Record Read more
Bill Creating Tax Incentives Around Cape May, Woodbine Airports Heads to Governor
Airports in Cape May County will get an economic boost under a bill that awaits Gov. Phil Murphy's signature in Trenton.
The Press of Atlantic City Read more
Legislators Say Alcohol Will Spur Fort Monmouth Growth
A bill that would authorize the issuance of 12 additional alcoholic beverage licenses at Fort Monmouth has received final legislative approval and now awaits Gov. Phil Murphy's signature.
Asbury Park Press Read more
Moran: After Christie's Neglect, a Good Fix on School Funding
Over the last eight years under Gov. Chris Christie, New Jersey's system of funding public schools broke down into complete dysfunction.
NJ.com Read more