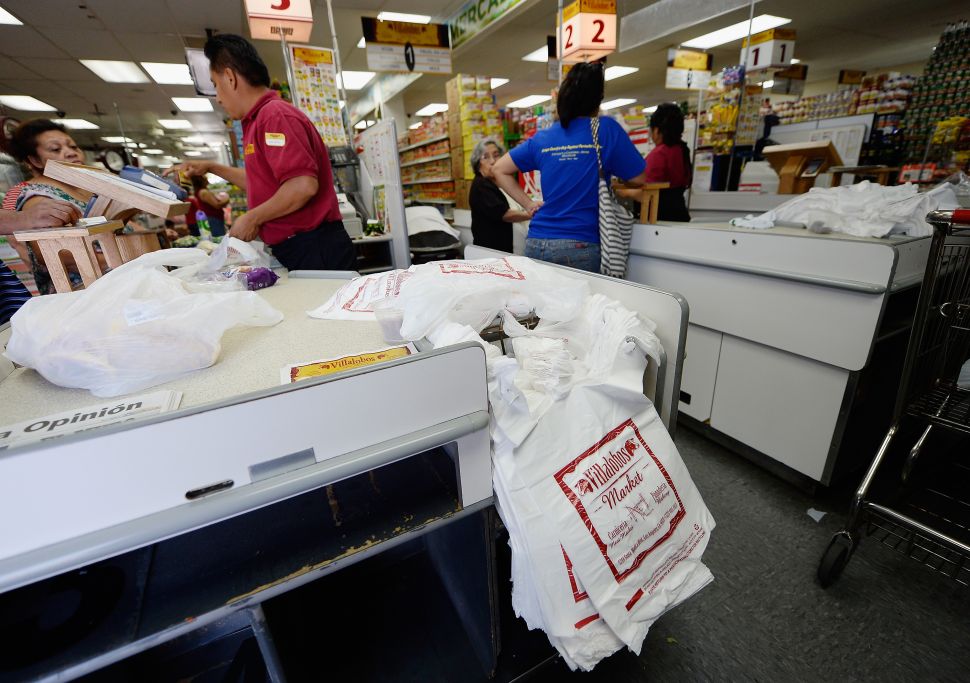 The Democratic legislature and Gov. Phil Murphy reached a budget agreement over the weekend that avoided a state shutdown.
And while the news out of that deal was that millionaires and corporations will be paying more and Murphy abandoned plans to hike the sales tax, there is still reason for regular New Jersey residents to be concerned.
The budget deal also raises taxes on ride- and home-sharing services, and on e-cigarettes and other tobacco products. And the budget also includes $23 million in revenue from a shopping bag tax that the legislature passed and Murphy has yet to say whether or not he'll sign.
That measure, ostensibly meant to protect the environment, would require shoppers to pay a 5-cent fee for each plastic or paper bag they receive at check-out. A penny of that money would go to shop keepers, but 4-cents would go to the state. And while the legislation called for the cash to be used to support lead-abatement programs, a provision allows the money to be diverted to the general fund.
Supporters say the legislation will prevent more plastic from being released into the environment, But Democratic supporters of the measure also tacked the tax onto paper bags, too, giving shoppers no environmentally-safe and tax-free way to avoid paying if they don't bring their own reusable shopping bags. If Murphy, who stands to see a bag-tax backlash from tax-weary residents similar to the toilet paper tax anger experienced by former Gov. James Florio, declines to sign the measure, it means he will have to find some other way to plug a $23 million hole in the budget.
Murphy is also facing questions about his future effectiveness as governor. The budget agreement includes one-shot and short-term revenue gimmicks—fiscal moves Murphy had originally said he wouldn't support. Now the question is whether or not the governor emerges from this battle able to fight again to advance his agenda, or is stymied before he even has a chance to get started.
Quote of the Day: "They have circled the wagons. I don't think that bodes well for how effective Murphy is going to be at governing." — Brigid Harrison, professor of political science and law at Montclair State University, on the Democratic legislature's approach to dealing with the governor.
No Shutdown, But Lots More Taxes
Gov. Phil Murphy and Democratic legislative leaders have reached a deal on the 2019 state budget, with just hours left until the deadline that could have triggered a partial state government shutdown.
NJ101.5 Read more
All The NJ Taxes Going Up Now That There's A Budget Deal
As legislators continue fine-tuning the budget agreement reached last night to avoid a government shutdown life after the budget deal is also becoming clearer.
NJ101.5 Read more
NJ budget agreement: Deal on taxes, spending increases features gimmicks Murphy faulted
One day after Gov. Phil Murphy declared that "the era of budget gimmicks is ending," a budget took shape shape that relies heavily on temporary revenue grabs — exactly the type of "unsustainable" sources he said for months he would reject.
The Record Read more
NJ budget agreement: What it means for your taxes, schools, legal weed and more
The budget deal reached Saturday between Gov. Phil Murphy and fellow Democrats will raise taxes on corporations and high earners, boost spending on schools and NJ Transit, and keep state beaches and parks open ahead of the July Fourth holiday.
The Record Read more
N.J. budget: 5 things you need to know about the new deal between Murphy and top Dems
Gov. Phil Murphy and fellow Democrats who control the New Jersey Legislature reached a state budget deal Saturday evening, capping more than four months of drama ahead of the June 30 budget deadline.
NJ.com Read more
Budget compromise still working its way through Legislature on Sunday; some suggest snag over combined reporting
The budget compromise reached Saturday night between Gov. Phil Murphy and the Legislature may have a hit a snag Sunday.
ROI-NJ Read more
Stile: Phil Murphy loses 2018 battle, hurts chances for more tax increases
A weary Gov. Phil Murphy wheeled a wide handshake to his bitter, intraparty adversaries Saturday night in a sign of unity.
The Record Read more
Will Democrats' Brawling Over Budget Hurt Party?
Someone from out of state watching the continuing drama over the New Jersey budget, would likely be shocked to find out that the governor, Senate president and Assembly speaker are all members of the same party. For Democrats, these budget battles have become commonplace, although they can leave lasting scars within the party.
NJSpotlight Read more
Class warfare at heart of drama over NJ tax increases
The state just narrowly avoided a government shutdown, as New Jersey's top two Democrats played out a tax fight cloaked in class warfare.
The Record Read more
State Budget Vote: Who Gets A Pass
Something to watch for this morning, when the State Assembly votes on a budget deal agreed to Saturday evening by Gov. Phil Murphy, Senate President Steve Sweeney, and Assembly Speaker Craig Coughlin: which Democrats get or take a pass on voting yes on the revenue raising portion of the package to inoculate themselves from criticism in the 2019 campaign?
New Jersey Globe Read more
Business group leaders apprehensive about budget: Siekerka says, 'This is all a big ask of business'
The heads of the state's largest business groups aren't sold on the last-minute budget Gov. Phil Murphy and legislative leaders agreed to Saturday night.
ROI-NJ Read more
Republicans respond: Why would raising taxes be worthy of a celebration?
It was hard to tell what part of the budget compromise was more bothersome to Republicans: The increase in taxes, or what they called a celebration of the increase in taxes by Democratic leaders.
ROI-NJ Read more
5 reasons why N.J. is still waiting for legal weed
As June burned to a close, lawmakers in Trenton were still scrambling to pass a budget by the end of the month and avoid a government shutdown. Surprisingly absent from negotiations was one of the main platforms on which Gov. Phil Murphy ran for office: marijuana legalization.
NJ.com Read more
Jersey Dems salivating over grabbing GOP House seat at Trump midterm. But there will be a fight.
Ever since longtime Republican Rep. Rodney Frelinghuysen announced he's retiring, Democrats have been salivating over their chances to grab his 11th District seat this fall.
NJ.com Read more
Thousands attend NJ Families Belong Together rallies to protest family separation
Holding a sign that read, "Let U.S. Remain Sane and Humane," Lynne Medina said she drove an hour to Asbury Park on a scorching hot Saturday to attend a Families Belong Together rally because "this is not what our country is supposed to be about."
Asbury Park Press Read more
Gov. Murphy says Paterson 'best days ahead' at mayor's inauguration
Bolstered by praise and promises of support from the governor, Andre Sayegh took office as mayor on Sunday with an enthusiastic and optimistic inaugural speech in which he pledged to make Paterson a first-class city.
The Record Read more
'I am honored': Trenton swears in Reed Gusciora as city's new mayor
Leadership in Trenton changed hands Sunday as long-time State Assemblyman Reed Gusciora was sworn in as the city's 48th mayor.
NJ.com Read more
Hundreds turn out to Bedminster to protest President Donald Trump
Hundreds of activists protesting the policies of President Donald Trump on Saturday descended on the Central Jersey town where the president is spending the weekend.
Bridgewater Courier News Read more
It's the 'do not call list' for front doors, and those who knock have to pay up!
If you're a Kenilworth resident who was hoping to bring brownies to your new neighbors, you might want to think twice.
NJ.com Read more
Howell homeless camp will be booted after land bought by Lakewood man for $1.6M
A piece of township-owned property where a dozen people have been living in tents for two years was auctioned for $1.6 million last week.
Asbury Park Press Read more
Editorial: Hold applause on budget deal
Gov. Phil Murphy and state Democratic leaders took turns congratulating themselves this weekend for reaching a compromise on a budget agreement that will keep the state parks and beaches open and allegedly restore responsible fiscal management in New Jersey after eight miserly years of Gov. Chris Christie.
Asbury Park Press Read more
Editorial: Vote, or abortion could be banned in N.J.
If Roe v. Wade goes down, almost a foregone conclusion with the retirement of Justice Anthony Kennedy, you may believe that abortion rights will still be safely protected by state law in New Jersey.
Star-Ledger Read more