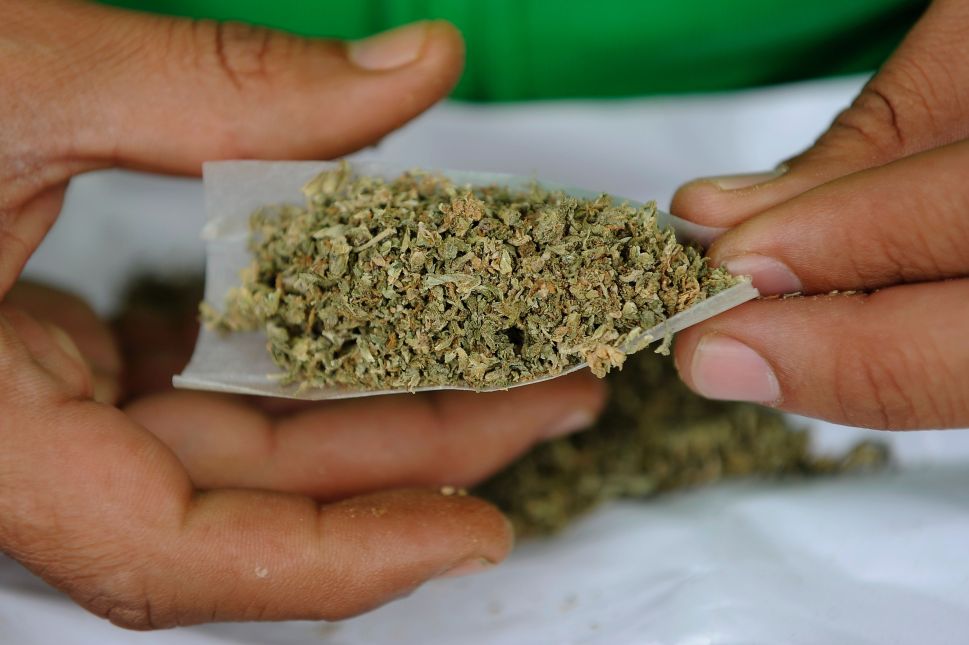 New Jersey could be taking the first steps toward what could be an effort to decriminalize marijuana.
On Tuesday, state Attorney General Gurbir Grewal told municipal prosecutors throughout the state to adjourn all cases involving marijuana-related offenses until September 4. In a letter to prosecutors, Grewal said the delay will give his office time to develop "appropriate guidance" for prosecutors, according to a report in the Asbury Park Press.
In a memo to prosecutors, Grewal said he intends "to issue a statewide directive concerning the scope and appropriate use of prosecutorial discretion in marijuana-related offenses in municipal court," the report said.
Grewal's letter did not make it clear if police should continue making marijuana-related arrests. The attorney general said he would convene a working group to help develop the guidance.
The move comes as Gov. Phil Murphy's efforts to legalize marijuana has stalled after encountering opposition from lawmakers of both parties in the state legislature. Murphy, who opposes decriminalization, said he intends to continue pushing to legalize and tax marijuana sales.
Quote of the Day: "You think it's a step in the right direction. It actually leaves the business in the hands of the bad guys. Your kids are exposed. It's not regulated. It's not taxed." — Gov. Phil Murphy, on the prospect of marijuana decriminalization instead of legalization.
NJ marijuana legalization: New Jersey quietly takes first steps to decriminalize weed
New Jersey has quietly taken the first steps toward decriminalizing marijuana, at least for the rest of the summer.
Asbury Park Press Read more
Property tax break? Sweeping change in how NJ pays for schools is now law
The decades-old debate in New Jersey over how to fairly fund public education took another turn Tuesday when Gov. Phil Murphy signed into law the first major revamp of the state's modern school funding formula since it was enacted in 2008.
The Record Read more
This Trump-friendly N.J. Republican drew raves from VP Pence at a political rally
Vice President Mike Pence, in Philadelphia Monday to tout President Donald Trump's tax cuts, made sure to offer kind words for a Trump-friendly New Jersey lawmaker.
NJ.com Read more
New Law Requiring Candidates to Provide Email
It just got a little easier for voters to contact candidates for state and local offices in New Jersey. But the state still lags some of its neighbors, which provide an array of online tools to get in touch with candidates.
NJSpotlight Read more
Rutgers and RWJBarnabas Health create new academic health system
The state's largest health care system, RWJBarnabas Health, will invest more than $1 billion in medical research and education at Rutgers University over the next two decades to create a new statewide academic health system, leaders of both institutions announced Tuesday.
The Record Read more
An inside look at how Horizon used hospital costs — and quality — in plan to change N.J. health care
These are the documents Horizon Blue Cross Blue Shield of New Jersey did not want you to see.
NJ.com Read more
Warehouse workers bring fight for better wages, conditions to Amazon
New Jersey, with its miles of warehouses and distribution centers lining the Turnpike and dozens of other highways, has been dubbed the "warehouse state." Now, labor groups want it to be known as the place where the fight began to win better pay and working conditions for the nation's warehouse employees.
The Record Read more
New Jersey lottery sells the most in the state's poorest neighborhoods
As Mega Millions fever heats up toward tonight's $512 million drawing, an analysis of lottery data by NorthJersey.com reveals that two-thirds of lottery sales come from the state's poorest communities, those where the median household income is less than $81,800, according to the U.S. Census Bureau.
The Record Read more
One More Fee For Big NJ Property Owners
New Jersey, the most densely populated state in the nation, has a growing stormwater infrastructure and management problem.
NJ101.5 Read more
After fatal strip mall shooting, lack of dashcams under scrutiny in Deptford
When a Deptford Township police officer shot and killed a shoplifting suspect in the parking lot of a South Jersey strip mall last month, the cameras weren't rolling to capture the incident.
Inquirer Read more
Middlesex Says It's A Sanctuary County, But ICE Still Making Arrests
Despite Middlesex County' position of not assisting immigration officials in deporting most criminals, ICE has not let that stop them from going after immigrants at the county courthouse.
NJ101.5 Read more
Immigration protest outside Wells Fargo board member's NJ house signals new tactic
Immigration advocates descended on a tree-lined residential street in Westfield on Tuesday morning and gathered outside the home of a Wells Fargo board member to protest the bank's financing of private prisons that house immigration detainees for the federal government.
The Record Read more
NJ sports betting: Far Hills Race Meeting to offer pari-mutuel wagering
For the first time in its nearly century-long history, the Far Hills Race Meeting will offer pari-mutuel wagering on all of its races
Daily Record Read more
Ocean Co. Jail sex bias suit: 'Bacon fat back,' 'Pig vomit,' 'Everyone gets a turn'
he working conditions within the Ocean County Jail are rife with gender discrimination, workplace hostility and supervisors who retaliate against women who complain, a recently filed federal lawsuit claims.
Asbury Park Press Read more
Judge dismisses claims against ex-Hudson County jail chief
A federal judge has dismissed claims leveled against a former Hudson County jail director by two ex-corrections officers who accused the former director of complicity in a series of retaliatory acts taken against them and others.
NJ.com Read more
Catholic school teacher fired due to her pregnancy can continue suing school
A former teacher at St. Theresa School in Kenilworth will be allowed to continue with her lawsuit against the Catholic school, which terminated her after she became pregnant while unmarried, an appeals court decided Tuesday.
NJ.com Read more
Dangerous, abandoned homes are ruining a historic N.J. park, and the feds are to blame
The last exit in New Jersey on Route 80 leads into the Delaware Water Gap National Recreation area, on Old Mine Road, which runs mostly along the river for the 40-mile length of the park.
NJ.com Read more
It's not graffiti. It's money for NJ towns in the Instagram age
The meeting had been contentious, so when it was Jay Webb's turn to address the Borough Council, he was prepared for a lengthy, bitter debate.
Asbury Park Press Read more
Peruvian parade scrambling to pay $10,000 it still owes Paterson
The group that runs the annual Peruvian parade and festival in Passaic County, which is scheduled for Sunday, is scrambling to come up with the money it owes Paterson forexpenses for an event expected to draw more than 7,000 people
Paterson Press Read more
Liberty Property Trust writes down value of Camden waterfront development by $26 million
Liberty Property Trust has written down the value of its sprawling Camden waterfront development project by $26 million amid less-than-anticipated demand for office space at the site and the prospect that state tax breaks used for job creation there won't be renewed.
Inquirer Read more
Another day, another fight between the N.J. attorney general and Jersey City's mayor
Mayor Steve Fulop started his Tuesday cheering the city's new policy on marijuana prosecutions and ended it embroiled in another public spat with state Attorney General Gurbir Grewal.
NJ.com Read more
Mayor accepts developer's $3M offer to buy Paterson Armory site, build luxury complex
Mayor Andre Sayegh said he has agreed to accept developer Charles Florio's $3 million offer for the Paterson Armory site and the prominent builder has plans to transform what has been an eyesore for decades into a 138-unit luxury housing complex.
Paterson Press Read more
Jailed ex-Paterson mayor's fund made $11,500 in donations in May elections
Imprisoned ex-mayor Jose "Joey" Torres' campaign fund contributed $11,500 to five candidates in Paterson's May elections, according to documents made public this week.
Paterson Press Read more