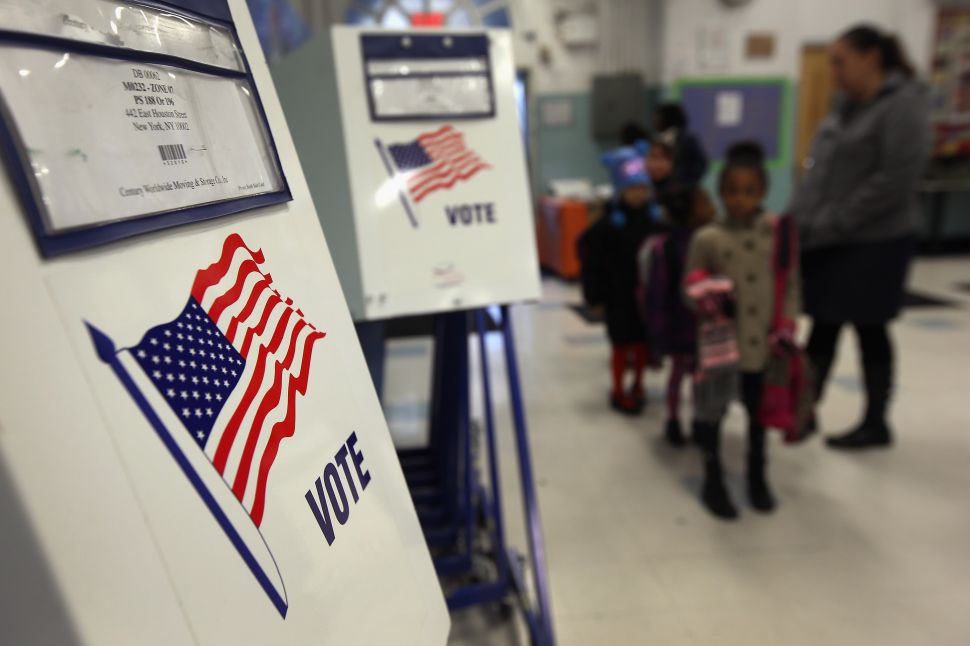 Registering to vote could soon become easier in New Jersey, as the Democratic legislature moves ahead with plans to allow for online voter registration.
The Record reports that the state Senate has already approved a measure to allow online registration and the measure is awaiting action in the Assembly.
If Gov. Phil Murphy signs the measure, the state would establish a website with proper safeguards to allow for online voter registration.
Opponents of the measure, including Republican Senator Anthony Bucco (R-Morris) say the plan would be too expensive and encourage voter fraud, The Record reports.
But New Jersey won't be the first to go online for registration, the report notes. So far, 37 others states and the District of Columbia have either adopted or are moving toward online registration, the report said, citing statistics from the National Conference of State Legislatures.
Quote of the Day: Do you need your medication?" — Rep. Bonnie Watson Coleman, to U.S. Rep. Louie Gohmert (R-Texas), during FBI Agent Peter Strzok's testimony before the House judiciary and oversight committees.
Want to register to vote online? New Jersey is moving to make that happen
People can pay their taxes and traffic fines, order groceries, renew their car registration and even gamble online. But to register to vote in New Jersey, residents need to fill out and mail a form or hand deliver it to their local election official.
The Record Read more
Murphy Sets Aside $2.1 Million to Help Immigrants Avoid Deportation
New Jersey set aside $2.1 million to help immigrants facing deportation in the state, money that advocates say will go a long way in helping but still falls short of the estimated cost of legal representation.
NJ101.5 Read more
How Did Your Lawmaker Vote on Shopping Bag Tax?
The state is waiting to see whether Gov. Phil Murphy will sign a bill that would put a 5 cent fee on every paper and plastic bag given to shoppers.
NJ101.5 Read more
Republicans Want to Wrest Control of Affordable Housing From NJ Courts
Three years after the New Jersey Supreme Court gave the judiciary responsibility for determining local affordable housing obligations, the process has resulted in 215 municipalities negotiating agreements with housing advocates that could result in the construction of tens of thousands of homes — some affordable and others market-rate.
NJSpotlight Read more
Here's what sports betting will be like at Meadowlands Racetrack
Futures, parlays, money lines and straight bets.
If you're confused, don't worry. Many people who show up to the Meadowlands Racetrack on Saturday will be in the same boat. Or, more pointedly, the same book.
The Record Read more
New Jersey sports betting off to strong start, new Atlantic City casinos underwhelm
The splashy reopenings of two casinos on the Atlantic City boardwalk provided only a modest lift to the struggling resort town, while the statewide debut of sports betting exceeded expectations, according to the first public data on the expansion of gambling in New Jersey.
The Record Read more
This N.J. county just approved a new contract with ICE
The Hudson County Board of Chosen Freeholders approved a new contract with federal officials to continue housing immigrant detainees at the county jail in Kearny.
NJ.com Read more
Senate Inaction Means Seats Go Unfilled on Critical State Investment Council
tate law gives Gov. Phil Murphy the right to fill half the seats on the State Investment Council, a panel that plays a key role in the handling of public-worker pension assets. But six months after the governor was sworn into office, the state Senate has yet to consider his slate of eight nominees.
NJSpotlight Read more
After spending millions going after Menendez, Republican opponent Hugin hit with attack ads
After spending millions of dollars on ads against U.S. Sen. Robert Menendez, Republican opponent Bob Hugin will the one attacked in a new advertising campaign that focuses on his tenure at Celgene Corp.
NJ.com Read more
N.J. looking for fraud in public employee health benefits
Gov. Phi Murphy's administration has begun an audit of participants in the government worker health benefits plans that it estimates will save the state $77 million.
NJ.com Read more
NJ marijuana legalization: DEA has over 350 names for weed, from A-bomb to zoom
Don't talk about "mowing the lawn" in public, or the Drug Enforcement Administration might get suspicious.
Asbury Park Press Read more
House elections 2018: Gottheimer breaks New Jersey fundraising record with $1.5 million
Freshman Rep. Josh Gottheimer's campaign said Thursday he raised more than $1.5 million from April to June, a total that sets a record for a New Jersey House candidate and exceeds what some U.S. Senate candidates are raising.
The Record Read more
Stormy Daniels arrested in Ohio, will perform at strip club in Wayne
Stormy Daniels, who has made headlines for her alleged affair with President Donald Trump, was arrested Wednesday night after allowing patrons of a gentleman's club touch her.
The Record Read more
'Do You Need Your Medication?' NJ Lawmaker Asks Colleague in Wild FBI Hearing
A Central Jersey congresswoman told a Republican lawmaker from Texas that he needed his medication during a while hearing into whether an FBI agent's political bias tainted investigations into Hillary Clinton's email use and Donald Trump's presidential campaign.
NJ101.5 Read more
Distressed humpback whale in Sandy Hook Bay may have been saved by rescue crew
A team of federal responders successfully disentangled a distressed humpback whale in the Sandy Hook Bay Wednesday in a high-stakes, intricate operation that may have saved the animal's life.
Asbury Park Press Read more
Freehold Told to Pay for Muncipal Employee's Medical Marijuana
A New Jersey worker's compensation judge has ordered this municipality to cover the cost of a municipal employee's medical marijuana, saying that the federally banned weed is safer than prescription pain killers.
NJ101.5 Read more
Stockton celebrates 50 years of Educational Opportunity Fund
Fifty years ago this week, the governor of New Jersey signed into law a program designed to help some of the most vulnerable students in the state.
Press of Atlantic City Read more
Jersey City planning board tables hearing on eminent domain change
The city planning board postponed a hearing on a controversial proposal to seize properties through eminent domain to create one of the city's hottest new residential neighborhoods.
NJ.com Read more
Elias Chalet, ousted Bloomfield councilman, gets 5 years for taking 'bag of cash'
A former Bloomfield councilman is set to serve five years in prison and two years of parole for accepting $15,000 in bribes, a portion of which he attempted to flush down the toilet as federal investigators moved to arrest him at his business.
The Record Read more
Palisades Interstate Parkway Police chief suspended 90 days, Bergen prosecutor orders
Palisades Interstate Parkway Police Chief Michael Coppola will be suspended 90 days following a Bergen County Prosecutor's Office review of the department, authorities said.
The Record Read more
Editorial: Time for Leonia to re-think its traffic limits
Leonia, where borough officials grew so frustrated with traffic backups from the George Washington Bridge earlier this year that they decided to take drastic action by placing limits on its streets, has now reaped the whirlwind for those efforts.
The Record Read more
Editorial: Name change for PARCC not enough
New Jerseyans won't have the hated PARCC exams to kick around much longer.
Asbury Park Press Read more