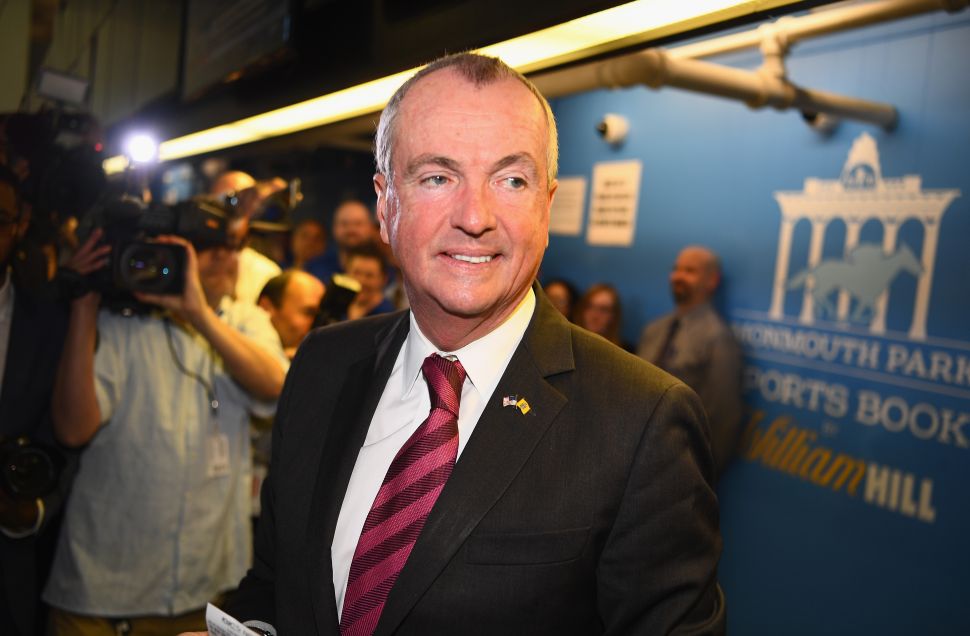 It's no secret New Jersey's public pension funds are in crisis.
But, as The Bergen Record reports, "New Jersey is increasingly putting retirees' money where Gov. Phil Murphy's mouth is."
Since Murphy took office, the state has been shifting the state's nearly $77 billion in pension investments to reflect Murphy's progressive agenda and to punish those companies that don't fit in with it—or at least try to get them to change their ways, according to the report.
The state investment council is now working on a formal policy on investing in a way that reflects the Murphy administration's social values—considering environmental, social and governance factors in deciding where to put pension investments—according to the report.
Supporters say the state can use its large pension fund to ensure companies are good corporate citizens. Opponents, however, argue that state, which is facing difficulty in meeting its pension obligations, should be seeking the best return on its investments. The report points out that a November 2016 study by the Center for Retirement Research at Boston College, found that funds with divestment policies earned an average of 0.4 percentage point less than other plans. In New Jersey, that means the state will forgo more than $300 million a year to make a social statement.
Quote of the Day: "Do they really want to have a battle over taxes in a year where Donald Trump screwed New Jersey on taxes? It seems like they're really leading with their chin on this." — Democratic consultant Brad Lawrence on plans by Republican congressional candidates' intention to make Democratic tax hikes in the state budget an issue in their campaigns.
New Jersey pension investments now guided by social, environmental values
New Jersey is increasingly putting retirees' money where Gov. Phil Murphy's mouth is.
The Record Read more
New Jersey's national model for bail reform gets boost from appeals court
New Jersey lawmakers and then-Gov. Chris Christie were within their rights to do away with cash bail for most criminal defendants and instead allow judges to decide whether to detain them before trial, a federal appeals court ruled Monday.
The Record Read more
Bludgeon Dems running for Congress with Murphy tax hike hammer? Say hi to the GOP playbook
U.S. Sen. Robert Menendez wasn't in Trenton when Gov. Phil Murphy and the Democratic-controlled legislature enacted a state budget, but that hasn't stopped Republican challenger Bob Hugin from trying to tie him to the spending plan's $1.2 billion in tax increases.
NJ.com Read more
Lawmakers Want NJ to Borrow for Education Items, But Leave Voters With Final Say
A proposed $1 billion bond question on the November ballot to fund a range of education-facility upgrades won overwhelming bipartisan support as it moved through the Legislature in recent weeks. Now, Gov. Phil Murphy must decide whether New Jersey voters should have the final say this fall.
NJSpotlight Read more
Meadowlands power plant: Environmentalists blast permit approvals by Murphy administration
Environmentalists criticized the Murphy administration on Monday for issuing a slate of permits for a mammoth gas-fired power plant to be built in the Meadowlands.
The Record Read more
Trump just signed cancer registry bill sponsored by N.J. lawmakers
President Donald Trump on Monday signed legislation to set up a national registry for firefighters to help track links between exposure to fumes and cancer.
NJ.com Read more
We didn't know dying grandmother was on oxygen before cutting power, PSE&G says
The energy company a family is blaming for the death of its 68-year-old Newark grandmother said it was not aware that Linda Daniels relied on an oxygen machine before shutting off her electricity last week.
NJ.com Read more
Norcross visits detained immigrant kids in N.J. Thankfully, they weren't in chain-link fencing
Video chats on Skype from a Camden detention center has been the only lifeline for a child separated from his family as he tried to cross the border into the United States.
NJ.com Read more
Murphy plans to kill four PARCC exams. Here's who could get out of testing
New Jersey's new governor wasn't able to fulfill his campaign promise to "scrap PARCC Day 1," but it appears he's now trying to kill at least some of the controversial tests.
NJ.com Read more
Releasing NJ School Bus Crash Video Would be Cruel, Lawyer Says
State Police are rejecting public records requests for video that shows the violent school bus crash on Route 80 that killed a student and teacher in May.
NJ101.5 Read more
House Republicans withdraw support of N.J. candidate after report says he shared racist screed
The national committee to elect House Republicans on Monday withdrew its endorsement of south Jersey congressional candidate Seth Grossman following a report that he shared a post from a white supremacist website calling blacks a "threat to all who cross their paths."
NJ.com Read more
Are You Ready to Spend Billions to Upgrade NJ's Aging Water Infrastructure?
It has never won support in the past, but a state senator is reviving a decades-old bill that would impose a fee on water use to fund the rebuilding of New Jersey's aging water infrastructure.
NJSpotlight Read more
NAACP wants Englewood police chief to apologize for allegedly insulting black cops
The Bergen County NAACP is demanding an apology from Englewood Police Chief Lawrence Suffern, after accusations surfaced that he had stated that "Black officers are lazy, do not work hard and fail to take actions that better their situation."
The Record Read more
Mayor Andre Sayegh picks former boss as economic development chief for Paterson
Mayor Andre Sayegh has picked his former boss, Michael Powell, to fill a key city position: director of economic development.
Paterson Press Read more
Youth sports: Why is it 'easy' to steal from Little League, other teams?
For about six months, people would stop Marianne Kinsmann in her tracks, point to her Little League World Series jacket and ask about Holbrook Little League's time in the tournament last summer.
Asbury Park Press Read more
Fast food jobs: NJ fights non-compete clauses
Some of the nation's biggest fast-food operators might have so-called "no-poach" agreements that stifle workers' chances to move to higher-paying jobs, the New Jersey Attorney General said Monday.
Asbury Park Press Read more
Opinion: New Jersey Scores Another Own Goal With Horrendous Tax Choices
If I were asked to make a list of tax policy changes that would do maximum harm to New Jersey's competitive position and long-term economic vitality, I would have a hard time improving upon the last-minute budget compromise announced on June 30.
NJSpotlight Read more