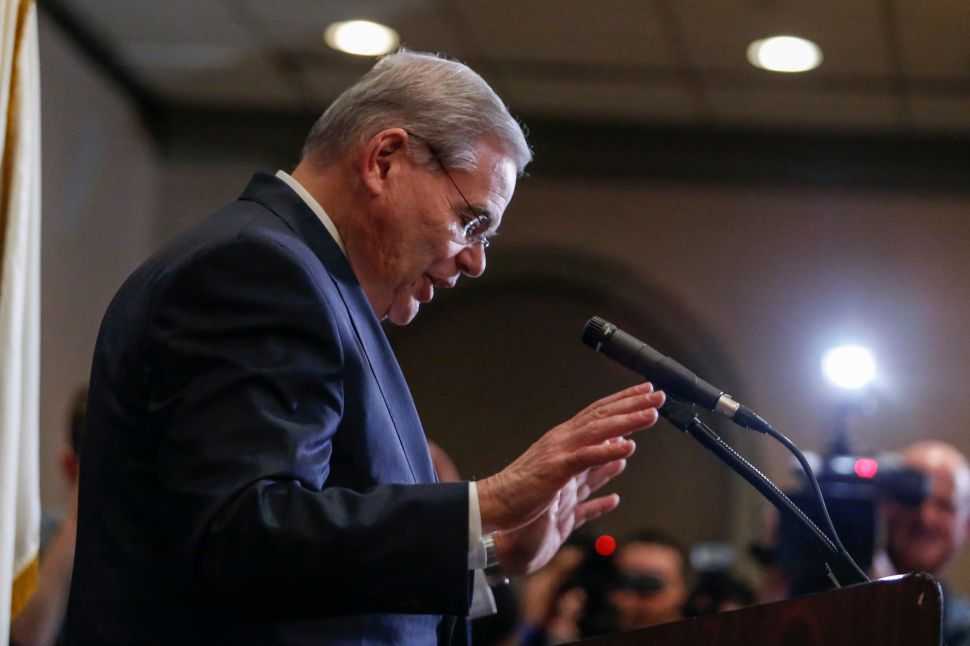 President Donald Trump has said today is the day he'll announce his pick to replace retiring Supreme Court Justice Anthony Kennedy, and no matter who Trump picks, or the outcome of the nomination, it's likely to have an impact on the election battle currently being fought by New Jersey incumbent Sen. Robert Menendez and his Republican challenger Bob Hugin.
An article in The Bergen Record looked at how the fight could fire up the constituencies of both candidates, transforming a campaign where both candidates face weak pockets in their support into a hard-fought battle with engaged voters on both sides.
Menendez comes into the fight wounded following his trial last year on corruption charges and admonishment by the Senate ethics committee. Hugin, who has said he is "a pro-choice and pro-marriage equality Republican," undoubtedly is disappointing hard-line social conservatives in his party.
Trump's Supreme Court pick could motivate folks on either side, who might have sat out November's contest, to support their party's candidate, even if they don't necessarily have their whole-hearted support, according to the article.
The piece, however, quotes others who say that it's unlikely any presidential pick will change too much in the electoral dynamics of this blue state, no matter how much it motivates people.
"A reluctant vote for Hugin counts the same as an enthusiastic vote," was how Monmouth University pollster Patrick Murray summed up the plight of conservatives who might be disappointed by Hugin's views but can't bring themselves to vote for Menendez.
Quote of the Day: "We had a difference of opinion on that.'' — U.S. Rep. Chris Smith, about confronting Russian officials about Russian interference in the 2016 presidential election.
2018 election: Supreme Court vacancy adds new dimension to New Jersey Senate race
A battle in Washington over filling a Supreme Court vacancy could fire up activists in both parties and help Democratic Sen. Bob Menendez and his Republican challenger, ex-pharmaceutical executive Bob Hugin, patch over cracks in their support this fall.
The Record Read more
Phil Murphy campaign promise tracker: On minimum wage, PARCC testing, NJ Transit and more
Gov. Phil Murphy made a lot of promises while running for governor. Now he has to try to fulfill them. The Record and NorthJersey.com have compiled a list of those promises and is publishing them here as a way of informing the public and to hold Murphy accountable.
The Record Read more
When a gut check became a number check: How legislative leaders felt they won the battle
It was last Friday — otherwise known as the middle of the contentious budget battle between Gov. Phil Murphy and the Legislature.
ROI-NJ Read more
Why business leaders are working (behind the scenes) in corporate business tax battle
When the budget deal was finally completed last weekend, many legislative and business leaders complained that changing the corporate business tax is so complicated it needed more than just a last-minute push to get it done.
ROI-NJ Read more
Moran: Murphy, after budget fight, is boxed in by Sweeney
Constitutional scholars tell us that New Jersey has the most powerful governor in the country, and that's probably true on paper.
NJ.com Read more
11 laws Gov. Murphy may soon sign that could affect life in N.J.
Yes, New Jersey has a new state budget after Gov. Phil Murphy and state lawmakers cut a deal and avoided another state government shutdown.
NJ.com Read more
Cory Booker a Top 5 potential presidential candidate? This influential list thinks so
U.S. Sen. Cory Booker remained in fifth place on the Washington Post's most recent list of the most likely 2020 Democratic presidential candidates.
NJ.com Read more
Mulshine: The 2020 Democratic primary – Can Cory corral the crazies in his party?
Get in line, Governor.
That was my reaction upon reading a Star-Ledger article last week speculating on a Phil Murphy run for the 2020 Democratic presidential nomination.
NJ.com Read more
Rep. Smith: Russians deny government election meddling, are mum on Trump
Members of Russia's parliament insisted to a U.S. delegation Saturday that the Russian government had no hand in meddling with the U.S. presidential election, but they were mum on President Donald Trump and his upcoming meeting with Russian President Vladimir Putin, Rep. Chris Smith, R-N.J., said.
Asbury Park Press Read more
Rep. Leonard Lance calls midterm opponent Tom Malinowski a 'total carpetbagger'
Rep. Leonard Lance's (R-N.J. District 7) busy Friday morning included a live New York studio appearance on CNN and a stop at the County College of Morris in Randolph.
The Record Read more
Lance in Dover to announce $3.1 million in funding for Zufall Health Center
Rep. Leonard Lance (R-N.J. District 7) paid a visit Friday to Zufall Health Center to announce $3.1 million in federal funding had been approved for the nonprofit provider of essential medical care for underserved populations in North and Central New Jersey.
Daily Record Read more
New law 'turns on the spigot' at old plant that treats wastewater on Delaware River
A South Jersey company could soon again be processing millions of gallons of hazardous wastewater and dumping the residue into the Delaware River thanks to a bill signed into law by Gov. Phil Murphy.
NJ.com Read more
NJ tourism: Jersey Shore deals with long lines, not enough workers
Brooklyn Adams, the owner of the Lava Java cafe in Lavallette, sure could use some help.
Asbury Park Press Read more
For mothers in jail or prison, being locked up is twice as hard
What Kathy Morse remembers most from her years in jail and prison is that she missed her children.
Press of Atlantic City Read more
Glass plant's closure after 151 years shattered this city. Could 500 new jobs save it?
For generations, a drive along Griffith Street in Salem City meant hearing the roar of the furnaces from inside the massive glass plant there.
NJ.com Read more
Bike-sharing: Red Bank might ease car traffic by becoming cyclist-friendly
The narrow downtown streets here, cobblestones in some places, are habitually lined with parallel-parked cars. Long searches for coveted parking often deter those considering patronizing an ever-growing roster of restaurants, nightspots and eclectic shops.
Asbury Park Press Read more
Clifton police recruiting troubles continue; contract doesn't increase starting pay
Clifton's police department just became more understaffed as another junior officer leaves to take a job in Franklin Lakes, a higher-paying department.
The Record Read more
Woman in hospice care dies after power is shut off to home
A New Jersey woman is dead just hours after PSE&G cut the power off to her house in Newark on Thursday, according to a report from News 12 New Jersey.
Asbury Park Press Read more
Sweeney: In the end, the Legislature and governor delivered for New Jersey
Last Saturday, after weeks of negotiations, the Legislature and Gov. Phil Murphy reached agreement on a state budget. Pundits argue over who won: the Legislature or the governor? Let me be clear: the people of New Jersey won.
Asbury Park Press Read more
Bergmann: Is legal pot effort going to seed?
Earlier this year, the main sponsor of a bill to legalize marijuana in New Jersey, Sen. Nicholas Scutari, D-Union, said, "If people are educated on the facts, I believe we'll win them over."
Asbury Park Press Read more
Gov. Whitman: A warning, Pruitt's replacement for EPA chief could be even worse
The familiar litany of now-former EPA administrator Scott Pruitt's abuse of office is long, bizarre and shameful. But much more damaging were Pruitt's policies.
NJ.com Read more