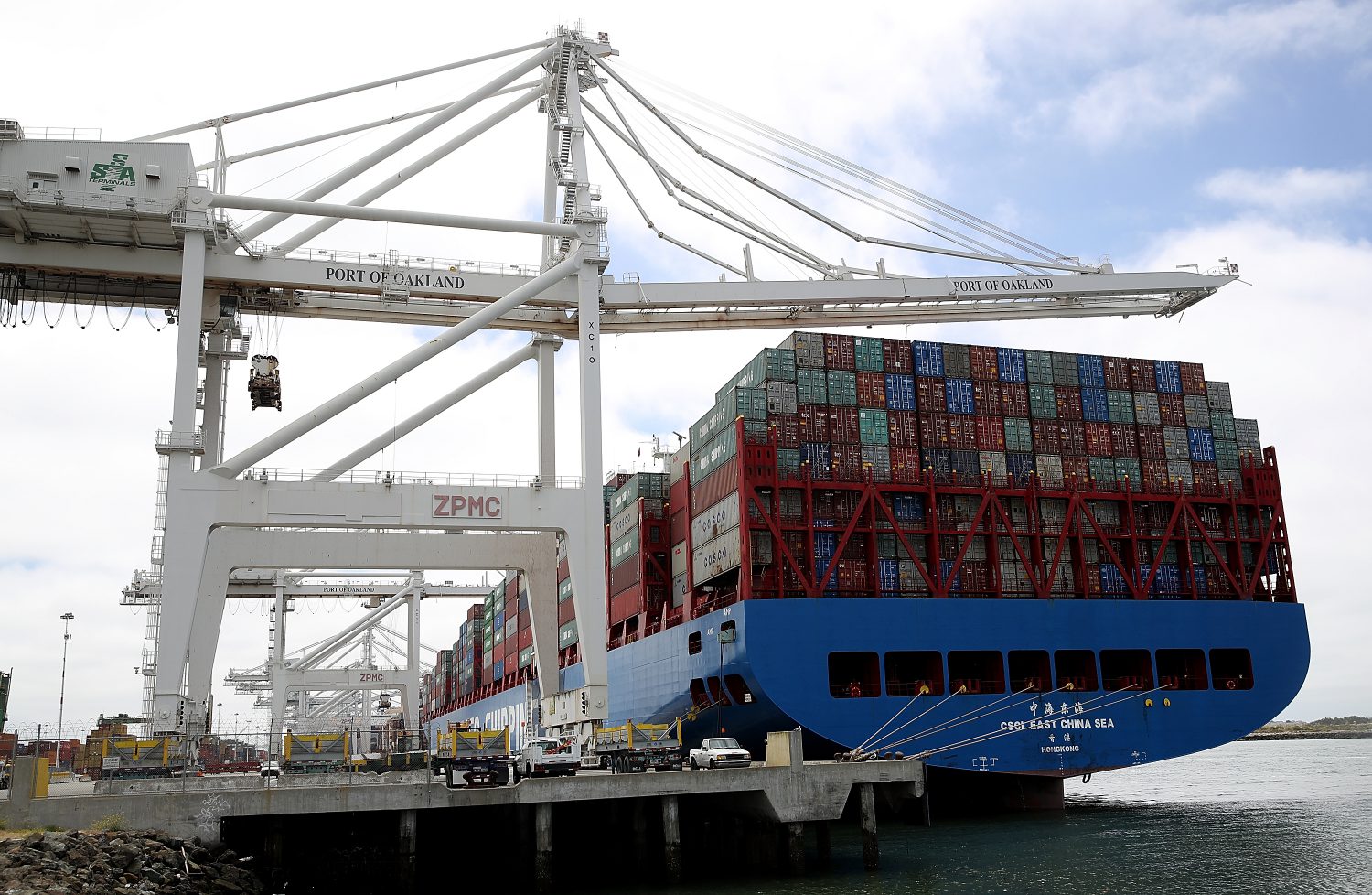 New Jersey is a blue state, but even people you'd expect to support Republican President Donald Trump are warning of the consquences of the president sparking a trade war.
The New Jersey Chamber of Commerce is warning the state has $920 billion and more than one million jobs at stake if the President Donald Tump's actions result in countries taking action against the United States, according to a report in the Asbury Park Press.
This includes $166 million in chemicals sold to Canada; $94 million in cosmetics sold to Europe; and $19 million in prepared food sold to Mexico, according to the report.
"Tariffs that beget tariffs that beget more tariffs only lead to a trade war that will cost American jobs and economic growth," explained Thomas J. Donohue, the chamber's president and chief executive officer, according to the report..
New Jersey companies are also complaining that their prices are rising because of tarriffs and the trade war.
The state chamber says while tarrifs would impact only a fraction of New Jersey's economy, trade actions have a ripple effect that could impact states—including New Jersey—around the nation. They also warn that 245,000 New Jersey jobs are supported by foreign investment, according to the report.
Quote of the Day: "No final decision has been made regarding the legislation.'' — Dan Bryan, a spokesman for Gov. Phil Murphy, on a measure that would impose a new tax on the use of paper and plastic shopping bags.
Trade war: NJ has $920 billion at risk, Chamber of Commerce says
New Jersey has $920 billion and more than 1 million jobs on the line if foreign countries retaliate against the Trump administration's trade tariffs, the U.S. Chamber of Commerce said in a new report.
Asbury Park Press Read more
Rep. Bill Pascrell nearly collapsed at press conference
The fatiguing heat appeared to overwhelm Rep. Bill Pascrell Jr. on Tuesday as he nearly collapsed during a news conference to announce firefighter health legislation he authored with Sen. Bob Menendez.
The Record Read more
Law That Would Put 5-Cent Fee on Shopping Fees Up in the Air
It was only a single line-item veto in a $37.4 billion state budget, but it has fueled speculation over the fate of a controversial bill to impose a nickel fee on single use carry-out bags.
NJSpotlight Read more
Phil Murphy gives police and firefighter unions control of their pensions
Gov. Phil Murphy on Tuesday signed a law divorcing the pension system for police and firefighters from that of other New Jersey state and local public workers.
NJ.com Read more
Budget hurts millennials, young GOP leader says
The New Jersey Young Republican say that Gov. Phil Murphy is giving millennials the short straw, saying that Democrats who crafted the budget deal left them holding the short end of the stick.
New Jersey Globe Read more
New Jersey expands transgender rights as Murphy signs identity bill, laws on film taxes
Gov. Phil Murphy on Tuesday continued his trend of reversing the policies of his Republican predecessor by signing bills into law giving greater rights to transgender people and allowing tax credits for filming in New Jersey.
The Record Read more
Golden: Murphy Doesn't Even Get Half a Loaf as Sweeney Takes the Cake
When Gov. Phil Murphy entered into negotiations with the legislative leadership over his proposed budget, his goal was to win the whole loaf. When Senate President Steve Sweeney (D-Gloucester) and Assembly Speaker Craig Coughlin (D-Middlesex), backed by their unified caucuses, stoutly opposed the governor's recommended tax increases, Murphy lowered expectations to securing half a loaf.
NJSpotlight Read more
Why paychecks in N.J. aren't growing as fast as the rest of the U.S.
New Jersey hit near rock bottom in wage growth last year as compared to the rest of the country, according to new data released Saturday, raising fresh concerns about the strength of the state's post-recession recovery, especially when it comes to workers.
NJ.com Read more
Murphy to Trenton: not so fast on ditching state oversight
The press conference was planned for Tuesday morning on the front steps of City Hall.
NJ.com Read more
Is time up for tiny towns in New Jersey? Some say mergers would save money and lower taxes, but skeptics disagree
The tiny borough of Oaklyn in Camden County spans just over half a square mile and is home to around 4,000 residents. On a recent hot morning, the borough's administrative office was staffed by two people and the all-volunteer fire department, with its four trucks, was locked up.
Inquirer Read more
Booker seeks distance as corporate donations become potent campaign issue
Sen. Cory Booker's February vow not to take corporate PAC contributions is suddenly looking prescient in the wake of powerful incumbent Rep. Joe Crowley's primary election defeat last week — an outcome that suggests Booker's instincts were right about his party's wariness of big money.
Politico Read more
Hospitals Get Good News, Bad News With Budget
Tens of millions of dollars that had been 'frozen' will be quickly distributed to acute-care facilities but hospital leaders alarmed by emergency-room payment reforms.
NJSpotlight Read more
Mahwah given until July 13 to settle Attorney General's lawsuit
The township has a deadline of July 13 to settle a state lawsuit or face a trial over two controversial ordinances appearing to limit the rights of Orthodox Jews.
The Record Read more
Mahwah council president alleges foes are targeting him and his family
Slashed tires? Flooded basement? A claim he's harbored a teen runaway?
The Record Read more
Homegrown Educator Charting New Course for Newark Schools
At the start of the school year in 1983, a student named Roger León sat with the other ninth-graders at Science High School waiting for the principal of Newark's premier magnet school to arrive and welcome them.
NJSpotlight Read more
Can't Help Trapped Raritan Bay Whale Until After Holiday Weekend
Any efforts to help disentangle a whale spotted in the waters off the Jersey Shore will wait until boat traffic calms down after the July 4 holiday weekend.
NJ101.5 Read more
Menendez says comic who impersonated him never should have gotten through to Trump
U.S. Sen. Robert Menendez, speaking on CNN, called it "concerning" that a comedian could impersonate him and get a call through to President Donald Trump.
NJ.com Read more
NJ Teacher Who Gave Test Answers Loses License
A former teacher at Linden High School teacher who gave some of his students the right answers on a state standardized test has been expelled from the teaching profession — although he continues to collect pension checks from the state.
NJ101.5 Read more
Group submits petition to overturn council action on Polish statue
The question of whether Jersey City's Katyn monument is moved may soon be in the hands of voters.
Jersey Journal Read more